Liaoning Man Faces Intensified Torture While Serving Four Years for His Faith
(Minghui.org) A Benxi City, Liaoning Province resident serving time for practicing Falun Gong is facing intensified torture as he refuses to renounce his faith. 
Falun Gong, also known as Falun Dafa, is a spiritual discipline that has been persecuted by the Chinese communist regime since 1999.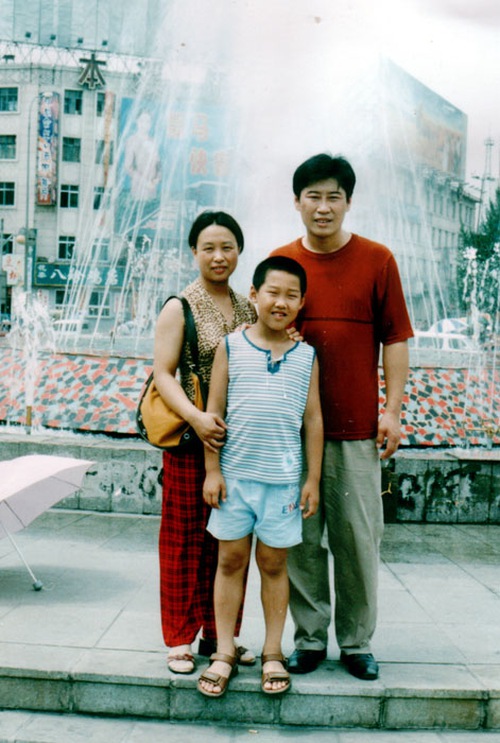 Mr. Deng Yulin, his wife Ms. Teng Hongtao, and their son Deng Zhongbo in an undated photo
Mr. Deng Yulin, 55, was arrested on May 23, 2019, for distributing informational materials about Falun Gong. He was sentenced to four years with a 20,000-yuan fine on September 4, 2020. This sentencing followed a nine-year term he was previously given after his earlier arrest in 2004.
Mr. Deng was taken to the Panjin Prison on July 16, 2021 and was then transferred to the Jinzhou Prison. Since September 2021, the prison guards have barred Mr. Deng from buying daily necessities in an attempt to pressure him to renounce Falun Gong. 
Zhang Xue, the head of the Ninth Ward, has denied Mr. Deng family visits since October 2021, by demanding a letter from his loved ones' local police to show that they don't practice Falun Gong themselves. 
When the family asked about the legal basis for this stipulation, the prison guards said they were just following orders from above. When the family asked which department issued the requirement, the guards initially claimed that it was determined by the Liaoning Province Public Security Bureau. But when the family demanded to know the name of the document and when it was issued, the guards claimed that it was a rule made by the prison. 
Mr. Deng's family argued that Prison Law has no such rule and it's against the law for the prison to deny family visitation. The family has tried to seek more information from various departments whithin the prison, but have been stonewalled. 
It's reported the ward director Zhang recently ordered guard Lu Liang to torture Mr. Deng, with the goal to transform him in one and a half months. His family are very worried about him now.
Related reports:
Liaoning Man Imprisoned for His Faith
Four Liaoning Residents' Appeals Against Wrongful Sentences Rejected, Families Seek Justice
Four Liaoning Residents Sentenced for Their Faith – Three Denied Family Visits for More Than a Year
Three Liaoning Residents Face Trial for Their Faith, Lawyers Threatened by Justice Bureau
Update on Five Practitioners Arrested One Year Ago: One Dies in Prison, One Critically Ill, Remaining Three Denied Attorney Visits
Husband and Wife Arrested in 2004 Secretly Sentenced to Nine Years In Prison
Views expressed in this article represent the author's own opinions or understandings. All content published on this website are copyrighted by Minghui.org. Minghui will produce compilations of its online content regularly and on special occasions.