Four Liaoning Residents Sentenced for Their Faith – Three Denied Family Visits for More Than a Year
Sept. 14, 2020 | By a Minghui correspondent in Liaoning Province, China
(Minghui.org) Four Benxi City, Liaoning Province residents were sentenced to prison on September 4, 2020 for their faith in Falun Gong, an ancient spiritual and meditation discipline that has been persecuted by the Chinese communist regime since 1999.
Mr. Deng Yulin and Ms. Yang Liwei were each sentenced to four years and fined 20,000 yuan. Ms. Zhang Limin received three and a half years with a 15,000-yuan fine. Mr. Zhang Pengzhu was given three years and two months and fined 10,000 yuan.
The four practitioners were arrested on May 23, 2019 for distributing informational materials about Falun Gong. Mr. Deng was sent to the Hengren County Detention Center, Mr. Zhang to the Hengren County Lockup, and Ms. Yang and Ms. Zhang were sent to the Benxi City Detention Center. A fifth practitioner, Mr. Hu Lin, who was arrested with them, was soon sentenced to two years on June 20, 2019, as he had been on the Wanted List after he escaped a previous arrest. Mr. Hu passed away at Kangjiashan Prison on February 16, 2020 as a result of abuse in custody.
The four surviving practitioners' arrests were approved on June 28, 2019 and the Hengren County Procuratorate indicted them on August 13, less than ten days after the police submitted their cases. 
Ms. Yang suffered multiple organ failure due to abuse in detention and was released on bail. The other three practitioners remained in custody and were denied visits by their lawyers and families.
The Hengren County Court held virtual hearings of Ms. Yang at her home on July 3, 2020 and the other three practitioners were triedd in their respective detention centers on August 18, 2020. 
The three practitioners' lawyers, who were present in the courthouse, entered a not guilty plea for them. Their lawyers noted that no witnesses appeared in court to accept cross-examination and the video clips, which were used as prosecution evidence and played in the hearing, were very blurry and failed to show that their clients were at said places doing said things as alleged by the prosecutor. 
Despite family members' strong request to see their loved ones, the judge blocked the three practitioners' families from attending the hearing, citing the coronavirus epidemic. The lawyers, however, noticed that the court didn't have such restrictions for non Falun Gong-related cases.
The judge announced the verdicts against the four practitioners on September 4, 2020. 
This isn't the first time that Mr. Deng has been sentenced for his faith. He and his wife, Ms. Teng Hongtao, were both previously given nine years following arrests on September 18, 2004.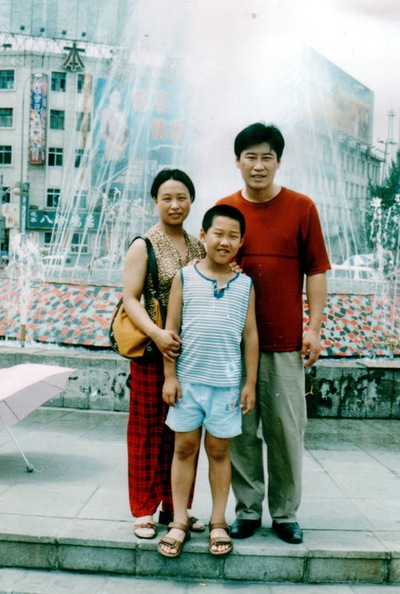 Mr. Deng Yulin, his wife Ms. Teng Hongtao and their son Deng Zhongbo
Related reports:
Three Liaoning Residents Face Trial for Their Faith, Lawyers Threatened by Justice Bureau
Update on Five Practitioners Arrested One Year Ago: One Dies in Prison, One Critically Ill, Remaining Three Denied Attorney Visits
Husband and Wife Arrested in 2004 Secretly Sentenced to Nine Years In Prison