Liaoning Man Imprisoned for His Faith
(Minghui.org) A Benxi City, Liaoning Province, man was imprisoned on a four-year term for his faith in Falun Gong, after his motion to reconsider the case was rejected by a higher court. His family has visited him twice and learned that he was held in a dark solitary confinement cell.
Falun Gong, also known as Falun Dafa, is a spiritual discipline that has been persecuted by the Chinese communist regime since 1999.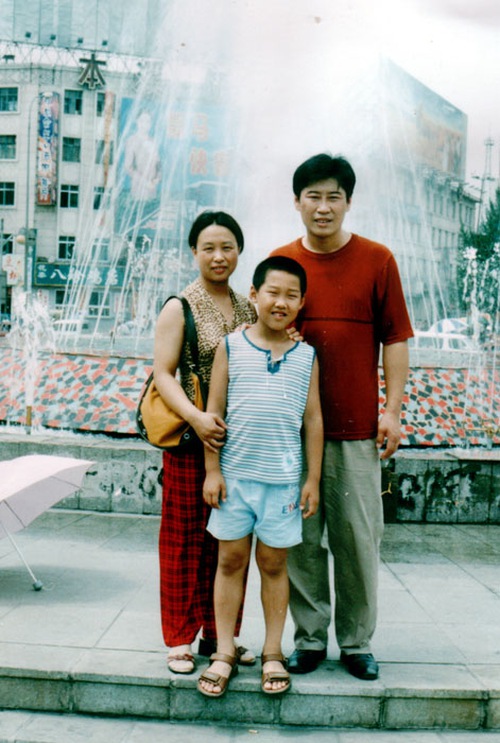 Mr. Deng Yulin, his wife Ms. Teng Hongtao, and their son Deng Zhongbo in an undated photo
Mr. Deng Yulin, 54, was arrested on May 23, 2019, for distributing informational materials about Falun Gong. He was sentenced to four years with a 20,000-yuan fine on September 4, 2020. He appealed with the Benxi City Intermediate Court, which ruled to uphold his original verdict.
Mr. Deng filed a motion to reconsider his case with the higher court on November 30, 2020, which rejected it on July 14, 2021.
Two days later, Mr. Deng was transferred from the Hengren County Detention Center to the Panjin Prison. The detention center guards took a blood sample from him with the stated reason of checking whether he carried HIV.
Not knowing that he had been taken to the Panjin Prison, Mr. Deng's family called the Liaoning Province Prison Administration Bureau on July 19 and asked for his whereabouts, as well as the names and phone numbers of guards in charge of him. The person who answered the phone refused to provide any information and said that they were still waiting to see which prison Mr. Deng would be assigned to.
Mr. Deng's family later found out that he was at the Panjin Prison. When they called the prison on September 22, a guard told them that Mr. Deng had been taken to the Jinzhou Prison.
His family then called the Jinzhou Prison and asked for his information. The prison refused to provide the name and phone number of the guards in charge of him, but gave them the number of the visitation room.
After contacting the visitation room, they learned that Mr. Deng was held in the 22nd ward and all visitation had to be booked a week ahead of time. They then made an appointment to visit Mr. Deng on September 28.
When they arrived at the visitation room on September 28, they were told that Mr. Deng had just been transferred to the 9th ward the day before. The guards kept them waiting for an hour before bringing Mr. Deng to the room.
His family said that Mr. Deng was emaciated and he was wearing a thin short-sleeved shirt. Several guards stood behind him and listened to their conversation. His loved ones asked whether he was beaten in the prison, advising him to file a complaint against them if that was the case. Mr. Deng said that, while he wasn't beaten himself, he saw the guards beating other Falun Gong practitioners.
Mr. Deng's family visited him again on October 20, also after waiting for an hour. The guards revealed that, unlike regular inmates, Mr. Deng's visitation had to be approved by several layers of prison supervisors. This time, Mr. Deng was wearing warmer clothes. He said he was held in a dark isolation room and he usually didn't see anyone, including the guards.
This isn't the first time that Mr. Deng has been sentenced for his faith. He and his wife, Ms. Teng Hongtao, were both previously sentenced to nine years following arrests on September 18, 2004.
Related reports:
Four Liaoning Residents' Appeals Against Wrongful Sentences Rejected, Families Seek Justice
Four Liaoning Residents Sentenced for Their Faith – Three Denied Family Visits for More Than a Year
Three Liaoning Residents Face Trial for Their Faith, Lawyers Threatened by Justice Bureau
Update on Five Practitioners Arrested One Year Ago: One Dies in Prison, One Critically Ill, Remaining Three Denied Attorney Visits
Husband and Wife Arrested in 2004 Secretly Sentenced to Nine Years In Prison
All articles, graphics, and content published on Minghui.org are copyrighted. Non-commercial reproduction is allowed but requires attribution with the article title and a link to the original article.