Still as Urgent as 22 Years Ago: Calling for an End to the Persecution of Falun Gong in China
July 25, 2021 | By Minghui correspondents
(Minghui.org) July 20 marked the 22nd year of Falun Gong's peaceful resistance to the Chinese Communist Party's (CCP) persecution that started on the same day in 1999. Ketty Nivyabandi, Secretary General of Amnesty International Canada, issued a statement to condemn the persecution.
She said that although China had ratified the United Nations Convention against Torture in 1988, it still subjects Falun Gong practitioners to arbitrary detention, unfair trials, and torture.
"Our call to the government of China remains as urgent today as it was 22 years ago. The Chinese government must be held accountable for upholding the human rights of all peoples in China," wrote Nivyabandi in her statement.
Escalated Persecution and Irrefutable Organ Harvesting
Based on first-hand information from the Minghui.org website, at least 9,691 Falun Gong practitioners were illegally arrested and harassed in 2019. The number increased to 16,084 in 2020, and the first half of 2021 alone has recorded 12,761 cases of arrests and harassments. The increasing numbers indicate that the CCP has intensified the persecution even during the pandemic.
Data from other sources also confirms this. During an online conference of Doctors Against Forced Organ Harvesting (DAFOH) in November 2020, Weldon Gilcrease, an associate professor from University of Utah, said that the CCP is the only regime that conducts forced organ harvesting. He also noticed that this crime did not stop during the pandemic. According to published medical papers, the waiting time for lung transplants was only three or four days in China. Such a quick matching time cannot be explained unless there is a large population "waiting to be killed."
Forced organ harvesting was first exposed in 2006, and since then many independent sources of evidence have confirmed it. During a recent rally of Falun Gong practitioners in Washington D.C. on July 16, Nina Shea, a senior fellow and director of the Center for Religious Freedom at the Hudson Institute, said that the CCP has denied and covered up forced organ harvesting for the past 15 years, "but now it's absolutely irrefutable."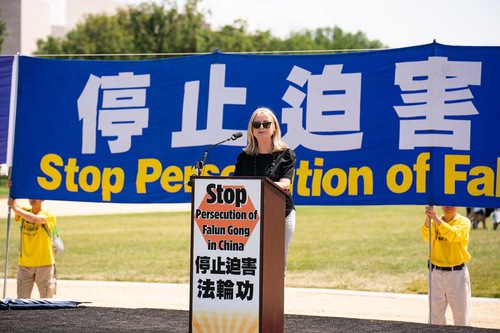 Nina Shea, a senior fellow and director of the Center for Religious Freedom at the Hudson Institute, spoke at a rally in Washington D.C. on July 16, 2021.
She then cited a report issued by United Nations Human Rights experts on June 14 this year, confirming forced organ harvesting. The report cited eyewitness accounts: after blood samples and ultrasound checks, surgeons extracted hearts, kidneys, livers, and corneas from detainees [both Falun Gong practitioners and believers of other faiths]. "This is essentially surgical execution without any due process for China's live organ transplant business," Shea said, adding that the CCP also helped establish the anti-organ trafficking task force of the World Health Organization and manipulated it to cause forced organ harvesting reports to be dismissed as controversial.
"Genocide is the destruction in part of a religious community, for example, with the intent to eradicate it, and I don't think there's any doubt that what has happened these past decades to Falun Gong meets that criteria," she continued. "This is the most heinous human rights and it's engraved in the American heart."
US: Bipartisan Act to End Forced Organ Harvesting in China
The CCP's crimes of anti-humanity allow the world to clearly recognize the regime's nature. Many countries are implementing laws to stop the atrocity. Tom Cotton, Republican U.S. Senator from Arkansas, announced on December 16 last year that he and two Congress members, Congressmen Chris Smith (R-New Jersey) and Tom Suozzi (D-New York), had introduced a bipartisan bill to curb forced organ harvesting in China. During the rally in Washington D.C. on July 16, 2021, many elected officials expressed support for the bill known as the Stop Forced Organ Harvesting Act.
In her letter to the rally, Representative Vicky Hartzler of Missouri said the House of Representatives passed House Resolution 343 in 2016 calling for the CCP to end the horrific practice of forced organ harvesting and release all Falun Gong practitioners. "While this was a step in the right direction, more must be done. That is why I recently cosponsored H.R. 1592, the Stop Forced Organ Harvesting Act, which seeks to combat international trafficking of individuals for the purpose of forced organ harvesting," she wrote, "It is absolutely imperative that these egregious violations of human rights come to an end and that all religious minorities in China are free from persecution."
Johnnie Moore, former commissioner of the U.S. Commission on International Religious Freedom (USCIRF) and a Christian leader, said that the U.S. government should enact laws to stop the CCP's forced organ harvesting and impose sanctions against the CCP officials involved. What the CCP fears the most is not the U.S., but rather the Chinese people. In fact, Falun Gong practitioners are good people who benefit China, and whoever is in power, he explained. When the number of practitioners exceeded the CCP membership, the CCP considered practitioners a threat, instead of treating them as a precious asset to society. The persecution has lasted 22 years and the CCP is still continuing the suppression, which not only puts China in a difficult situation but also pushes the CCP onto a path of no return, he said.
When the CCP started to suppress Falun Gong 22 years ago, the world was silent, he said. Had people paid attention to the persecution 22 years ago, more people would have been saved by now. He called for all countries to join forces to stop the CCP's crimes, which is not only the right thing to do but also a wise decision.
The Chinese Ministry of Foreign Affairs then announced a sanction against Moore on May 26, banning him and his family from mainland China, Hong Kong, and Macao. Mr. Moore replied on the same day saying it was an honor to be sanctioned by the CCP for giving his voice to suppressed groups.
"The CCP doesn't understand the difference between 'the truth' and a 'lie' but here's some truth we know: They are weaker than they want us to believe that they are. A global coalition is building to hold them to account and it transcends political parties and U.S. administrations. This Great Wall of Collaboration is a promise to future generations that we will not hand our world to the CCP to victimize the innocent as they please," he wrote on Twitter.
Canada: From Bill S204 to Magnitsky Sanctions
Garnett Genuis, a member of Canadian parliament who co-sponsored bill S-204 to end human organ trafficking, said that many parliamentarians including himself had tabled petitions in the House of Commons, calling on the government to use Magnitsky sanctions to target those involved in the persecution of Falun Gong practitioners. "This is not just a symbolic measure; when those human rights violators know they will be sanctioned, they won't dare to do evil anymore!" he remarked in an event at Edmonton on July 17.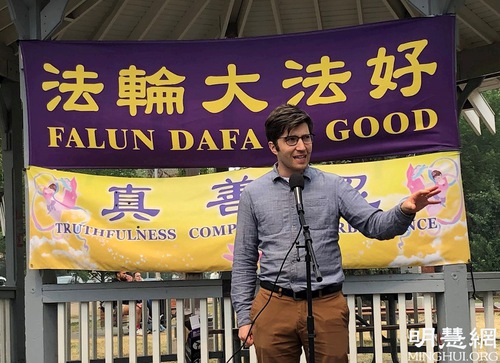 Garnett Genuis, Member of Canadian parliament, spoke at a rally on July 17, 2021.
He also called for a stronger response from the Canadian government. "It is ultimately up to the government, to the Minister of Foreign Affairs, to actually apply those sanctions. These are something that the Canadian government can take to address and combat the ongoing horrific persecution of Falun Gong practitioners, which includes forced organ harvesting and trafficking," he continued. "I have joined Falun Gong practitioners, other parliamentarians, and many sympathetic people from various backgrounds in advocating for an end to this persecution."
In addition, Genuis joined other 33 parliament members writing a letter to Prime Minister Trudeau, urging the Canadian government to openly condemn the persecution of Falun Gong and apply broader sanctions to Chinese individuals who took part in the persecution. "Falun Gong practitioners simply seek to emphasize truthfulness, compassion, and forbearance," he said in a video message, "I am pleased to stand in solidarity with you in these important efforts."
Support from International Community
The China Tribunal, an independent people's tribunal in London established to inquire into forced organ harvesting from prisoners of conscience in China, announced its findings on June 17, 2019. The panel concluded that the CCP has been harvesting organs from living Falun Gong practitioners in China for many years, and that this brutality still continues.
"Based on multiple sources of information, it has been alleged that prisoners of conscience have been killed 'to order' for the purposes of extracting and using their organs for profitable transplantation surgery," wrote the report. In fact, the CCP has committed the crime of anti-humanity and torture. So far, no one has questioned this judgment and many governments including the U.S., U.K, and Canada have cited it as a reference for legislation.
The governor of Texas on June 7 signed Senate Concurrent Resolution 3 (SCR3), "Condemning China's practice of involuntary organ harvesting." The resolution was introduced in the state Senate in January this year. It was approved in the Senate in April, and in the House of Representatives in May.
On July 13, 2021, Brazoria County in the Greater Houston area, Texas, passed a resolution in support of Falun Gong practitioners. "The organ transplantation system in China does not comply with the World Health Organization's requirement of transparency and traceability in organ procurement pathways," wrote the resolution, "A report by Freedom House concluded that there is credible evidence suggesting in the early 2000s, Falun Gong detainees were killed for their organs on a large scale." Therefore, "the Commissioners' Court of Brazoria County hereby stands with the Texas Legislature's Resolution 3 (SCR3) and expresses solidarity with Falun Gong practitioners for their dedication to those who have lost lives, freedoms, and other rights for adhering to their beliefs and practices while promoting awareness."
The Organ Tourism and Cadavers on Display Bill was introduced in the House of Lords in U.K. earlier this year to ban the hideous crime of organ harvesting and trafficking. As "a bill to make amendments to the Human Tissue Act 2004 concerning consent to activities for the purposes of transplantation outside the United Kingdom and consent for imported cadavers to be on display," it passed the second reading on July 16.
In August 2020, Australian Foreign Minister Marise Payne expressed concerns over forced organ harvesting in China after receiving petitions from Falun Gong practitioners calling for the Australian government to help stop the harvesting atrocity. She said that the Department of Foreign Affairs and Trade has been closely monitoring the situation.
On December 7, 2020, a subcommittee of the Australian Parliament's Joint Standing Committee on Foreign Affairs, Defence and Trade, published a report titled "Criminality, corruption, and impunity: Should Australia join the Global Magnitsky movement?"
The 192-page report listed 33 recommendations. At the top of the list: "The Sub-committee recommends that the Australian Government enact stand-alone targeted sanctions legislation to address human rights violations and corruption, similar to the United States' Magnitsky Act 2012."
Among other measures, "The Sub-committee recommends that the sanctions include visa/travel restrictions, limit access to assets, and restrict access to Australia's financial systems."
New laws are expected to be introduced by early 2021. This is viewed as Australia's greatest step forward on human rights issues in the past few decades. Once passed, these laws would warn people of the risks of organ tourism in China. It would also encourage medical professionals to inform patients of such information.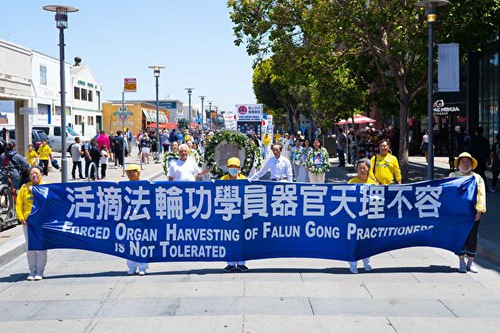 A banner from a parade in San Francisco, California, on July 17, 2021
All articles, graphics, and content published on Minghui.org are copyrighted. Non-commercial reproduction is allowed but requires attribution with the article title and a link to the original article.
Category: July 20 Events