Edmonton: Canadian MP Calls for Sanctioning Chinese Officials Under the Magnitsky Act
July 22, 2021 | By a Falun Dafa practitioner in Edmonton, Canada
(Minghui.org) Falun Dafa practitioners in Edmonton, Canada, gathered in Dr. Wilbert McIntyre Park on July 17, 2021, to peacefully protest and call for an end to the Chinese Communist Party's (CCP) 22-year-long persecution of Falun Dafa. Two MPs spoke at the event, calling on the Canadian government to impose Magnitsky sanctions on those CCP officials who have committed severe human rights violations.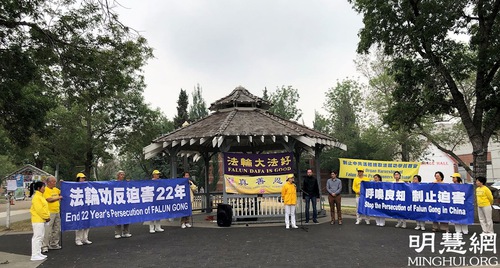 Practitioners gathered at Dr. Wilbert McIntyre Park in Edmonton on July 17 to call for an end to the persecution that has gone on for 22 years.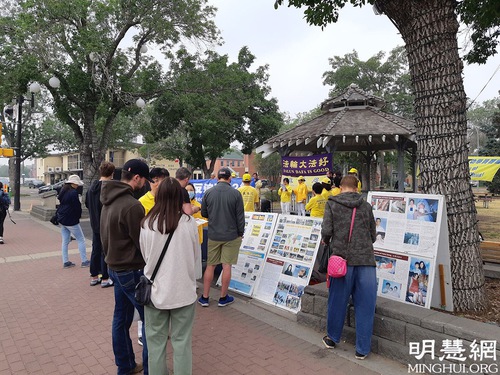 Passersby stop to read the displays.
Many passersby signed the petition to call for an end to the persecution. Global News interviewed the event organizers and several practitioners who survived the persecution.
Congressman: "Enough! The Persecution Can't Go On!"
Federal Congressman Michael Cooper expressed his strong support for all Falun Gong practitioners worldwide, especially for those who have been persecuted by the Chinese communist regime for the past 22 years.
"I am pleased to stand in solidarity with you in these important efforts," he said. "The Chinese Communist regime's trampling on the human rights of Falun Gong practitioners is shocking. Over the past 22 years, we have seen tens of thousands of Falun Gong practitioners killed by the CCP regime and millions imprisoned, tortured, and subjected to forced live organ harvesting."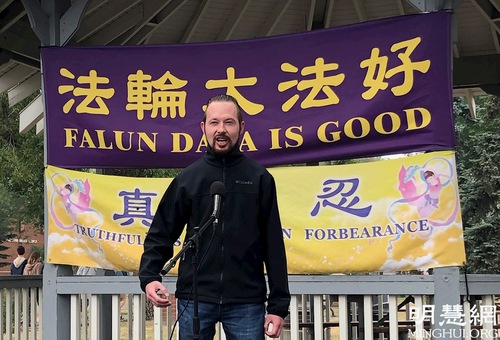 Federal Congressman Michael Cooper spoke at the event.
He emphasized that it is time to stand up to the Chinese Communist regime and say, "Enough! It can't go on!"
Cooper said that the U.S. recently imposed Magnitsky sanctions on two 610 Office officials. The act would allow the Canadian government to sanction China's human rights abusers, freeze their assets in Canada, and restrict their travel.
He also urged the Canadian government to pass Bill S204, co-sponsored by Senator Salma Ataullahjan and Member of Parliament Garnett Genuis. The bill would make it a criminal offense for a person to go abroad and receive an organ taken without consent.
He said he would continue to stand firmly with Falun Gong practitioners and hold the CCP accountable. "The universal values of Truthfulness-Compassion-Forbearance will eventually prevail over the evilness of the CCP!"
MP: Impose Magnitsky Sanctions
Garnett Genuis, Canadian MP and Shadow Minister for Multiculturalism and Canada-China Relations, said the persecution has gone on too long. In his opinion, Canadians should and can do more to address it.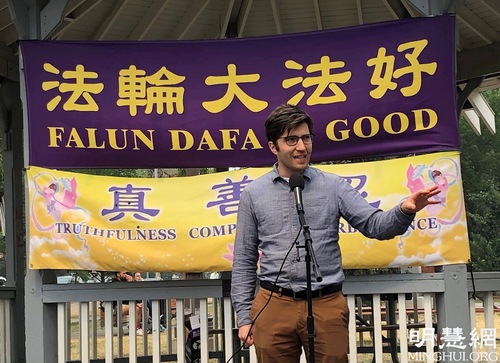 MP Garnett Genuis spoke at the event.
Mr. Genuis said many parliamentarians, himself included, had tabled petitions in the House of Commons, calling on the government to use Magnitsky sanctions to target those involved in the persecution of Falun Gong practitioners.
"This is not just a symbolic measure; when those human rights violators know they will be sanctioned, they won't dare to do evil anymore!"
Mr. Genuis called for a stronger response from the Canadian government. "It is ultimately up to the government, to the Minister of Foreign Affairs, to actually apply those sanctions. These are something that the Canadian government can take to address and combat the ongoing horrific persecution of Falun Gong practitioners, which includes forced organ harvesting and trafficking.
"I have joined Falun Gong practitioners, other parliamentarians, and many sympathetic people from various backgrounds in advocating for an end to this persecution," he concluded
Falun Gong Practitioner: My Father's Body Was Still Warm When He Was Cremated
Jiang Hong, a Falun Gong practitioner from Chongqing, said that the CCP illegally imprisoned her for three years, and then persecuted her father to death.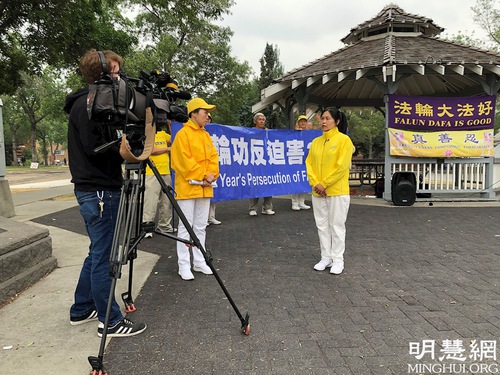 Falun Gong practitioner Jiang Hong, "My father was forcibly cremated when his body was still warm."
In October 2000, Jiang Hong was kidnapped and tortured by the Chongqing Jiangjin District Public Security Bureau because she practiced Falun Gong.
In December 2001, she was illegally sentenced to three years in Chongqing Women's Prison. She was forced to work long hours, sometimes 12-13 hours, every day.
Her father Mr. Jiang Xiqing was also a practitioner. Mr. Jiang was retired from the Jiangjin Tax Department. After he started practicing Falun Dafa, he worked industriously, liked to help others, and regained his health.
Several days before the 2008 Beijing Olympic Games, he was arrested and taken to the Seventh Division of Xishanping Forced Labor Camp.
On May 14, 2008, more than 20 people from the local police station, 610 Office, State Security Division, and local tax bureau searched Mr. Jiang Xiqing's home and arrested him. He was transferred to the Jiangjin District Detention Center and detained. Three months later, Mr. Jiang Xiqing was taken to Xishanping Forced Labor Camp for a one-year term.
On January 27, 2009, Mr. Jiang's family visited him and found him in good health. But less than 24 hours later, on January 28, 2009, his family got a call from the labor camp that he had passed away. Less than seven hours after the labor camp claimed that he had died, his children found that their father's philtrum, chest, abdomen, legs were all still warm to the touch. Believing that he was still alive, they tried to resuscitate him, but dozens of police officers dragged them out of the funeral home.
They then deleted the photos from the family's camera and had Mr. Jiang Xiqing cremated even though the family refused to sign to give their permission.
Background: What Is Falun Dafa?
Falun Dafa (also known as Falun Gong) was first introduced to the public by Mr. Li Hongzhi in Changchun, China in 1992. The spiritual discipline is now practiced in over 100 countries and regions worldwide. Millions of people have embraced the teachings—which are based on the principles of Truthfulness, Compassion, and Forbearance and includes five gentle exercises—and experienced uplifted health and well-being.
Jiang Zemin, former head of the Chinese Communist Party (CCP), perceived the spiritual discipline's growing popularity as a threat to the CCP's atheistic ideology and on July 20, 1999, issued an order to ban the practice.
Minghui.org has confirmed the deaths of thousands of practitioners as a result of the persecution over the past 22 years. The actual number is believed to be much higher. More have been imprisoned and tortured for their faith.
There is concrete evidence that the CCP sanctions the harvesting of organs from detained practitioners, who are murdered to supply the organ transplant industry.
Under Jiang's personal direction, the CCP established the 610 Office, an extralegal security organization with the power to override the police and judicial systems and whose sole function is to carry out the persecution of Falun Dafa.
All articles, graphics, and content published on Minghui.org are copyrighted. Non-commercial reproduction is allowed but requires attribution with the article title and a link to the original article.
Category: Voices of Support Worldwide