Brazoria County of Texas Passes Resolution to Support Falun Gong Practitioners
July 21, 2021 | By Shu Jing, a Minghui correspondent in Houston, U.S.
(Minghui.org) On July 13, 2021, Brazoria County in the Greater Houston area, Texas, passed a resolution in support of Falun Gong practitioners.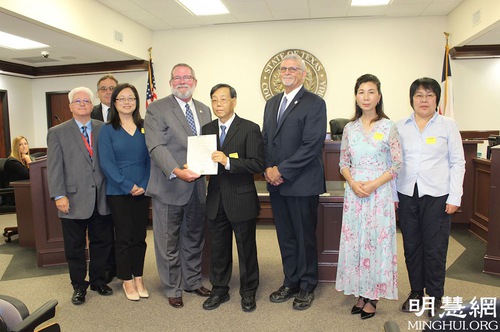 The county commissioner and three other commissioners pose with Falun Gong practitioners. County Commissioner L.M. "Matt" Sebesta, Jr. (fourth from left), Mr. Song of the Southern USA Falun Dafa Association (fifth from left), Commissioner Stacy Adams (first from left), Commissioner David Linder (second from left), Commissioner Donald "Dude" Payne (third from right)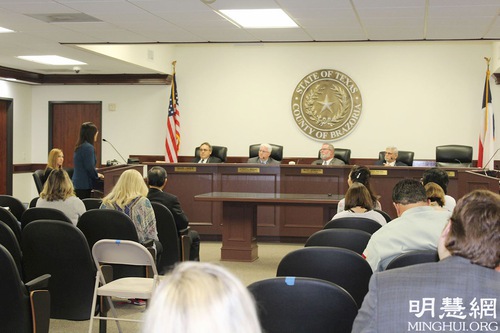 Ms. Guo (standing), a Falun Gong practitioner, presenting information about the persecution of Falun Gong during the committee's monthly meeting
Mr. Song of the Southern USA Falun Dafa Association said at the July 13 meeting that Falun Gong is an ancient spiritual discipline based on Truthfulness, Compassion, and Forbearance. It was first introduced to the public in 1992. According to a government survey in 1999, it's estimated that between 70 and 100 million Chinese were practicing Falun Gong, exceeding the total number of Chinese Communist Party (CCP) members. Jiang Zemin, the then head of the CCP, became furious and jealous of Falun Gong's popularity and ordered the persecution in 1999, which has continued up to this day.
Ms. Guo, a resident of Brazoria County who also practices Falun Gong, said that she knew another local resident, Ms. Chen, who was sentenced to prison a few years for practicing Falun Gong while she was still in China. She escaped from China and now enjoys the freedom to practice her faith in the U.S. "It is hard to imagine what would have happened had she not fled China." Ms. Guo said.
A Call to Stop Forced Organ Harvesting
During an earlier monthly committee meeting on June 8, some Falun Gong practitioners presented signatures from 200 Brazoria County residents in support of the resolution, which highlighted the crime of forced organ harvesting of practitioners in China.
Falun Gong practitioners Ms. Jiang and Ms. Tang also explained in detail this horrific crime during the June meeting.
Ms. Jiang said, "Many American patients travel to China for organ transplants. According to Dr. Monsour, former medical director of the University of Texas liver transplant program, one Texas patient had liver cancer in the final stage. He was unable to obtain a liver in Texas. But for about $88,000, he got one in China. China has become a major international organ transplant center, and they can find an organ very quickly, within weeks or even days. But in the U.S., it takes years to get a liver or kidney match. So how is it that China can match so quickly and where do these organs come from?"
Ms. Jiang continued to say that, "According to Donate Life Association in Texas, 60.2% of Brazoria County residents are registered organ donors, but the wait time to obtain a matching organ is usually several years. On the other hand, China has a registered donor rate of less than 0.2%, yet Chinese transplant centers are able to procure organs within weeks or even days. Until 2010, China did not even have an organ donation system. And for cultural reasons, Chinese people usually don't donate organs because they believe that a person's body should remain intact after death. With such low organ donation rates in China compared to the United States, the short waiting times for vital organs advertised by the Chinese hospitals left us with many questions."
Ms. Tang, another Falun Gong practitioner, said that, "I personally know more than a dozen Falun Gong practitioners living in the greater Houston area who have been persecuted in China. Some of them, including Haiying, were forced to undergo suspicious medical examinations and blood tests while in prison, which made them potential victims of forced organ harvesting. And shortly after the persecution of Falun Gong began in 1999, the number of organs available for transplantation suddenly increased."
Many meeting attendees were shocked to hear the chilling facts, which also prompted the county administration to quickly pass the resolution in support of Falun Gong practitioners.
Below is the text of the resolution.
RESOLUTION
WHEREAS, Brazoria County has local practitioners of Falun Gong (a spiritual discipline founded in 1992) that have flourished through its spiritual and moral teachings, meditation and exercise. This practice is based upon the universal principles of truthfulness, compassion, and forbearance; and
WHEREAS, Brazoria County Falun Gong constituents have requested the County to acknowledge the importance of speaking on their behalf and bringing awareness and education to Brazoria County Citizens regarding non-consenting organ harvesting and risks of traveling to China for organ transplantation; and
WHEREAS, China's constitution guarantees basic rights, including freedom of speech, association, demonstration, and religion, where practitioners should be free to follow their practices including the right to practice Falun Gong; and
WHEREAS, due to the persecution of Falun Gong practitioners in China, many practitioners have died in custody from torture, abuse, and neglect. It is additionally said that members routinely receive the longest sentences and the worst treatment, including torture for their beliefs; and
WHEREAS, the organ transplantation system in China does not comply with the World Health Organization's requirement of transparency and traceability in organ procurement pathways; and
WHEREAS, a report by Freedom House concluded that there is credible evidence suggesting in the early 2000s, Falun Gong detainees were killed for their organs on a large scale. The United Nations - Committee Against Torture and the Special Rapporteur on Torture have expressed concern over allegations of organ harvesting from Falun Gong prisoners. Additionally, these agencies have called on China to increase transparency and traceability within its organ transplantation system. They further request that investigations be conducted for abuse crimes and that those responsible be held accountable for their actions; and
WHEREAS, the killing of religious or political prisoners for any purpose, including for the purpose of selling organs for transplantation, is an egregious and intolerable violation of the fundamental right to life, and practice of involuntary prisoner organ harvesting should immediately end; and
WHEREAS, in June 2021, the Texas Legislature unanimously passed Senate Concurrent Resolution 3 (SCR3), condemning China's practice of involuntary organ harvesting, and also encouraging the medical community to educate Texans about the risks of traveling to China for organ transplants, to help prevent Texas residents from unwittingly becoming involved in murder in the form of forced organ harvesting from prisoners of conscience;
NOW THEREFORE, the Commissioners' Court of Brazoria County hereby stands with the Texas Legislature's Resolution 3 (SCR3) and expresses solidarity with
"Falun Gong Practitioners"
for their dedication to those who have lost lives, freedoms, and other rights for adhering to their beliefs and practices while promoting awareness.
APPROVED this 13th day of July, 2021.
Signed by Brazoria County Sheriff, L.M. "Matt" Sebesta, Jr.Signed by Donald "Dude" Payne, Commissioner Precinct 1Signed by Stacy Adams, Commissioner Precinct 3Signed by David Linder, Commissioner Precinct 4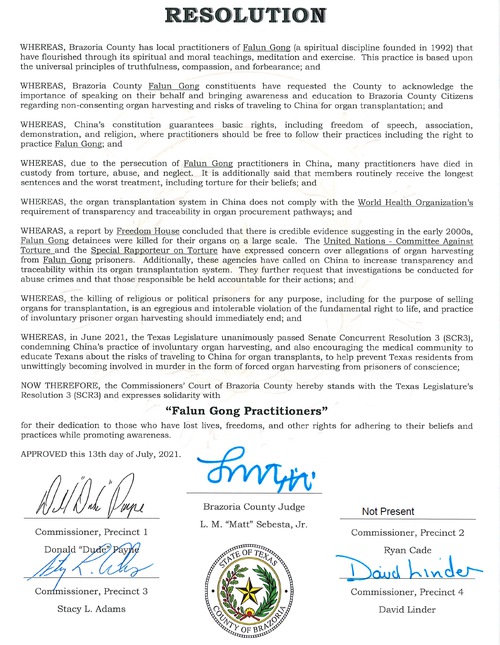 All articles, graphics, and content published on Minghui.org are copyrighted. Non-commercial reproduction is allowed but requires attribution with the article title and a link to the original article.
Category: Voices of Support Worldwide