34 Canadian Parliamentarians Co-sign Letter Urging to End the Persecution of Falun Gong and Impose Government Sanction of Perpetrators
July 21, 2021 | By Minghui correspondent Ying Zi in Ottawa, Canada
(Minghui.org) July 20, 2021 marked the 22nd anniversary of the onset of the persecution of Falun Gong practitioners by the Chinese Communist Party (CCP). On this somber anniversary, 34 Members of Parliament (MP) and Senators in Canada wrote a letter to Prime Minister Trudeau, calling on the Canadian government to openly condemn the persecution of Falun Gong and apply broader sanctions to Chinese individuals who took part in the persecution.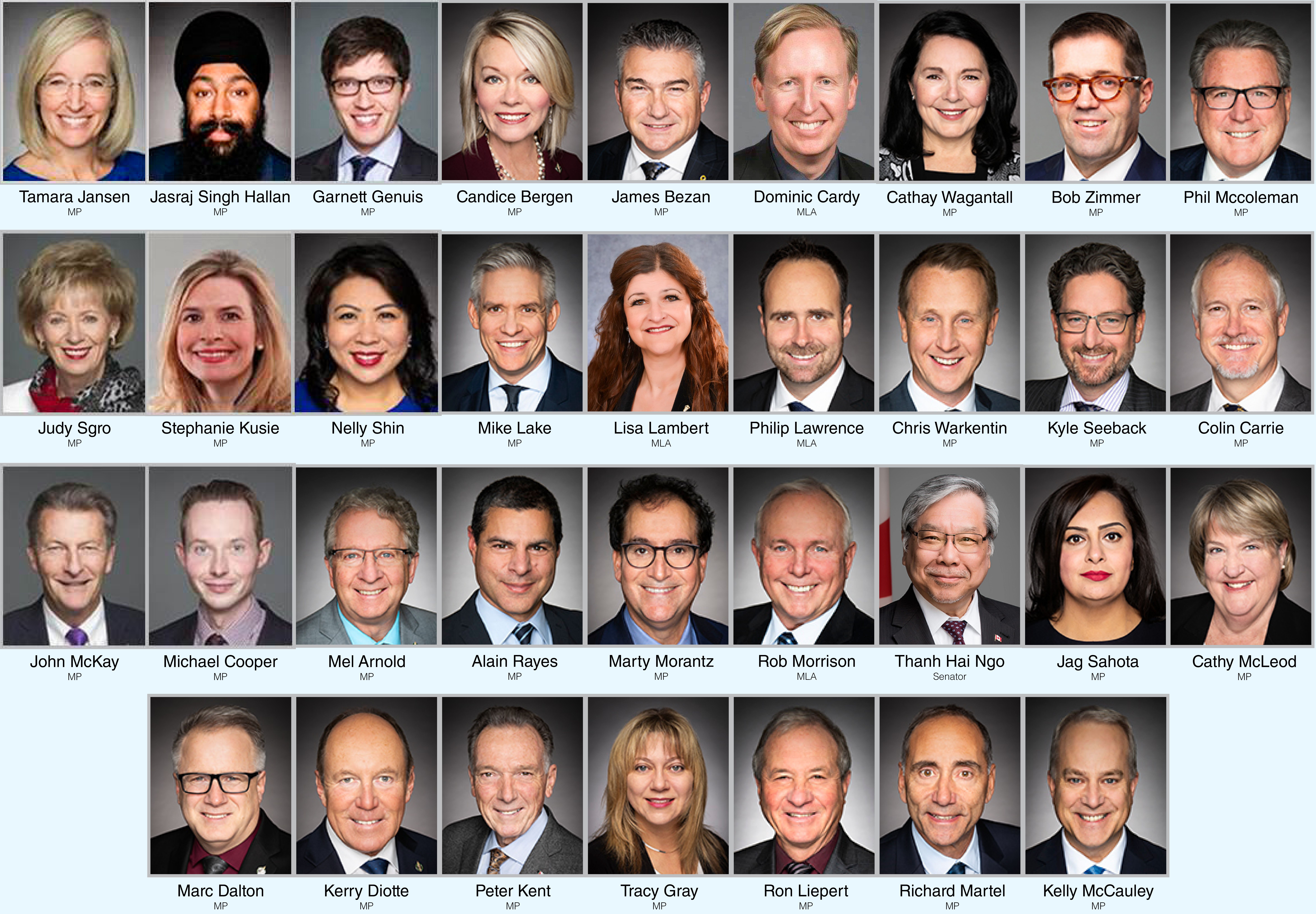 34 Canadian Legislators Calling on Canadian Government to Condemn Persecution of Falun Gong and Sanction Perpetrators
Furthering International Justice and Human Rights in Sanctioning Perpetrators
"With this anniversary, we, the undersigned, urge the government to condemn the relentless human rights violations of Falun Gong practitioners and call for the Chinese Communist Party to end the persecution," wrote the letter.
The parliamentarians said that "We also urge our government to impose sanctions against Chinese officials for their gross human rights violations of Falun Gong practitioners, pursuant to the Justice for Victims of Corrupt Foreign Officials Act (Sergei Magnitsky Law)."
"On account of the gravity and scale of the human rights violations of Falun Gong, we believe that sanctions against the perpetrators will be effective in furthering the interests of international justice and human rights."
They noted that "For 22 years, communist officials in China have carried out a state-sponsored, nationwide campaign of hate propaganda, arbitrary detention, illegal imprisonment, torture, extrajudicial killing, and large-scale organ harvesting targeting the tens of millions of adherents of Falun Gong, a spiritual practice guided by the principles of Truth, Compassion, and Tolerance."
"We implore our government to take the necessary actions to address the ongoing gross injustices happening toward Falun Gong practitioners in China."
Chair of Parliamentary Friends of Falun Gong: Stand With Falun Gong Practitioners
Garnett Genuis, co-chair of Parliamentary Friends of Falun Gong, Vice Chair of Special Committee on Canada-China Relations and Shadow Cabinet Minister on International Development & Human Rights sent a supporting video to the practitioners on the 22nd anniversary of the persecution.
"Thank you for the opportunity to share this message on this somber anniversary. Today marks 22 years since the Chinese Communist Party began the horrific persecution of Falun Gong practitioners. Falun Gong practitioners, simply seek to emphasize truthfulness, compassion, and forbearance, but the Chinese Communist Party, fears their message of goodwill and has sought to eradicate Falun Gong, completely.
"I have joined Falun Gong practitioners, other parliamentarians and many sympathetic people from various backgrounds in advocating for an end to this persecution and a stronger response from the Canadian government. … I am pleased to stand in solidarity with you in these important efforts."
Other MPs or senators who have co-signed the letter include:
Mel Arnold (MP), Candice Bergen (MP), James Bezan (MP), Dominic Cardy (MLA), Colin Carrie (MP), Michael Cooper (MP), Marc Dalton (MP), Kerry Diotte (MP), Tracy Gray (MP), Garnett Genuis (MP), Jasraj Singh Hallan (MP), Tamara Jansen (MP), Peter Kent (MP), Stephanie Kusie (MP), Mike Lake (MP), Lisa Lambert (MLA), Philip Lawrence (MP), Ron Liepert (MP), Richard Martel (MP), Kelly McCauley (MP), Phil McColeman (MP), John McKay (MP), Cathy McLeod (MP), Alain Rayes (MP), Marty Morantz (MP), Rob Morrison (MP), Jag Sahota (MP), Kyle Seeback (MP), Judy Sgro (MP), Nelly Shin (MP), Cathay Wagantall (MP), Chris Warkentin (MP), Bob Zimmer (MP), and Thanh Hai Ngo (senator).
Sanction List of 150 Perpetrators Submitted to Foreign Affairs Minister
A month earlier, on June 11, 2021, MP James Bazen, a co-signer of the letter, submitted a list of 150 CCP officials, selected from tens of thousands of known perpetrators who participated in the persecution, to the Minister of Foreign Affairs Marc Garneau and demanded government sanction of them.
"They [the perpetrators] were selected because their egregious and extensive participation in this human rights atrocity is well documented, and their eligibility for sanction under the [Victims of Corrupt Foreign Officials] Act is beyond dispute," said MP Bezan.
He said that Falun Gong practitioners are persecuted or even killed for their organs only for following the universal values of Truthfulness, Compassion, Forbearance.
He noted that the U.S. and several other allies have sanctioned several CCP officials for their roles in the persecution and Canada should follow suit. He urged Minister Garneau to take a close look at the list and seriously consider sanction against the CCP officials for the atrocities they've committed. He said that Canada could not afford to wait any longer in condemning such a totalitarian government and its human rights abuses of its own people. He urged the Canadian government to resort to all means possible, to support the persecuted group like Falun Gong practitioners and help them pursue freedom and human rights.
Background: Organ Harvesting, a Crime Against Humanity
In the persecution of Falun Gong, the most concerning aspect is the harvesting of organs from the practitioners when they are still alive.
With mounting evidence and Falun Gong practitioners' persistent effort in raising awareness about the persecution, the international community is voicing stronger concern of the extreme human rights violations in China.
The China Tribunal, an independent people's tribunal in London chaired by Sir Geoffrey Nice, QC, a British leading expert on human rights law, released its final judgment on March 1, 2020, declaring that China's campaign of forced organ harvesting from innocent victims is a "crime against humanity" that constitutes one of the world's "worst atrocities committed" in the past century.
During another forum hosted by the International Coalition to End Transplant Abuse in China (ETAC) on February 24, 2021, Sir Geoffrey Nice QC emphasized that forced organ harvesting amounts to genocide and is threatening mankind and we have the responsibility of correcting it.
On June 14, 2021, twelve human rights experts of the United Nations published a statement, saying that "they were extremely alarmed by reports of alleged 'organ harvesting' targeting minorities, including Falun Gong practitioners, Uyghurs, Tibetans, Muslims and Christians, in detention in China."
All articles, graphics, and content published on Minghui.org are copyrighted. Non-commercial reproduction is allowed but requires attribution with the article title and a link to the original article.
Category: Voices of Support Worldwide