Minghui Report: 274 Falun Gong Practitioners Arrested in October 2019
December 04, 2019 | By a Minghui correspondent in China
(Minghui.org) According to information compiled by Minghui.org, 274 Falun Gong practitioners in China were arrested and 127 harassed for their faith in October 2019. At least 152 remain in detention at the time of writing.
Falun Gong, also known as Falun Dafa, is a mind-body practice based on the principles of Truthfulness-Compassion-Forbearance. It has been persecuted by the Chinese communist regime since July 1999.
The arrests and harassment in October took place in 26 provinces and centrally- controlled municipalities. Ten of the regions reported double-digit arrests, with Hubei Province seeing the most cases (53), followed by 41 arrests in Liaoning Province.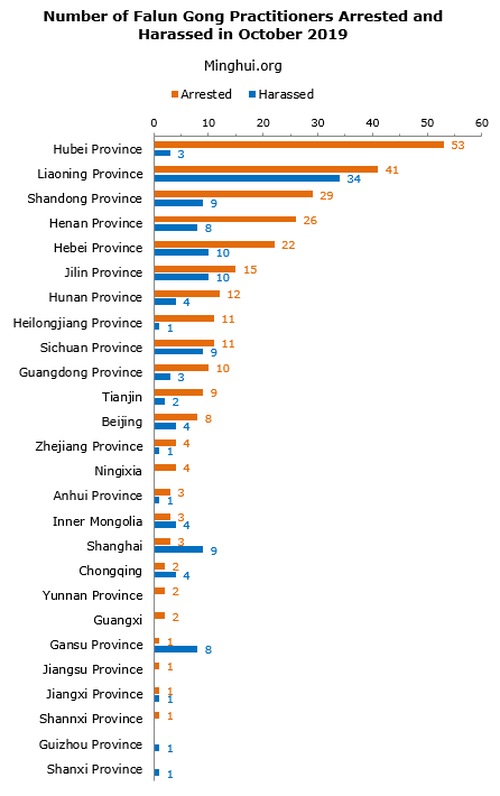 In particular, 24 of the targeted practitioners were 65 or older, the oldest being 87, at the time of the arrests or harassment.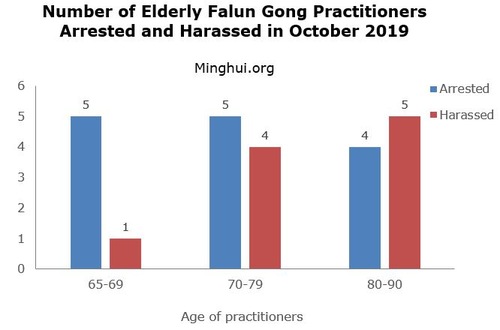 October 1, 2019, marked the 70th anniversary of the Chinese Communist Party (CCP)'s rule and was dubbed the most "sensitive date" by the regime. The preparation of large scale celebrations across the country resulted in intensified persecution of Falun Gong practitioners in the months leading up to the anniversary.
According to information compiled by Minghui.org, 922 practitioners were arrested in July, 548 in August, 636 in September and 274 in October.
Below are snapshots of some arrest and harassment cases that happened in October. Given the strict censorship in China, persecution cases cannot always be reported in a timely manner, nor is all the information readily available.
Husband and Wife Arrested Two Months Apart for Their Faith in Falun Gong
Ms. Liu Yanwei, a native of Tongjiang City, Heilongjiang Province, moved to Fujin City, about 50 miles away, to avoid being arrested for her faith in Falun Gong.
It didn't take the police very long to find out her new residence.
Two officers seized her, pushed her into a car, and drove away on the afternoon of October 1, 2019. This happened shortly after she had sent her son, who had just come to visit her during his college break, to Tongjiang to visit his grandparents.
When her son returned to Fujin later that day after visiting his grandparents Tongjiang, Ms. Li had already been gone for several hours.
Her son waited for her at her temporary residence. But she never came back. Not until he was about to board the train to go back to school on October 6 did he hear the news of her arrest.
Ms. Liu's arrest came two months after her husband, Mr. Zhang Baochun, was arrested for their shared faith on August 1. Mr. Zhang is being detained in Tongjiang City Detention Center.
At the time of this report, no word has been heard from the police about where Ms. Liu is being held.
This wasn't the first time the couple has been targeted for their faith in Falun Gong, which they credit for renewing their lives. They were sentenced to prison ten months apart in 2008, with Mr. Zhang given six years and Ms. Liu given seven and a half years.
Shandong Woman, 76, Arrested
Ms. Wang Zhen, 76, was arrested on the street of her hometown in Weifang City, Shandong on the morning of October 31, 2019.
When Ms. Wang's two sons, Mr. Zhang Ping and Mr. Zhang Zhao, returned home on the afternoon of the same day, they saw the police at their doorstep attempting to break into their home. They refused to open the door for the police when asked. Soon, the special police force came and opened the door.
Mr. Zhang Ping was arrested. Mr. Zhang Zhao escaped, but was arrested later on November 2.
After 9.5 Years in Prison, 79-Year-Old Woman Arrested Twice in Six Months for Her Faith
Ms. Zhao Yulan, 79 and a resident of Fushun City, Liaoning Province, was arrested again on October 26, 2019, six months after her prior arrest on April 18, 2019. She had been released after eight days of detention due to her physical condition following her previous arrest. She is currently held at Nangou Detention Center.
During the past ten some years, Ms. Zhao served two prison sentences, for a total of 9.5 years, for her faith.
Falun Gong Practitioner Detained for Five Days for Expressing Regret About Renouncing Her Faith Against Her Will
Many Falun Gong practitioners are pressured to write statements to renounce their faith following their arrests, as the police often threaten their jobs, pensions, or the safety of their family members.
Ms. Wang Shuqing is among the practitioners who have retracted their statements and declared their intention to resume their practice of Falun Gong after they were released. Practitioners do so by publishing a statement on Minghui.org, a communication platform for all Falun Gong practitioners around the world.
Ms. Wang was seized from her home on October 18, 2019, by four officers from Fengshan District Police Station after they saw the statement she had published on the Chinese-language Minghui.org on August 28, 2019.
She was held in Dandong City Detention Center for five days and released on October 23.
Father of Three Arrested for His Faith and Laid Off After His Release
Mr. Chen Binggui, in his 40s and a bus driver in Maoming City, Guangdong Province, was arrested on October 7, 2019 at home, after the police tracked him through surveillance cameras for handing out brochures with information about Falun Gong in Lianjiang City (about 60 miles from Maoming) days before.
His three children, 2, 6, and 7 years old, were traumatized to see their father taken away in front of them.
Mr. Chen was released on November 12, 2018, after 37 days of detention.
However, when he went to work the next day, he was told by the human resources department of the bus company that he was laid off because the police had forced them to fire him.
Because he was the sole breadwinner, his children, wife, and elderly parents are now in dire straits.
Guangdong Man on Hunger Strike to Protest Illegal Arrest
Mr. Wang Shuicheng from Zhanjiang City, Guangdong Province, was arrested on October 5, 2019, for handing out brochures about the persecution of Falun Gong. He has been on a hunger strike in the detention center to protest the arbitrary arrest.
His arrest was approved recently by the local procuratorate and he is now facing indictment for his faith.
The local police harassed and threatened his family in order to force them to provide information about Mr. Wang.
Liaoning Woman Detained Again After Seven Years of Imprisonment
After the government officials of Fengcheng City, Liaoning Province spotted Falun Gong materials in town and urged the police to investigate, Ms. Jiang Fengli was arrested as the suspect on October 14, 2019.
Ms. Jiang, 60, is a resident of Fengcheng City. During the past ten some years, she has been arrested five times and sentenced to two prison terms. She was incarcerated in Liaoning Province Women's Prison during both prison terms, for a total of seven years. She was subjected to severe torture in the prison.
Guangdong Police Harass Falun Gong Practitioner in Hunan for Putting Up Posters about Her Faith
The police in Guangdong Province traveled 260 miles to Hunan Province to harass a Falun Gong practitioner in her 80s, upon finding out that she had put up posters and distributed informational materials about Falun Gong in Guangdong.
Ms. Li Guihua, a resident of Chenzhou City, Hunan Province, went to Dongguan City, Guangdong Province to visit her son and daughter in early October 2019.
Ms. Li put up posters about Falun Gong near a local farmers' market in Dongguan on October 12, 2019, one day before she returned home in Chenzhou.
The police later found out that it was Ms. Li who put up the posters through videos from surveillance cameras. They harassed Ms. Li's daughter and son in their homes but did not find her.
On the morning of October 16, 2019, four officers from Dongguan and their counterparts in Chenzhou broke into Ms. Li's home. They searched every room and took pictures of everything without showing a search warrant. Ms. Li was brought to the local police station one hour later.
The police took pictures of Ms. Li and collected her blood and urine samples. They also took her cellphone and returned it a few hours later. Ms. Li was forced to sign an unknown document before being released around 8 p.m.
Three Falun Gong Practitioners Arrested and More than Ten Harassed
Ms. Zhao Xueqing, Ms. Wang Haiping and Ms. Ma Haifang were arrested at their homes in Kangping County, Liaoning Province, between October 2-6, 2019. Ms. Zhao is being detained in Shenyang City Detention Center.
In addition to the arrests, more than 10 practitioners were harassed by the local police in Kangping County in October, while they were busy with their fall harvest. The practitioners were questioned and pressured to write statements to renounce their faith.
Related Reports:
Minghui Report: 636 Falun Gong Practitioners Arrested in September 2019
Minghui Report: 548 Falun Gong Practitioners Arrested in August 2019
Minghui Report: 922 Falun Gong Practitioners Arrested in July 2019
Minghui Report: 2,014 Falun Gong Practitioners Arrested for Their Faith in First Half of 2019
Minghui Report: 341 Falun Gong Practitioners Arrested in May 2019
Minghui Report: 688 Falun Gong Practitioners in China Arrested in April 2019
Minghui Report: 245 Falun Gong Practitioners Arrested in March 2019
Minghui Report: 101 Falun Gong Practitioners Arrested in February 2019
Minghui Report: 181 Falun Gong Practitioners Arrested in January 2019