Minghui Report: 548 Falun Gong Practitioners Arrested in August 2019
October 17, 2019 | By a Minghui correspondent in China
(Minghui.org) According to information compiled by Minghui.org, 548 Falun Gong practitioners in China were arrested and 215 were harassed for their faith in August 2019. Of those targeted, 240 had their homes ransacked and at least 370 remain in custody at the time of writing.
Many of the arrests and incidents of harassment took place under the pretense of "assuring social stability" during celebrations for the 70th anniversary of the Chinese Communist Party's founding on October 1, 1949.
Of particular note is that Mr. Yang Shenjun from Jiamusi City, Heilongjiang Province, died nine days following his arrest on August 2, 2019. He began to vomit blood at the local detention center and was rushed to a hospital on the morning of August 11. He passed away around 9:00 that evening. The cause of death remains to be investigated.
The arrests took place in 27 provinces and centrally-controlled municipalities. The regions reporting the most arrests were Shandong Province (101), followed by Jilin Province (76) and Xinjiang Autonomous Region (68).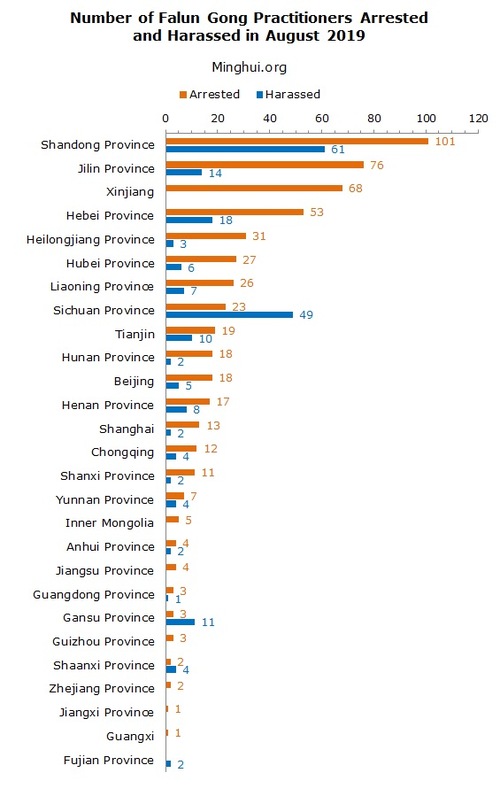 In addition, 52 of the 548 practitioners who experienced persecution, including 36 arrested and 16 harassed, are between 65 and 86 years old.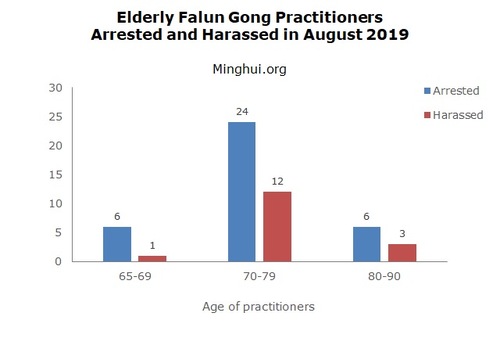 A total of 197,753 yuan were extorted and confiscated from 22 practitioners and their families, averaging 8,989 yuan per family.
In one family in Gaoping City, Shanxi Province, eight family members were arrested for practicing Falun Gong, including Mr. Yue Kejianm (76), his wife, Ms. Li Youxiang (73), and their two sons and a daughter and their respective spouses. A ten-month-old baby was left home alone for 24 hours as a result.
Below is a sampling of some of the arrests and incidents of harassment. Due to the information blockade by the government, the number of Falun Gong practitioners who are arrested and harassed cannot always be reported in a timely manner, nor is all the information readily available.
Group Arrests
Siping City, Jilin Province: 26 Falun Gong Practitioners Arrested in One Day
Police in Siping City arrested 26 local practitioners on August 15. They were all given 15 days of administrative detention and taken to the Siping City Detention Center. The police tried to force them to give out other practitioners' names during subsequent interrogations.
Nanyang City, Henan Province: 32 Falun Gong Practitioners Arrested in Two Days
Police arrested 32 practitioners and one non-practitioner family member in Nanyang City, Henan Province, on August 30 and 31, 2019. Of those arrested, Ms. Guan Minghui, 28, has a mental disability and three are in their 80s.
Police ransacked the practitioners' homes and confiscated their Falun Gong materials. They also took hundreds of thousands of yuan in cash from Ms. Han Lianying's home.
Ms. Wen Jianhua, a clothing vendor in her 70s, had her store raided and her Falun Gong materials confiscated.
Three Store Owners in Sichuan Province Arrested for Their Faith
On August 21, three shop owners from Texing Town, Sichuan Province, were arrested. According to a police officer, surveillance cameras recorded them distributing Falun Gong informational materials in another town. The police also searched their homes and confiscated Falun Gong books and materials.
Arrests to Meet Quotas
Pengzhou City, Sichuan Province: Mr. Hu Changqi Detained Five Days to Meet Arrest Quota
Mr. Hu Changqi from Pengzhou City was taken from his home on August 22. The police took his fingerprints and a photo. He was then taken to a hospital for a physical and then to the Pengzhou Detention Center. Mr. Hu overheard a police officer from another police station saying that they would pay 500 yuan for an arrested practitioner to help meet their quotas.
Mr. Hu was released five days later.
Huanan County, Heilongjiang Province: Arrest Quota for Each Police Station
It was reported that Zhang Licheng, director of the Political and Judiciary Committee in Hua'nan County, Helongjiang Province, instructed local police stations to harass and interrogate Falun Gong practitioners in their jurisdictions. Each police station had to arrest at least two practitioners to meet the quota.
Damoujia Town, Shandong Province: Ms. Xie Yuqin Beaten at a Detention Center
Police scaled the fence in the middle of night to arrest Ms. Xie Yuqin in Damoujia Town, Shandong Province on August 7. The 52-year-old woman was tied to a metal chair in the police station, where officers beat her, leaving deep bruises on her shoulders, back, and arms. One officer grabbed her hand and forced her to put her fingerprints on a fabricated interrogation record against her will.
When Ms. Xie's son and her lawyer went to the police station on August 22 to ask about her, Liu Gang, the head of the police station, denied that they had abused Ms. Xie. He also threatened to report the lawyer for representing a Falun Gong practitioner.
Raoyang County, Hebei Province: Ms. Yang Zhongshen Beaten on the Street by Police Officers
Ms. Yang Zhongshen of Raoyang County, Hebei Province, was arrested on August 28. According to a witness, several officers beat Ms. Yang Zhongshen on the street, with one sitting on top of her. Officers from the Tongyuexiang Police Station ransacked Ms. Yang's home and took her to the Hengshui City Detention Center that evening, where she has been detained ever since.
Hebei Resident Working in Beijing Arrested for Her Faith in Falun Gong
A 28-year-old woman was arrested in Beijing after she visited an elderly Falun Gong practitioner on August 11. Ms. Li Shuang of Laishui County, Hebei Province, moved to Beijing after she landed a job at an electronic products company. The police ransacked Ms. Li's home and never gave her a list of confiscated items.
Ms. Li was interrogated four times, but she has refused to answer any questions. Her parents hired a lawyer to represent her after receiving notice of her detention. The lawyer met with Ms. Li on August 22, 2019.
The company owners, Mr. Yan Yong and his wife Ms. Yue Liyong, also Falun Gong practitioners, were arrested as well. The police searched the company offices and confiscated numerous items.
Two Young Women Face Indictment for Practicing Falun Gong
Ms. Liu Zixuan, 27, and Ms. Ye Linlin, 29, were arrested with their two roommates in early August in Beijing. All four are Falun Gong practitioners. Xisanqi Police Station officers broke into the young women's shared apartment around 10:00 p.m. on August 7 and ransacked it. Their Falun Gong books, printers, laptops, and 40-50 copies of informational booklets about Falun Gong were confiscated.
A prosecutor revealed that surveillance cameras had recorded the four entering a residential area where Falun Gong pamphlets were later found by the police. The pamphlets were used as prosecution evidence.
The women were taken to Haidian Detention Center, where they were interrogated and ordered to write statements to renounce Falun Gong. The other two women wrote the statements under pressure and were released. Ms. Liu and Ms. Ye refused to renounce their faith and were issued formal arrest warrants. They are facing indictment.
Beijing Woman, Nearly 80, Arrested for Not Renouncing Her Faith
Ms. Lu Xiuling, nearly 80 years old, was arrested in August. The police have kept the family in the dark as to her whereabouts.
Ms. Lu Xiuling's latest arrest came only a year after she was sentenced to one year in prison for talking to people about Falun Gong. She was held in Daxing Detention Center following her arrest in December 2017 and then put under house arrest because of her age after she was convicted.
Chongqing Woman, 73, Faces Indictment for Her Faith
Ms. Liu Chengbi, her daughter, and two other Chongqing residents were arrested while studying the Falun Gong teachings at the home of Ms. Wang Maoru. All five women were arrested and taken to the Yuzhong District Police Station. The officers measured their height, collected their fingerprints and took blood samples, and interrogated them.
Ms. Liu, 73, and Ms. Wang, 68, are still detained in Shibanpo No. 1 Detention Center at the time of writing. Ms. Liu is facing indictment. Her daughter was released after the prosecutor for the Yuzhong District Procuratorate dismissed her case. The other two practitioners were released later the next day.
Two Chongqing Women Have Their Fingerprints Taken and Blood Drawn Against Their Will
Two women in Chongqing had their homes ransacked and fingerprints and blood samples taken after someone reported them for giving out fliers with information about Falun Gong.
Ms. Liu Changxiu, 76, was having lunch on August 22, 2019, when three police officers and two local officials showed up at her home. She was taken to the Tongyuanju Police Station where two officers took a sample of Ms. Liu's blood, her fingerprints, and a photograph. Ms. Liu refused to answer questions during the interrogation. They released her that evening.
Ms. Zhou Liangrong, 75, was arrested on August 23. Police ransacked her home and confiscated her Falun Gong books and materials. Ms. Zhou was taken to the Huangjueya Police Station around noon. The police took her height, a blood sample, and fingerprints before releasing her that afternoon.
Family of Eight Arrested, Baby Boy Left Home Alone for One Day
A baby boy only a few months old was deserted for a day after his parents, grandparents, uncles, and aunts were arrested because of his grandparents' faith in Falun Gong.
Mr. Yue Kejian, 76, and his wife Ms. Li Youxiang, 73, were seized from their home in Gaoping City, Shanxi Province, on August 30, 2019. Their two sons, a daughter, and their respective spouses were also arrested.
The elderly couple's grandson, who was still nursing, was thrown aside by police officers during the arrests. The baby was left at home alone until his parents, uncles, and aunts were released the next day.
The infant's grandparents, however, remain in custody. Mr. Yue is now in the Gaoping City Detention Center, and Ms. Li is detained in the Jincheng City Detention Center. Their arrests have been approved.
Repeatedly Persecuted
Ms. Zhang Yun Arrested Again after Nine Years of Wrongful Imprisonment
Ms. Zhang Yun, 64, of Shijiazhuang City, Hubei Province, was arrested while studying the teachings of Falun Gong at the home of Ms. Chen Xianhua. Ms. Zhang is now in the Shijiazhuang No. 2 Detention Center.
Ms. Zhang was a former prison guard. She has been repeatedly persecuted for her faith since 1999. She has already been deprived of her freedom for a total of nine years and three months, including three times in forced labor camps and three times in brainwashing centers. During that time she was abused and tortured, including being injected with unknown drugs, shocked with electric batons, and beaten until she was unconscious. She has suffered hearing loss as a result of the severe abuse.
Prior to her latest arrest, Ms. Zhang served three and a half years in Hebei Women's Prison for handing out Falun Gong materials.
Hubei Man Arrested a Seventh Time for His Faith
Mr. Wang Hao of Wuhan City, Hubei Province, was arrested on August 29, two days before his scheduled return from a summer vacation. A police officer from Lichuan called his family and informed them that Mr. Wang was arrested because he talked to someone about Falun Gong in Lichuan.
This is the seventh time that Mr. Wang, 46, has been arrested for his faith. He was held in forced labor camps twice for a total of three years between 2002 and 2007 and was subjected to relentless torture aimed at forcing him to renounce his faith.
Mr. Wang's wife, Ms. Peng Qingqing, who has trouble walking after being persecuted for practicing Falun Gong, is caring for his ailing parents. They are in their 80s and both recovering from strokes. Mr. Wang's older sister is still serving a four-year term for hanging up banners with information about Falun Gong.
Cases of Harassment
Meizhou City, Guandong Province: Falun Gong Practitioners Harassed for Their Faith
Five residents of Meizhou City, Guangdong Province, were harassed in August. Ms. Li Qiongying was picked up by the police on the afternoon of August 20. They claimed that Ms. Li had been distributing informational materials about Falun Gong. They ransacked her home and confiscated her Falun Gong books, photos of the founder of Falun Gong, as well as 4,000 yuan in cash and Ms. Li's ID and house keys. She was held in the police station until 11:00 p.m.
Ms. Fu Yanling was arrested around 4:00 p.m. on August 28 by 14 officers from the Mei County Domestic Security Division, the local police station, and the Guangdong Province 610 Office. The officers took Ms. Fu to her home, ransacked her residence, and arrested her husband Mr. Xia Xianqiang and son Mr. Xia Zhengpeng.
The police interrogated them, took their photos, and collected their fingerprints and DNA samples. All three were released around 11:00 p.m.
Mr. Xie Hanzhu was harassed by Deng Chenghua, the deputy director of the Meijiang District 610 Office, and officers from the Chengxi Police Station on the afternoon of August 30, 2019. The officers quizzed him about his recent activities and left.
Elderly Woman Suffers Declining Health after Being Fitted with Wrist Monitor and Subjected to Frequent Harassment
Ms. Tang Xiuwen, 76, a retired TV factory worker in Changsha City, Hunan Province, was arrested in May 2017 after being reported for handing out informational materials about Falun Gong.
Ms. Tang was given a one-year term by the Yuelu District Court in June 2018 and ordered to serve time outside of prison. The local police and residential committee staff members showed up at Ms. Tang's home in April 2019 and forced her to wear a wrist monitor that constantly tracks her location and records her daily life in both audio and video.
Ms. Tang has been suffering from weight loss, dizziness, and symptoms of high blood pressure due to the constant stress.
Police Secretly Install Position Tracking Devices on Practitioners' Cars
Police in Shenzhen City, Guangdong Province, were ordered to ramp up the persecution of Falun Gong. Many practitioners have been harassed as a result. Some have had high resolution cameras installed outside their apartments so the police can monitor their activities. In some cases, the police secretly installed position tracking devices on their personal cars (see pictures).
Ms. Chi Guixia and Ms. Chi Guimin from Heilongjiang Province Facing Harassment
The Chi sisters and their family have been followed and under surveillance since June 2019. In August, the family noticed over a dozen people outside their apartment building every day. When anyone in the family tried to approach those people, they quickly left.
Ms. Chi reported them to the local police. At first, the police agreed to investigate, but then decided against it. The family still do not know who these people are.
A chimney pipe was set up facing the family's apartment window. The pipe emitted a gas with an odor. Everyone in the family started to have sore throats, itchy eyes, and difficulty breathing.
Ms. Liu Yanbo from Jilin Province Harassed on the Train
Ms. Liu Yanbo from Yushu City, Jilin Province, was on the train heading to Changchun City in the morning of August 27. Railroad police inspected her ID and searched her bags four times, even though other passengers near her were not searched. When she questioned the police, she was told she was randomly selected.
Police Threaten Ms. Li Chunwan, Say Her Grandchildren Will Be Expelled from School
Police and officials from the Education Bureau recently harassed Ms. Li Chunwan at her home in Huichun City, Jilin Province. Ms. Li, in her 70s, was warned that if she continues to hand out Falun Gong materials, her high-school granddaughter and grade-school grandson would be expelled from school. Ms. Li refused to answer the police's questions.
Only after the grandchildren's father, who works in another city, was called back by the police and made a promise on her behalf did the police leave.
Related reports:
Minghui Report: 922 Falun Gong Practitioners Arrested in July 2019
Minghui Report: 2,014 Falun Gong Practitioners Arrested for Their Faith in First Half of 2019
Minghui Report: 341 Falun Gong Practitioners Arrested in May 2019
Minghui Report: 688 Falun Gong Practitioners in China Arrested in April 2019
Minghui Report: 245 Falun Gong Practitioners Arrested in March 2019
Minghui Report: 101 Falun Gong Practitioners Arrested in February 2019
Minghui Report: 181 Falun Gong Practitioners Arrested in January 2019