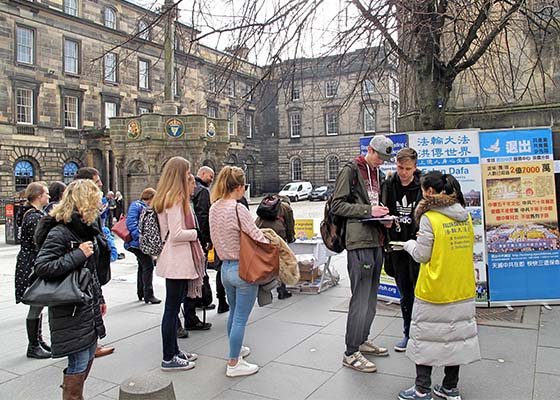 Practitioners introduced Falun Dafa at the Scottish Government on Royal Mile and at St. James Square. Many members of the public signed petitions to call for an end to the persecution of Falun Dafa in China. A Scottish resident praised practitioners for their perseverance and said, "Someone has to stand up and uphold justice. I think you are among them. You have my best wishes."
Falun Dafa practitioners in Vancouver held a signature drive in front of the Vancouver Art Gallery calling on the Chinese government to release Sun Xi, a Canadian citizen and a businesswoman who was jailed in China for her belief in Falun Dafa. Despite the rain, over a thousand signatures were collected within three hours.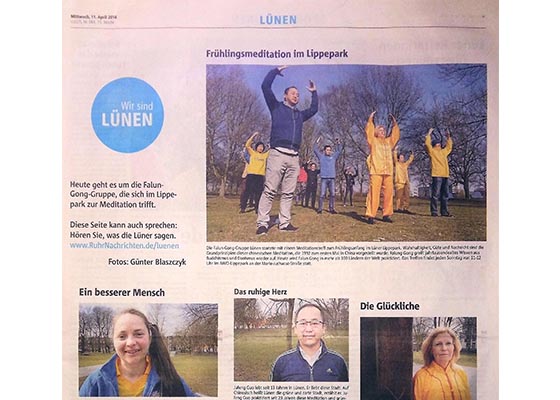 The newspaper Lunen highlighted a group of Falun Gong practitioners who meditate together in a park every week in the city of Ruhr. When interviewed, five of the practitioners described how they became calmer and more considerate of others through the practice, as well as how their health improved. "Falun Gong benefits me and others," a court employee reflected.
A polio victim's muscles atrophied, and her entire right side was paralyzed. She tried to commit suicide three times but failed. After learning Dafa, her paralysis disappeared, and she recovered her health.
When a woman was at the lowest point in her life, she overcame skepticism and decided to practice Dafa. Her terminal illness went away, along with her attachment to fear. The results were extraordinary.
Podcast 342: Top Stories from the Minghui website. Newsletter for April 16, 2018.
~ Accounts of Persecution ~
~ Improving Oneself ~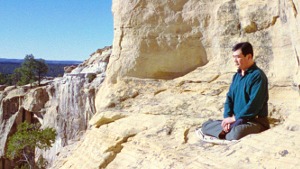 Master Li quietly watching the world from amidst the mountains after leaving New York following July 20th, 1999. (Published January 19, 2000)