Heilongjiang Woman Serving Time for Her Faith Forced to Sit on a Small Stool for Long Hours Every Day
(Minghui.org) A former teacher serving a 3.5-year term for practicing Falun Gong has been subjected to intensive torture for upholding her faith. Her lawyer is applying to visit her and trying to seek justice for her.
Falun Gong, also known as Falun Dafa, is a spiritual discipline that has been persecuted by the Chinese communist regime since 1999.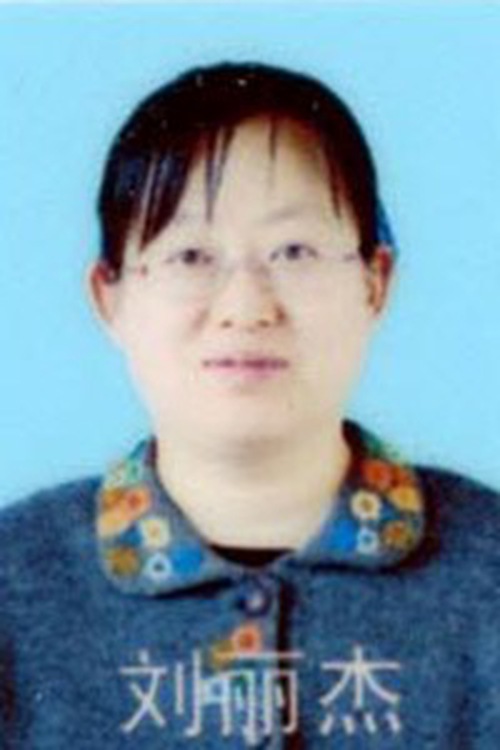 Ms. Liu Lijie
Prior to her latest sentencing, Ms. Liu Lijie had been arrested six times and served two labor camp terms. She was forced to live away from home in 2015 to hide from the police and her salary was suspended.
Ms. Liu's latest arrest took place on October 14, 2020, while she was studying Falun Gong books at another practitioner's home. She appeared in the Xiangyang District Court on October 12 and again on November 16, 2021, without legal representation. The judge sentenced her to 3.5 years with a 15,000-yuan fine on November 17. She appealed to the Jiamusi City Intermediate Court, but the judge ruled to uphold her original verdict on January 12, 2022.
Ms. Liu was taken to the Heilongjiang Province Women's Prison on February 18, 2022. She was first quarantined and then transferred to the third team of the strict management ward on March 5.
Since the onset of the persecution in 1999, those in charge of Heilongjiang Province Women's Prison have been at the forefront in torturing practitioners. Over 100 torture methods have been documented.
The third team of the strict management ward has been specifically designated to torture Falun Gong practitioners and force them to renounce their belief. As soon as Ms. Liu was taken there, she was deprived of sleep for three days and forced to sit on a small stool. Inmate Zhu Yimin hit her on the head and slapped her in the face. Her face was bruised and her eyes were injured.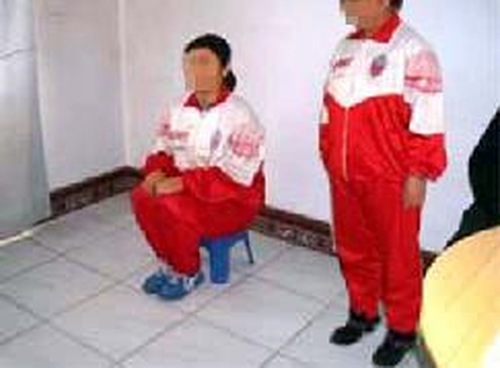 Torture reenactment: Forced to sit on a small stool
There are three stools, each a different height, used for the torture. The guards selected the lowest one for Ms. Liu to sit on from 4 a.m. to 10 p.m., no breaks allowed. While sitting on the stool, she has to keep her legs together and her hands on her legs. The long hours of sitting caused her buttocks to feel very sore and eventually fester. It also caused her tremendous mental distress.
She was also forced to watch videos that slandered Falun Gong. Because she refused to give in, the guards forced all 21 other inmates in the same cell to sit with her and watch the videos in order to make them hate her.
Every night, the guards forced Falun Gong practitioners to do roll call in the hallway. Because Ms. Liu refused to comply, they instigated the inmates to verbally abuse her or make her squat.
Inmate Wang Fengchun wrote the name of Falun Gong's founder on Ms. Liu's clothes, pants, inside her shoes, and even on her underwear. Ms. Liu developed high blood pressure from squatting. When she couldn't squat any longer and collapsed on the floor, the inmates laughed at her and said that she couldn't lie down, because then she would be lying down on her Master's name and that was disrespectful.
The guards also ordered Ms. Liu to write regular thought reports, or she would face even more severe torture. After three months of this, she'd lost a significant amount of weight.
Persecution of Other Practitioners
Other Falun Gong practitioners who are currently imprisoned in Heilongjiang Province Women's Prison include: Wen Yufei, Jing Yuhua, Tang Zhuyin, Zhao Lihua, Ding Yan, Jiao Qihua, Wang Jingli, Wu Lihua, Li Yuzhen, Zhang Xiuying, Li Shuchun, Yang Haixia, Wang Shubo, Chen Xitao, and Gao Yongli.
The guards arrange for the inmates to strictly monitor the practitioners and prevent them from talking to or even looking at each other. They threatened that, as long as the practitioners still refused to renounce Falun Gong, they might not be assigned to regular wards for up to a year. In the meantime, they were not allowed to call or meet with their families. The guards also restricted their monthly spending on daily necessities to 100 yuan.
One day when Ms. Wen Yufei was brushing her teeth, inmate Wang Fengchun beat her in a corner with no surveillance camera. She reported it to the guards, only to be tortured even worse.
The same inmate Wang also ordered other inmates to beat another practitioner, Ms. Jing Yuhua.
Related reports:
Heilongjiang Woman Imprisoned, Lawyer Seeking Justice Given Runaround
Heilongjiang Woman Imprisoned to Serve Wrongful Term Despite High Blood Pressure
Former Teacher Sues Judge, Seeks Reversal of Wrongful Prison Sentence and Retrial
Heilongjiang Woman Sentenced to Prison for Her Faith
Heilongjiang Woman Stands Trial Without Legal Representation
Ms. Liu Lijie Arrested in Retaliation for Exposing Police Brutality in Jiansanjiang
The Persecution of Falun Gong and Their Lawyers in Jiansanjiang Has Spread to Jiamusi City
Seven Practitioners Secretly Transferred After Four Attorneys Beaten at Jiansanjiang
Exposing the Torture of Falun Gong Practitioners in Heilongjiang Province Women's Forced Labor Camp
Labor Camp's Attempt to Prevent Falun Gong Practitioners from Meeting with Lawyers Thwarted by Human Rights Organizations
Ten Practitioners from Jiamusi City Arrested and Sent to Labor Camps
All content published on this website are copyrighted by Minghui.org. Minghui will produce compilations of its online content regularly and on special occasions.