Seven Practitioners Secretly Transferred After Four Attorneys Beaten at Jiansanjiang
April 22, 2014 | By a Minghui correspondent in Heilongjiang Province
(Minghui.org) Eleven people were arrested last month by Jiansanjiang District police in Heilongjiang Province. Among them, four attorneys were severely beaten and later released due a public outcry. Officials transferred the remaining seven practitioners to other locations before their detention term expired.
In addition, officials expanded the persecution to others cities including Jiamusi, Harbin, and Hongxinglong.
Several practitioners (Ms. Wu Dongsheng, Ms. Chen Dongmei, Ms. Meng Fanli, Ms. Ding Huijun, Ms. Li Guifang, Ms. Wang Yanxin, and Mr. Shi Mengwen) went to a hotel in Jiansanjiang on March 21, 2014, to meet with four attorneys: Mr. Jiang Tianyong, Mr. Tang Jitian, Mr. Wang Cheng, and Mr. Zhang Junjie. They hoped to work with the attorneys to get legal assistance on behalf of their detained relatives being held at Qinglongshan Brainwashing Center: Mr. Shi Mengchang, Ms. Han Shujuan, and Ms. Jiang Xinbo.
Local police arrested all seven practitioners and four attorneys at 8 a.m. Officials then put them under detention with a term of 15 days.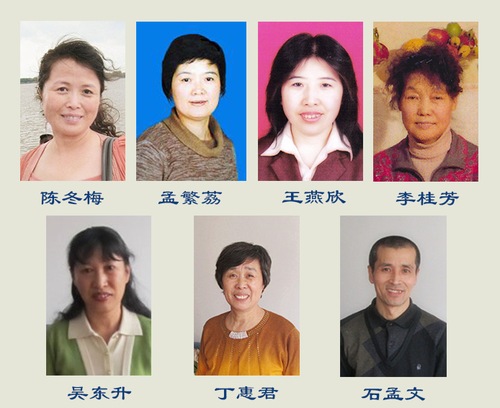 Practitioners detained on March 21 when meeting attorneys to seek legal support
Practitioners and Attorneys Tortured, Visitation Denied
Police forcibly arrested these practitioners on March 21:
- Four police officers stuffed Ms. Chen Dongmei, who was lying on the floor facing up, under a seat. One officer then sat on her, making it very hard for her to breathe. - Several officers held Ms. Wang Yanxin down on the floor, twisted her arms behind her, and dragged her into the police van. - Ms. Li Guifang, a practitioner in her 60s, was slapped in the face in the police van, and held down again in the Qixing Police Department. - Officers slapped Mr. Shi Mengwen in the face until it was covered with bruises. - Ms. Wu Dongsheng was the last one dragged out from the hotel. Police officers twisted her arms behind her, hit her hard in the head twice, and dragged her down from the second floor. Four people then covered her mouth and stuffed her under a seat.
Six women practitioners were then held at the Tongjiang Detention Center, while Mr. Shi Mengwen and the four attorneys were held at the Qixing Detention Center.
All four attorneys were tortured during detention. When examined after release, Mr. Tang was discovered to have suffered 10 broken ribs and shattered teeth. Mr. Wang Cheng had a fracture between the fifth and seventh rib. Mr. Jiang had bruises all over his abdomen. Mr. Zhang Junjie's spine had three fractures. Officers also threatened Mr. Tang with being buried alive and his kidney being harvested for sale.
Practitioners were abused even more severely. Ms. Wu Dongsheng, Ms. Ding Huijun, and Ms. Meng Fanli were hospitalized with severe injuries.
After the practitioners and attorneys were arrested, many people went to Jiansanjiang to request their release. They were turned away, and some were threatened with arrest.
Families Came to Pick Them up and Were Falsely Told, "No Longer Here"
The detention term expired on April 6. The families of Ms. Chen Dongmei, Ms. Wang Yanxin, and Ms. Li Guifang went to the Tongjiang Detention Center on the night of April 5. When they showed up at the gate in the early morning, officials told them to wait until after 8 a.m. When the family came again at 8 a.m., there were told the practitioners were "no longer here".
Right as they were ready to leave, they heard Ms. Ding Huijun crying for help from one of the cells. The detention center officials refused to release her, saying that her family was not there. When Ms. Ding's daughter arrived later, however, the authorities still refused to release her.
The officials forced the attorneys to leave on the morning of April 6. Other than Ms. Wu Dongsheng, who was released due to her life-threatening condition, the six other practitioners were secretly transferred.
Jiansanjiang Officials Continued to Threaten and Harass Practitioners
After the attorneys and practitioners were arrested, many people came from various places to support them. However, more police officers were placed at nearby railway stations and bus stops to block them. They falsely claimed that practitioners were gathering and planning violent activities.
Armed police were also on guard at major road intersections, and stopped vehicles to check for practitioners. Heilongjiang Province 610 Office head Gu Songhai traveled to Jiansanjiang to supervise these activities.
Officials released Mr. Shi Mengchang and Ms. Han Shujuan on March 28, asking them to convince their sons Mr. Shi Lei and Mr. Shi Mengwen to give up Falun Gong. The couple was detained for over six months. At least six people were assigned to watch them day and night even after their release.
Practitioner Ms. Jiang Xinbo is still being kept at the Qinglongshan Brainwashing Center. Officials also sent two people to live in her home to watch her husband 24 hours a day, severely disrupting the family's daily lives.
Officials also arrested Mr. Fan Longsheng, Mr. Zhang Yunhe and his wife, Ms. Liu Qiuling, and a woman practitioner surnamed Zhang. They also checked local practitioners, especially those who had been detained in the past, to see if anyone had been to the Qinglongshan Brainwashing Center to support the detained attorneys and practitioners.
Persecution Spread to Other Areas
- Hongxinglong officials harassed practitioners, sometimes every day, to see if any had been to Jiansanjiang. - Harbin City police visited local practitioners, threatening them not to contact attorneys or go to Jiansanjiang. Some practitioners were forced to stay away from home to avoid being arrested. - Jiamusi police arrested Ms. Liu Lijie and her husband at home on April 3. When their family and attorney went to request their release, they were turned away. - Qiqihar practitioner Jiang Bo, who was working in Harbin City, was arrested recently. His whereabouts are currently unknown.
Chinese Central Discipline Inspection dispatched a task force group to Heilongjiang to continue monitoring this case.