Update on the Persecution of Ms. Li Yaoguang in Heilongjiang Women's Prison
April 22, 2014 | By a Minghui correspondent from Heilongjiang Province, China
(Minghui.org) Ms. Li Yaoguang, 32, a Falun Gong practitioner from Sijiazi Village in the Tiefeng District of Qiqihar City, is being held for the second time in solitary confinement in Ward 9 in Heilongjiang Women's Prison.
According to inside sources, she can be heard screaming in pain and calling out intermittently, "Falun Gong is good!" Whenever she yells, the guards stuff dirty rags into her mouth.
The guards are trying to "transform" her to get her to give up her belief in Falun Gong.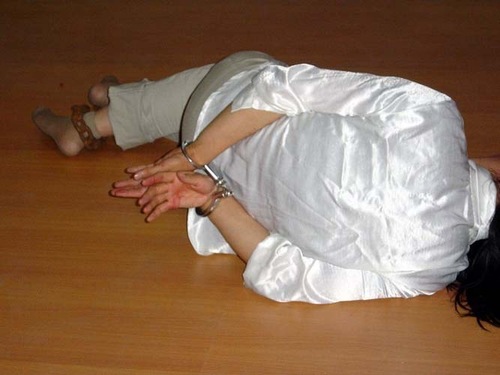 Torture Re-enactment: Solitary Confinement
History of Persecution
Ms. Li and her mother, Ms. Li Peixian, also a practitioner, were arrested and sent to Qiqihar No. 1 Detention Center on January 6, 2010. They were each sentenced to five years in prison in October 2010 and incarcerated in Heilongjiang Women's Prison.
Mother Goes on Hunger Strike to Protest Persecution
Her mother is being detained in Ward 10. She went on a hunger strike that continues to this day to protest being persecuted. The guards constantly and brutally force-feed her. She is emaciated.
Forced Labor
Ms. Li was transferred to Ward 7. She was forced to march and do forced labor every day from 7 a.m. to 8 p.m. At night she had to do additional chores, including making cotton swabs and clothes.
Refusal to Cooperate with Guards' Demands
Ms. Li began to protest being persecuted at the end of 2012 and the beginning of 2013. She refused to report to the guards or participate in forced marches or do forced labor.
Guards Retaliate
The guards retaliated against Ms. Li in February 2013. They tortured her by making her sit on a small bench or stand at attention for extended periods, depriving her of sleep, and poking her face with sharp, pointed objects.
Parties Involved Persecuting Ms. Li:
Head of Ward 9: +86-451-86639047 Yu Huidan (于惠丹), guard: +86-15846381981(Cell) Kou Lili (寇丽丽): 86-13604881399(Cell)
Related article: Ms. Li Peixian from Qiqihaer City Arrested and Taken to Prison Again