Heilongjiang Woman Stands Trial Without Legal Representation
(Minghui.org) A 51-year-old former teacher in Jiamusi City, Heilongjiang Province was forced to stand trial for practicing Falun Gong on October 12, 2021, after the judge blocked her lawyer and family defender from representing her in court.
Falun Gong, also known as Falun Dafa, is a spiritual discipline that has been persecuted by the Chinese communist regime since 1999.
Arrest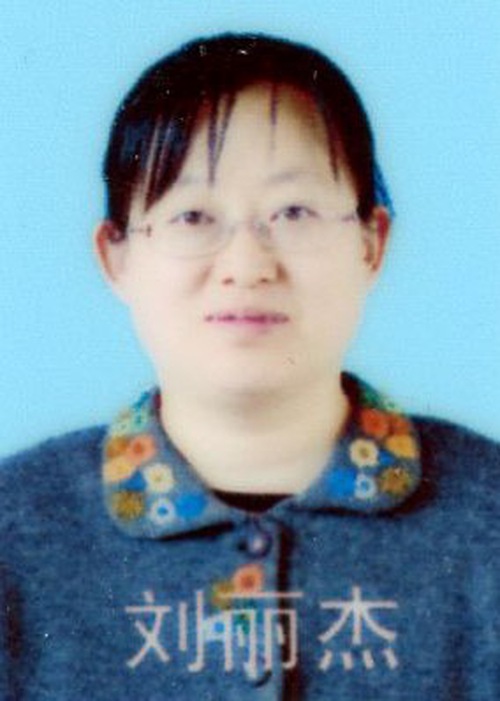 Ms. Liu Lijie
Ms. Liu Lijie was followed by the police when she went to 92-year-old Ms. Dong Shuxian's home for a gathering on October 14, 2020. The police broke in at around 3 p.m. and arrested the nine Falun Gong practitioners at the gathering, including Ms. Dong, Ms. Liu, her mother Ms. Yu Xiulan, 79, Ms. Shan Yuqin, 74, Ms. Cai Rong, Ms. Zhang Shuhua, Ms. Cui Shengyun, Ms. Li Xiurong and Ms. Qin Yuzhen, the last five of whom were all in their 50s or 60s. Ms. Liu's husband, Mr. Wang Xu, who does not practice Falun Gong and gave her a ride there, was also arrested.
All of the practitioners and Mr. Wang were taken to the Jianshe Police Station. Mr. Wang, Ms. Liu, and her mother were kept in a metal cage overnight.
On the next day, Ms. Dong and Ms. Yu were released on bail due to their advanced age. Ms. Cai was taken to the Jiamusi City Lockup and held there for ten days. The remaining six practitioners and Mr. Wang were taken to the Jiamusi City Detention Center for criminal detention.
Although Ms. Liu was also released on bail soon after she failed the physical examination, the police constantly harassed her over the phone.
Indicted
Ms. Liu was ordered to go to the police station on September 6, 2021. Liu Jun, the head of Jianshe Police Station, told her that they had submitted her case to the Xiangyang District Procuratorate and that the prosecutor had issued a six-month house arrest of her. He ordered Ms. Liu to write a statement to renounce Falun Gong and plead guilty. She refused and declined to sign the house arrest notice.
The authorities installed a surveillance camera on the east side of Ms. Liu's apartment on September 12. There was also a police car outside her apartment, and plainclothes officers took turns monitoring her around the clock.
When Ms. Liu and her family went to the police station on the next day to ask for a copy of the house arrest notice, the plainclothes officer on duty also followed them. The police chief Liu directed them to the Xiangyang District Procuratorate, where prosecutors Jiang Tao and Shi Shiwei interrogated her, instead of giving her the document she asked for. They indicated that they were just about to send her case to the Xiangyang District Court.
The prosecutors fabricated answers on the record, alleging that Ms. Liu came to the procuratorate that day for the interview and that she declined to hire a lawyer. Ms. Liu insisted that she would hire a lawyer and refused to sign the interview record.
When Li Lifeng, the director of the procuratorate, sent his staff member Zhai Yufei to deliver Ms. Liu's case to the court, he also asked Ms. Liu and her family to go with him.
At the Xiangyang District Court, judge Song Tao asked Ms. Liu, "Do you plead guilty?" Ms. Liu replied, "It's illegal for you to charge me with 'undermining law enforcement.' It's you who are committing a crime against us [Falun Gong practitioners]. I will not cooperate with you for anything."
Denied Legal Representation
Police chief Liu and Men Maosheng of the Domestic Security Office went to Ms. Liu's home on September 16 and asked her whether she had hired a lawyer. When Ms. Liu said she was still working on it, the police said the prosecutor and judge had indicated that as long as she wrote a statement to renounce Falun Gong, they could put her case on hold or even dismiss it. Ms. Liu refused.
On the same afternoon, Ms. Liu's family defender went to the court to submit the representation document, but the judge refused to accept it. A staff member said that the court had appointed a lawyer for her and that judge Ji Zhong was handling her case. A hearing had been scheduled for September 24.
Ms. Liu's family defender called the court's president Wang Bin, urging him to dismiss the court-appointed lawyer. Wang asked him to text him the details and said he would discuss it with the vice president of the court and the judge.
At 5 p.m., court clerk Xie Shuang demanded two documents from Ms. Liu's family defender: one was to show that he didn't have a criminal record and the other one was to show his relationship with Ms. Liu. When the family defender argued that such documents weren't required by law, Xie responded that he was just relaying the message from his supervisor.
On the next day, Ms. Liu's family defender mailed his legal opinion to drop her case to the Jiamusi City Political and Legal Affairs Committee, as well as Jiamusi City Procuratorate and Xiangyang District Procuratorate.
Several of Ms. Liu's family members also filed applications to represent her but they were all denied by the court. When Ms. Liu called the court to argue with the judge, her call was ignored.
At the same time, Ms. Liu hired a professional lawyer to represent her. The lawyer submitted his Power of Attorney on the afternoon of September 24. With the lawyer's strong demand, judge Song Tao agreed to postpone the hearing to September 28.
While the hearing on September 28 was later canceled, Ms. Liu's lawyer was informed by the court on September 30 that a hearing was scheduled for October 12. The lawyer said he had another hearing scheduled on the same day and applied via express mail for the court to further delay the session. Judge Song Tao refused to accept his application and said that the lawyer must attend the hearing on October 12 or he would appoint a lawyer to represent Ms. Liu.
Deceived into Attending the Court Hearing
On the evening of October 11, police chief Liu called Ms. Liu and ordered her to cooperate with the court session on the next day. Ms. Liu refused to attend it, as the court denied her legal representation.
Officer Liu said that even if her lawyer couldn't attend, she could act as her own lawyer. Ms. Liu said she would not attend the hearing.
Officers Liu and Men from the Domestic Security Office knocked on Ms. Liu's door at 8 a.m. next day and told her to go with them to the court. Ms. Liu said she wouldn't attend it unless her lawyer was present.
Officer Liu claimed that he had talked to judge Song the day before and that he had hoped to talk to Ms. Liu in person about the details. Officer Men promised that he would take Ms. Liu back after going to the court. After a standoff, Ms. Liu agreed to go to the court with her husband.
The Hearing
Before Ms. Liu arrived at the court, her family defender had already come and asked to defend her in court again. Song still rejected his request.
While Ms. Liu was waiting in the hallway, Song brought a court-appointed lawyer. Ms. Liu refused to be represented by the court-appointed lawyer and said it was illegal for Song to deny her lawyer's request to postpone the hearing. Song argued, "Why don't you hire a local lawyer, but instead someone from far away? Now [it's your own fault that] he can't come."
A bailiff soon came and took Ms. Liu to the No. 10 courtroom. At her request, the judge dismissed the court-appointed lawyer. Ms. Liu kept demanding that the judge adjourn the hearing and move it to a later date for her lawyer to attend.
She added that Song was abusing the law in preventing her family defender from representing her as well. "My family defender has represented other Falun Gong practitioners in court in other regions and entered not-guilty pleas for them. Why can't he represent me in Jiamusi? Is Jiamusi a lawless place?"
As she was talking, judges Song Tao and Ji Zhong, as well as prosecutor Li Lifeng, remained silent.
For the remainder of the hearing, Ms. Liu refused to answer any of the questions asked by the judges.
During the hearing, the authorities in Jiamusi dispatched over a hundred police officers and staff members from the community committee. Some of the roads around the courthouse were also closed. Both plainclothes officers and armed officers patrolled outside the courthouse. One passerby who took pictures of the officers was arrested.
Former Award-Winning Teacher
Ms. Liu graduated from the Northeast Normal University in July 1993 and landed a job at the Jiamusi City Education College. She took up Falun Gong in 1998 and lives by the principles of Truthfulness, Compassion, Forbearance. Before the persecution of Falun Gong began in 1999, she was selected as star employee every year. With the persecution, she wasn't allowed to enter the selection anymore.
Prior to her latest persecution, she was arrested at least five times and given two years of forced labor in 2012.
Following one of her arrests, several of her school leaders went together to the police department to demand her release. The police chief was impressed that given such severe persecution, the school leadership even risked losing their jobs to stand up for her. The school principal said, "If we can' take her back, we can't face all the other staff. She is the best teacher we have." The school leadership demanded the police not harass Ms. Liu anymore.
Some of Ms. Liu's colleagues also said that since she took up Falun Gong, she not only enjoyed tremendous improvement in her health but also improved her character. She wasn't moved by material temptations and still maintains a peaceful heart no matter how much she has suffered in the persecution.
Perpetrators' contact information:
Song Tao (宋涛), judge of Xiangyang District Court: +86-454-6210031, +86-18903687999, +86-13512645666Li Lifeng (李利锋), prosecutor of Xiangyang District Procuratorate: +86-13846169281, +86-18697098055Gu Songhai (顾松海), head of Heilongjiang Province 610 Office: +86-13804536212, +86-13339300100
(More perpetrators' contact information is available in the original Chinese article.)
Related articles:
Ms. Liu Lijie Arrested in Retaliation for Exposing Police Brutality in Jiansanjiang
The Persecution of Falun Gong and Their Lawyers in Jiansanjiang Has Spread to Jiamusi City
Seven Practitioners Secretly Transferred After Four Attorneys Beaten at Jiansanjiang
Exposing the Torture of Falun Gong Practitioners in Heilongjiang Province Women's Forced Labor Camp
Labor Camp's Attempt to Prevent Falun Gong Practitioners from Meeting with Lawyers Thwarted by Human Rights Organizations
Ten Practitioners from Jiamusi City Arrested and Sent to Labor Camps
Related articles in Chinese:
All articles, graphics, and content published on Minghui.org are copyrighted. Non-commercial reproduction is allowed but requires attribution with the article title and a link to the original article.