2,857 Falun Gong Practitioners Reported Arrested and Harassed in March and April 2021
May 11, 2021 | By a Minghui correspondent
(Minghui.org) Another 2,857 Falun Gong practitioners were confirmed to have been arrested and harassed between March 1 and April 30, 2021, including 1,090 arrests and 1,767 harassment cases.
Falun Gong, also known as Falun Dafa, is a spiritual and meditation discipline that has been persecuted by the Chinese communist regime since 1999.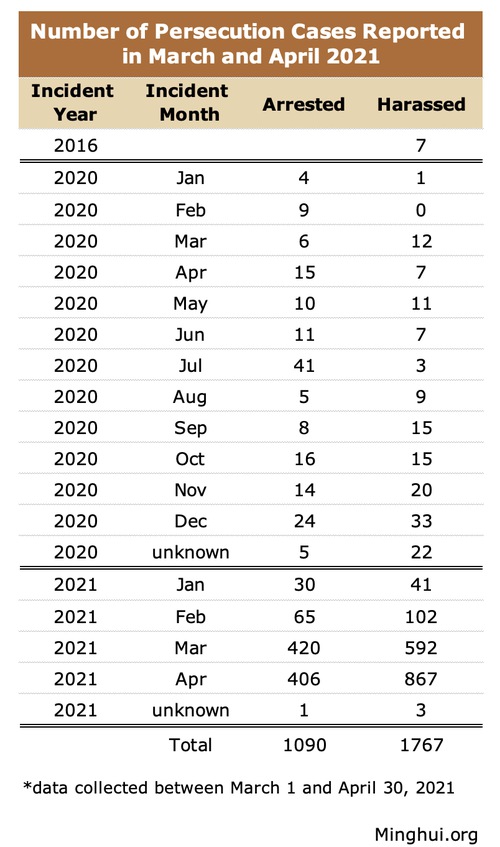 Among the 1,090 newly confirmed arrests, 168 took place in 2020, 95 were between January and February 2021, and another 826 were arrested were between March and April 2021.
For the 1,767 harassment cases, 7 dated back to 2016, 155 took place in 2020, 143 happened between January and February 2021, and another 1,459 cases were between March and April 2021.
Due to the information blockade in China, the persecution of Falun Gong can't always be reported in a timely manner, nor is all the information readily available.
Intensified Persecution in March and April 2021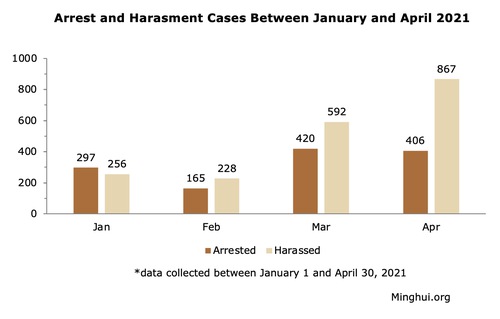 Considering cases reported previously, the total arrests in January and February 2021 were updated to 297 and 165, and the harassment cases confirmed in January and February 2021 have now become 256 and 228, respectively. Compared with the first two months in 2021, March and April saw a steady surge in persecution cases. The 826 combined arrests in March and April were 1.8 times the combined 462 cases in January and February. And the 1,459 combined harassment incidents in March and April were three times the 484 total incidents in January and February.
To take a deep dive into the cases that took place in March and April 2021, 546 (66%) of the 826 arrested practitioners remain in custody at the time of writing. A total of 232 (28%) of the arrested practitioners and 80 (5% of 1,459) of the harassed practitioners had their homes ransacked.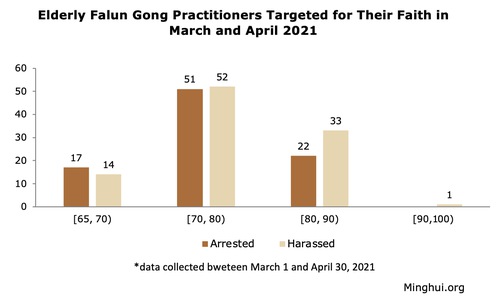 Ninety of the arrested and one hundred of the harassed practitioners were over 65. The oldest practitioner harassed was a 94-year-old practitioner in Dalian City, Liaoning Province.
Some of the targeted practitioners have retired, while the others come from all walks of life, including engineers, doctors, teachers, accountants, factory managers, lawyers, and nurses. For those who work for government agencies, the authorities are trying to incite hatred against the practitioners by threatening to suspend all employees' year-end bonuses. Two teachers in Shulan City, Jilin Province, had their promotions canceled and the school leadership threatened to fire them if they refused to renounce Falun Gong.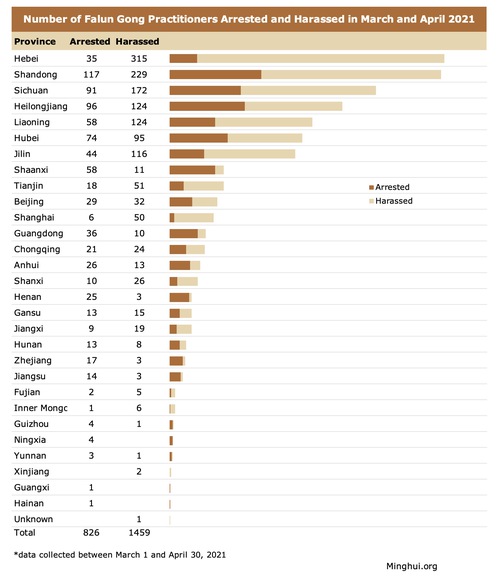 Hebei (350), Shandong (346), Sichuan (263), Heilongjiang (220), and Liaoning (182) are the top five provinces with the most persecution cases reported, followed by Hubei (169) and Jilin (160). Fourteen other provinces reported double-digit cases and eight provinces had single-digit cases. The location of one harassment case was unknown.
Below is a sampling of the arrests and cases of harassment that occurred in March and April 2021.
Targeted Before Sensitive Days
Arrested During the "Two Sessions" in Beijing
Starting in mid-February 2021, the authorities in Beijing began to harass local Falun Gong practitioners, with the excuse of stability maintenance prior to the Chinese People's Political Consultative Conference and National People's Congress between March 4 and 11.
In some cases, dozens of police officers and residential committee staff members went to one practitioner's home and demanded that they not leave their neighborhood during the meetings. Police officers also checked on practitioners at home each day in some places.
On March 7, 2021, Ms. Huo Zhifang, 57, went to deliver food to her elderly father. Hours later in the afternoon, the police ransacked her home and arrested her.
Video screenshot of the police arresting Ms. Huo
Arrested Prior to CCP's 100-year Anniversary
A group of police officers broke into Mr. Sun Zhentie's home at around 6:30 a.m. on April 14, 2021. One officer flashed a piece of paper that he claimed to be the arrest warrant and put it away before Mr. Sun could read it. Before taking the 61-year-old Changchun City, Jilin Province, resident away, the police took pictures of him and his 26 Falun Gong books.
One officer claimed that the arrest was to "maintain social stability," as the celebration of the CCP's 100-year founding is coming up in a few months.
When Mr. Sun's family went to the Dongzhan Police Station the day after his arrest to seek his release, the police wouldn't let them in the building and were very rude. They claimed that Mr. Sun has been taken to the Weizigou Detention Center but wouldn't say how long he would be held there.
The senior thermoelectric engineer's family hasn't told his father about his arrest, fearing the effect the news might have on the man in his 90s who is recovering from a stroke. Before being arrested, Mr. Sun often visited his father, took him out for a walk, or helped him take a shower. Mr. Sun also frequently visited his parents-in-law and cooked for them.
In addition to the harassment in Changchun, there were also incidents of harassment in Wuhan City, Hubei Province, to "maintain stability" prior to the CCP's 100-year anniversary. Some practitioners have been forced to live away from home.
Ms. Zhang Wei, an associate professor at Wuhan University of Technology in Hubei Province, was arrested at 7:30 a.m. on April 4, 2021, after she refused to sign statements to renounce Falun Gong. She is now in the Qingling Brainwashing Center. The police also threatened to arrest her sister Ms. Zhang Fan.
Police Violence
Sichuan Woman Detained for a Month and Forced to Sit for Long Hours Each Day
Ms. Xu Zhiqiong, 69, of Pengzhou City, Sichuan Province, was arrested not long after she left home on the morning of March 9, 2021. Nine officers stopped her on the street and took her home. They confiscated her Falun Gong books, photos of Falun Gong's founder, informational DVDs, clothes, and over 1,000 yuan in cash.
Ms. Xu was taken to the Mengyang Town Police Station and handcuffed to a metal chair for interrogation.
After being forced to sit overnight, Ms. Xu was taken to the hospital for a physical the next day, before being admitted to the Chengdu City Detention Center.
Her right hand was fractured by the police during her arrest, so she was later hospitalized for four days. The police kept her handcuffed and forced her to wear heavy shackles all the time.
During her one-month detention, she was forced to sit on a hard board for over ten hours and her buttocks festered. She was released on April 9, 2021.
Police Threaten to Blast Open Hainan Man's Door
At around 10:11 p.m. on April 7, 2021, six police officers went to Mr. Zhao Fenghui's home in Qionghai City, Hainan Province, and knocked on the door for an hour. As no one opened the door, the police threatened to blast it open.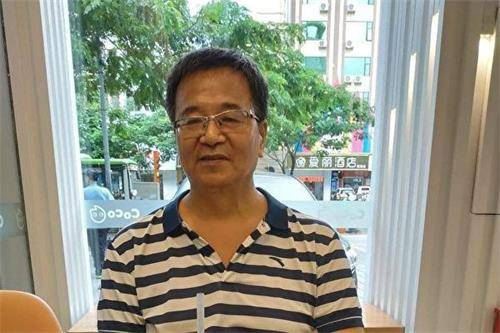 Mr. Zhao Fenghui
The police kept kicking the door, shouting, "This is your last chance! If you open up now, you'll be fine, otherwise we will break in. You'd better think it over!"
Police outside of Mr. Zhao's home
The police returned to Mr. Zhao's home at 4:27 p.m. the next day and also harassed Mr. Zhao's neighbors. They left at around 5 p.m.
Two more plainclothes officers and two staff members from the property management came back at 10:59 a.m. on April 9. They waited outside Mr. Zhao's home for about two minutes and then left.
It was later confirmed that Mr. Zhao, a former project manager at a local bank, was arrested on April 7. It's not clear if he was seized by the police at his home or at another location.
The police initially gave him 15 days of detention. But at the end of the 15 days, the police refused to release him and transferred him to an undisclosed location. His family is now in the dark concerning his whereabouts. The police have yet to provide an explanation for his arrest.
Taken to Brainwashing Centers
Former Lawyer Detained for Five Days in a Brainwashing Center
A dozen officers in Guangzhou City, Guangdong Province, ransacked an attorney's home on April 11, 2021. After finding several Falun Gong books, they arrested Mr. Zhu Yubiao.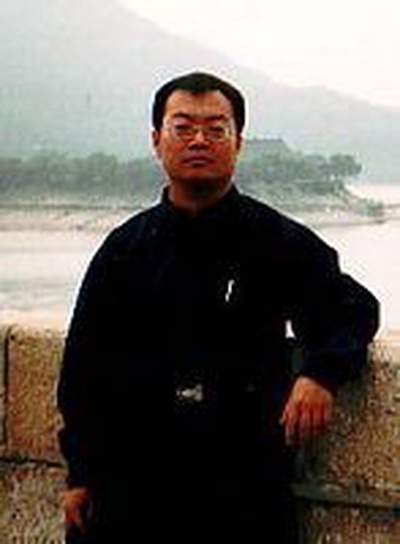 Attorney Zhu Yubiao
Mr. Zhu, 50, was held in a brainwashing facility for five days before being released on April 16. The police revealed that they have been monitoring him on a regular basis. They threatened to arrest him and detain him in a brainwashing center again if he continues to practice Falun Gong.
As the first lawyer who dared to defend practitioners of Falun Gong in Guangdong after the Chinese communist regime began to persecute this spiritual discipline in 1999, the local judicial authorities labeled Mr. Zhu an "anti-revolutionary" and revoked his license to practice law.
For upholding his faith and defending fellow practitioners, he was arrested three times and incarcerated for over three and half years in total. His latest arrest was carried out by officers from the Haizhu District Police Department, the Xingang Police Station, the district Political and Legal Affairs Committee, and the local community.
Once Tortured in Prison for 17 Years and Losing 45 Lbs in 2 Months, Human Rights Hero Arrested Again
Seven people, including a neighbor of Mr. Sun Changjun's, broke into his home and took him away on April 6, 2021. Mr. Sun called his family that evening and told them he had been taken to a hotel. His family never heard from him again. They recently found out that he has been taken to Yanji Brainwashing Center.
The people who broke into Mr. Sun's residence in Yanbian Prefecture, Jilin Province, were agents from Wangqing County 610 Office and domestic security officers in Yanbian. Before the arrest, agents from the 610 Office called him and warned that they had a special plan to make him renounce his faith in Falun Gong.
Mr. Sun's latest arrest came only a year and a half after he was released from serving 17 years in prison. On March 5, 2002, Mr. Sun and several other practitioners intercepted television signals in Changchun, the capital of Jilin, and broadcast videos on eight cable channels that told the truth about Falun Gong and laid bare the regime's lies and slander.
The authorities went on a frenzy of mass arrests the night of the broadcast. Approximately 5,000 practitioners in Changchun alone were arrested and seven died during the arrests. Fifteen practitioners were sentenced to between 4 and 20 years in mid-September 2002. Mr. Sun, then 26, was sentenced to 17 years in Jilin Province Prison. He suffered unbelievable torture and almost died.
Every year Mr. Sun's parents, who were nearly 80 years old, traveled over 500 km (312 miles) to see him until he was released in December 2019.
Separated by a glass partition, his mother held the phone with trembling hands, said to him with tears in her eyes, "My son, when are you coming home? I'm afraid your dad and I may not be alive the day you do."
Repeated Persecution
Having Lost His Parents and Sister in the Persecution of Their Faith, Beijing Man Now Faces Prosecution
Mr. Yang Shijie's parents, Mr. Yang Wenshan and Ms. Li Lianyu, took up Falun Gong in June 1996. The elderly couple credited the practice for quickly improving their health. After seeing their changes, their four children all followed in their footsteps and began to practice Falun Gong.
Mr. Yang's younger sister, Ms. Yang Shifen, used to suffer from severe headaches and gynecological problems. As a side effect of her chronic medication, she was very thin. After learning Falun Gong, all of her symptoms disappeared and she gained weight.
But the family's happy life didn't last long. Years after the Chinese Communist Party ordered the persecution of Falun Gong due to its overwhelming popularity in 1999, Mr. Yang's parents and his younger sister passed away. Mr. Yang and his two other sisters were arrested and detained.
Mr. Yang was arrested in May 2006. The police took him home and ransacked his place. They also forced his wife to take them to his father's home, where they found Falun Gong informational materials.
Mr. Yang was later given two years of forced labor. Although he was released ahead of time, his father passed away 40 days after he returned home.
Mr. Yang was arrested again on January 8, 2016, for filing a criminal complaint against Jiang Zemin. His Falun Gong books and an e-book reader were confiscated. He was released a week later.
Just prior to his latest arrest on March 11, 2021, Mr. Yang was arrested at home on May 5, 2020. Some of his memory cards and flash drives were confiscated. He was held in the Shunyi Detention Center for a month.
Mr. Yang is now facing prosecution after being reported for spending banknotes with information printed on them about Falun Gong (as a way to overcome the strict censorship in China to raise awareness about the persecution).
Liaoning Man Arrested on His Birthday After Serving Three Labor Camp Terms and a Prison Term for His Faith
Mr. Liu Qingyu and his wife Ms. Zhang Chang were celebrating his birthday at a restaurant, when seven officers barged in and forced the couple into a police car on April 12, 2021.
The police took the couple's keys and broke into their home in Dashiqiao City, Liaoning Province. They confiscated personal belongings, including a printer, computer, and debit cards.
Mr. Liu is currently detained in the Dashiqiao City Detention Center and his wife is in the Yingkou City Detention Center. The police revealed that they had been monitoring Mr. Liu's cellphone for more than a year before arresting him.
According to Mr. Liu's family who picked up their car and the clothes they were wearing during their arrests, there was blood on Mr. Liu's clothes. It's not clear whether he was beaten or tortured.
The authorities prevented Mr. Liu's lawyer from visiting him, saying that Mr. Liu's case was very significant, since he was a coordinator of local practitioners and was "colluding with foreign forces" to print and distribute informational materials about Falun Gong.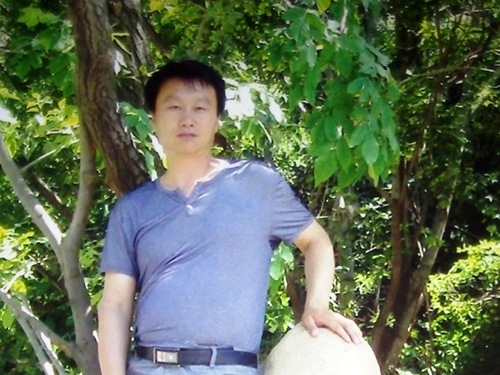 Mr. Liu Qingyu
Incarcerated for Seven Years, Former Teacher Arrested Again for His Faith
Mr. Li Lanqiang, a Beijing resident, was arrested on April 23, 2021, after being reported for distributing informational materials about Falun Gong. He is now in the Fangshan District Detention Center.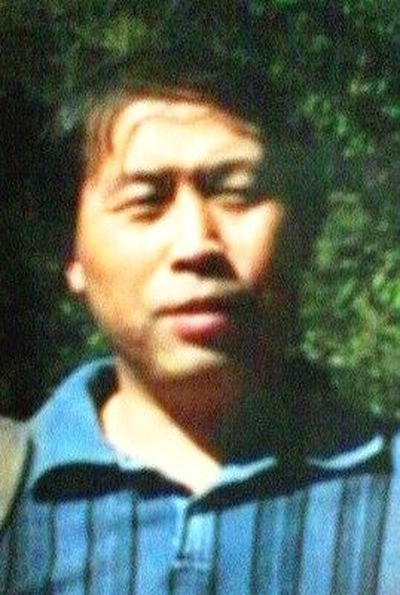 Mr. Li Lanqiang
Mr. Li, a 58-year-old former middle school math teacher, was first arrested in August 1999 when he was protesting the persecution on Tiananmen Square. When he returned to work after 15 days of detention, the school wouldn't let him teach anymore and reassigned him to work as a gatekeeper.
In December 2001, he was taken to a brainwashing center, not allowed to use the restroom, and detained for 20 days. He was arrested again in February 2002. The police ransacked his home and detained him for 1.5 years.
In October 2004, he was arrested again because he had several DVDs about Falun Gong. That time he was detained in a forced labor camp for two and a half years.
In the labor camp, he was monitored closely by other detainees, not given enough food, and not allowed to use the restroom. He was forced to sit on a small stool for over 10 hours a day, motionless. Three detainees surrounded him so that he couldn't move.
His wife divorced him for fear of being implicated. His elderly father passed away due to stress.
In August 2015, he filed a criminal complaint against former Chinese dictator Jiang Zemin for ordering the persecution of Falun Gong that resulted in his repeated detentions. The police retaliated by arresting him on April 20, 2016. After three hearings, he was sentenced to three years on October 27, 2017.
Surveillance in the Modern-day Orwellian State
Henan Police Arrest More Out-of-Province Falun Gong Practitioners for Raising Awareness about the Persecution of Their Faith
The police forces in Henan Province have been actively filtering online information about Falun Gong since 2019. This has resulted in the arrests of several out-of-province Falun Gong practitioners after the Henan police found the practitioners spreading information online to raise awareness about the Chinese Communist Party's persecution of their faith.
Ms. Sun Lijuan and her husband Mr. Zhang Baoguo of Jinzhou City, Liaoning Province, were arrested at home by the Jinzhou police on April 25, 2021. The police confiscated their cellphone, Falun Gong books, and photo of Falun Gong's founder. Both of them were taken to the Jinzhou City Detention Center.
The Jiaozuo City, Henan Province, police discovered that the couple had been posting information about Falun Gong on the popular social media platform WeChat and reported them to the police in Jinzhou, which is almost 1,000 miles away from Jiaozuo.
When Ms. Sun's family went to the Juyuan Police Station in Jinzhou on April 27 after hearing about their arrests, they saw several officers from Jiaozuo, who claimed that they were investigating the couple's case and they would take Ms. Sun to Jiaozuo two days later.
The couple's family quickly hired a lawyer. When the lawyer went to the detention center to visit Ms. Sun on the afternoon of April 28, she had already been taken away by the Jiaozuo police. Mr. Zhang remains in the Jinzhou City Detention Center.
Also on April 28, four officers from Huang County, Anyang City, Henan Province, traveled 250 miles to Botou City in Hebei Province to arrest Mr. Li Bin. The Huang County police confiscated Mr. Li's Falun Gong books, informational materials, photo of Falun Gong's founder, a laptop, and three media players. When his family went to the Botou Police Department at around 4 p.m. that day, the Huang County police had already taken him away.
After Four Months of Hiding, Chongqing Woman Located Through Surveillance and Arrested
Ms. Han Zonglan was arrested at her sister's home in Chongqing on April 13, 2021. She now has dangerously high blood pressure while being detained in Hechuan Detention Center.
Ms. Han, a 59-year-old Chongqing resident, was previously arrested on February 8, 2020, after a plainclothes officer saw her placing pamphlets about the persecution of Falun Gong on car windshields.
The officers rushed in once the door was opened and searched her home. She was then taken to the police department for interrogation. Due to her high blood pressure, she was released on bail the next day after her husband paid the bail bond of 5,000 yuan.
The authorities harassed her again on September 17 and October 29, 2020. During the October 2020 harassment, the police tried to force her family to sign the statement renouncing Falun Gong they had prepared in advance. Ms. Han tore up the statement and refused to let her family sign it. She said that it was illegal for them to do that. They left, only to tell her son to come out and sign the statement in the police car, which he refused to do.
The officials did not give up and called her husband several times in the afternoon and coerced him into going to the residential committee. After he signed the statement there, they told him to put his thumbprints on it, but he refused to.
Ms. Han's family later received many phone calls ordering her to the residential committee to have her photo taken, causing anxiety for the whole family.
Sensing that the police intended to arrest her again, Ms. Han left home on December 20, 2020, to avoid arrest.
Ms. Han received a phone call from a police officer on January 19, 2021, summoning her to the police department. The officer refused to say why but threatened to arrest her if she didn't show up. When Ms. Han asked for his name and police badge number, he hung up. For the next few months, the police bugged the phones of her relatives and tracked her down through intensive surveillance. She was arrested on April 13, 2021, at her sister's house.
Arbitrary Arrests and Detention
Yunnan Man Detained Incommunicado for Two Weeks
Mr. Hou Wenqin, a Kunming City, Yunnan Province, man in his 50s, was arrested at home on April 15, 2021. No family members were present during the raid, and the police didn't provide a list of confiscated items afterwards, as required by law.
When his family went to the Jinma Police Station, the agency responsible for his arrest, to ask about him, the police claimed that they didn't know where Mr. Hou was detained.
When Mr. Hou's family called the police again after returning home, the police told them that Mr. Hou has been taken to a detention center. But they still refused to explain why they arrested him or disclose the location of the detention center.
Two weeks later the family still hadn't received any notice of detention for Mr. Hou or information about his current whereabouts.
Prior to his latest arrest, Mr. Hou, a former employee of the Kunming Water Conservancy and Hydroelectric Power Bureau, was sentenced to three years in 2012 for giving informational materials about Falun Gong to his supervisor at work. He was fired from his job after being released.
Qingyuan City, Guangdong Province: Nine People Arrested for Their Faith Within Four Hours
Nine people in Qingyuan City, Guangdong Province, were arrested between 8 p.m. and 12 a.m. on April 11, 2021, for their faith in Falun Gong.
The nine practitioners are Ms. Tang Rongzhu, Huang Zengyou (gender unknown), Ms. Liu Yuxiu, Ms. Lai Chengmei, Ms. Shao Yanfang, Ms. Lai Lanying, Ms. Lan Qiuxiang, Deng (first name and gender unknown), and a woman whose first name is Hua (last name unknown). At the detention facility where they were taken, they saw two other practitioners, one of them bleeding from his head. It's not clear when the other two were arrested.
The nine practitioners arrested on the same day were held in separate rooms and given comprehensive physicals. They were also ordered to read random sentences, likely to record their voices. The police took their heights and photographed them from the front, back, left, and right. They also ordered them to sign a thick stack of paperwork. It's not clear what was on the papers.
Ms. Tang, Huang, Ms. Liu, and Deng were released the next day. Lai Chengmei and Shao are now in the Yangshan County Detention Center. Lai Lanying, Lan, and Hua were taken to the Lianzhou City Lockup.
A total of 32 police officers went to Ms. Shao's home in a bus and several police cars. She was about to have dinner with her 13-year-old daughter and 11-year-old son. The police pounded on the door. When she refused to open up, the police kept turning off her power supply, making the lights go off and on. Her children were terrified.
After an hour of relentless knocking, the police threatened that they would smash the door if Ms. Shao didn't open it. She went downstairs and opened the door. The officers rushed in. They attempted to put a black hood over her head and stuff her mouth with cloth, but her children stopped them.
The police handcuffed Ms. Shao and took her away. Her computer, printer, five cellphones, Falun Gong books, paper cutter, and a box of printer paper were confiscated.
When her husband, who was out with friends that evening, heard about the incident and rushed home, the police didn't let his daughter open the door for him. He stood outside and watched the police take his wife away around midnight.
Both Ms. Shao's husband and daughter were summoned to the police station the next day to be interrogated.
Ms. Liu was handcuffed and forced to wear a mask during her arrest. She was unable to talk during her arrest. It's not clear whether the police had stuffed her mouth and used the mask to cover it up.
The police put a black hood over Ms. Lai Chengmei's head when they arrested her. She was also handcuffed.
Liaoning Woman Detained for Telling People How Falun Gong Changed Her Life
A Shenyang City, Liaoning Province woman was detained for 13 days for distributing informational materials about Falun Gong.
Ms. Wang Jingdi, 55, was arrested on April 16, 2021. Although she failed the physical, the police still forced the Shenyang No. 2 Lockup to admit her on April 19. She was given ten days in detention and denied family visits before being released on April 29.
Ms. Wang used to have severe tuberculosis and migraines, and the pain caused her to have a bad temper. She often fought with her husband and was on the verge of getting a divorce. Her son developed depression as a result of the discord at home.
After she began to practice Falun Gong in 2007, she quickly regained her health. She took on household chores and became more considerate of her husband. She also took the initiative to improve her poor relationships with her in-laws and her own mother. After her mother fell ill, she invited her mother to move in with her and took meticulous care of her until she passed away.
Because Ms. Wang used her spare time to raise awareness of the Chinese Communist Party's persecution of Falun Gong and how the practice has changed her life for the better, she was arrested and detained for speaking out.
Elderly Not Spared
Arrested with Their Guests for Readings Books Together, Elderly Couple Forced into Displacement to Avoid Persecution
As soon as seven Suining City, Sichuan Province, residents arrived at a local couple's home at around 2 p.m. on April 18 to study the teachings of Falun Gong together, someone who claimed to be from the property management stopped by and knocked on the door.
When the homeowners, Mr. Yang Yunmao, 74, and his wife Ms. Xu Yunhua, 66, refused to open the door, the police called a locksmith and broke in. The four staff members from the property management were told to stay outside, while the police ransacked the place.
At least 12 officers participated in the raid. None of them showed their police IDs or a search warrant. One officer watched the nine Falun Gong practitioners, with two in their 80s and others in their 60s and 70s, while the other officers searched. The practitioners weren't allowed to answer their cellphones when their families called them.
Not until 3:50 p.m. did Fu Tao, the director of the Domestic Security Office, show his ID. Another officer delivered a search warrant to the site after 5 p.m.
During the raid, the police kept asking where the couple's computer and printer were, likely thinking that informational materials about Falun Gong were being printed there. The police videotaped the entire raid.
The police confiscated the couple's Falun Gong books, photo of Falun Gong's founder, cellphone, several booklets about Falun Gong, as well as 4,000 yuan in banknotes with information about Falun Gong printed on them. (Due to the strict information censorship in China, practitioners use creative ways to raise awareness about the persecution, including printing messages on banknotes.)
One of the couple's guests, Ms. Chen Qiuju, 53, had a cellphone and 100 yuan banknotes with messages about Falun Gong printed on them confiscated.
The six other practitioners arrested were Mr. Luo Youfu, 82; Ms. Liang Zhenlin, 80; Ms. Gou Surong, 77; Ms. Zhang Jinxiu, 76; Ms. Yang Qiongying, 67; and Ms. Liu Xianbi, 63.
After an entire evening of interrogation, the practitioners were released at around 2:40 a.m. The police threatened Mr. Yang and Ms. Xu that they would come back and check on them the next day.
The police put seals on the couple's door and told them they weren't allowed to leave. To avoid further persecution, they have been forced to live away from home.
88-year-old Guangdong Woman Harassed
Between March 2 and 5, 2021, Xu Yaqiu, the director of the local residential committee, went to 88-year-old Ms. Ding Jiaxi's home in Maoming City, Guangdong Province, and tried to collect personal information about her from her neighbors. Some were asked if they saw Ms. Ding going out with a bag or if her children had come to visit her.
Ms. Ding's neighbors told Xu that she has three children, who all live in the same city as she. Fearing being implicated in the persecution, her two older children only visit her on major holidays, but her youngest daughter comes to see her very often.
Many of the neighbors testified that Ms. Ding was a very good person and often cleaned the hallway of the apartment building, despite her age.
In November 2020, Ms. Ding's youngest daughter, Ms. Tao Yonghong, filed a complaint against the ongoing harassment of her mother. Instead of seeing her complaint addressed, she and Ms. Ding noticed two new surveillance cameras in the front entrance of Ms. Ding's apartment building.
Related reports:
226 Falun Gong Practitioners Targeted for Their Faith in February 2021
1,216 Falun Gong Practitioners Reported Arrested and Harassed in January 2021
15,235 Falun Gong Practitioners Targeted for Their Faith in 2020
All articles, graphics, and content published on Minghui.org are copyrighted. Non-commercial reproduction is allowed but requires attribution with the article title and a link to the original article.
Category: Overview of persecution