Liaoning Man Arrested on His Birthday After Serving Three Labor Camp Terms and a Prison Term for His Faith
May 3, 2021 | By a Minghui correspondent in Liaoning Province, China
(Minghui.org) It was April 12, 2021. Mr. Liu Qingyu and his wife, Ms. Zhang Chang, were celebrating his birthday at a restaurant, when seven officers barged in and forced the couple into a police car. 
The police took away the couple's keys and broke into their home in Dashiqiao City, Liaoning Province. They confiscated personal belongings including a printer, computer and debit cards.
Mr. Liu is currently detained at the Dashiqiao City Detention Center and his wife is held at the Yingkou City Detention Center. The police revealed that they had been monitoring Mr. Liu's cellphone for more than a year before arresting him. 
According to Mr. Liu's family who picked up their car and the clothes they were wearing during their arrests, there was blood on Mr. Liu's clothes. It's not clear whether he was beaten or tortured. 
Mr. Liu's family accompanied his lawyer to see him on April 22, but they were turned away. The detention center claimed that the Nanlou Police Station had instructed them to bar meetings with his lawyer. When the family and lawyer went to the police station, chief Meng Fanguang directed them to officer Zhao Jinping of the Dashiqiao Domestic Security Office, who was in charge of the case. When they found Zhao Jinping, he told them to talk to Zhao Qinghai at the legal affairs section. Zhao Qinghai, however, directed them back to Zhao Qinghai.
Mr. Liu's lawyer then filed a complaint against the Domestic Security Office police for depriving him of the right to meet with his client. Two prosecutors, one surnamed Wang and the other Ye, called Zhao Jinping to take care of the matter. The prosecutors said they had no authority to oversee the Domestic Security office and asked the lawyer not to bother them again even if Zhao refused to grant him meetings with Mr. Liu.
Upon learning of the complaint, Zhao threatened Mr. Liu's lawyer and also made copies of his IDs. But he still refused to grant any meetings, saying that Mr. Liu's case is very significant, as he is a coordinator of local practitioners and is "colluding with foreign forces" in printing and distributing informational materials about Falun Gong.
Past Persecution
Mr. Liu started practicing Falun Gong, a spiritual and meditation discipline, in July 1998. He had a number of illnesses before taking up the practice, including a stubborn stomach disease which often caused him unbearable pain.
After he took up the practice of Falun Gong, Mr. Liu conducted himself according to the principles of Truthfulness-Compassion-Forbearance and regained his health. He also got rid of some unhealthy habits such as smoking, drinking and long hours playing Mahjong.
After the Chinese Communist Party began to persecute Falun Gong in July 1999, Mr. Liu served three labor camp terms and one year in prison, simply because he upholds his belief.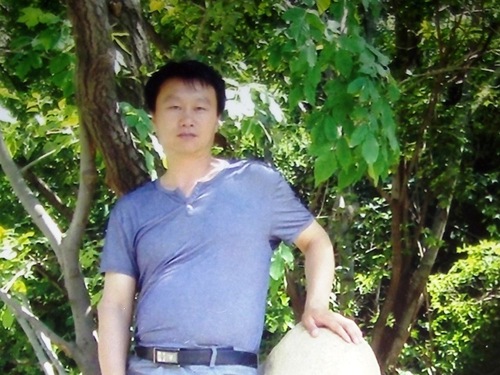 Mr. Liu Qingyu
Detained at Dashiqiao Detention Center for Six Months
When Mr. Liu was distributing Falun Gong informational materials on December 5, 1999, he was arrested by police officers Sun Rongfan, Liu Tiejun, and Wang Deping from the Nanlou Police Department. 
Mr. Liu described how these police officers tortured him: "The instructor Li Jinsheng stripped off my pants and pressed me against the desk. They took turns beating me with a metal stick, from my back to my heels, from 10 p.m. to 1 a.m. My whole body turned black and blue. After I fainted, they stopped the beating, thinking that I had died. After I came to, the deputy director Zhang Maojie continued to punch me in my head for more than half an hour. Then they sent me to Dashiqiao Detention Center."
Mr. Liu was detained there for 6 months and 5 days. During that time, he was enslaved and forced to do labor until midnight. He was beaten or physically punished if he couldn't finish the work quota for the day. Then he was taken to the Yingkou City Forced Labor Camp to serve a two-year term.
Tortured at Yingkou City Forced Labor Center 
While Mr. Liu was detained at the Yingkou City Forced Labor Camp, he was often abused, threatened and forced to do unpaid labor.
On April 8, 2002, the labor camp conducted a strip search of the practitioners. Mr. Liu refused to comply. Thus, he was brutally beaten by the guards. At that time, three police officers were temporarily deployed to guard 30 practitioners (16 were detained at Division One upstairs, and 14 at Division Two downstairs). The police officers did not allow practitioner to sleep and forced them to sit with other prisoners overnight until 3 a.m. They forced practitioners to sit on 4-meter-long wooden benches facing the wall without talking. Practitioners were tortured in a place less than 6 square meters without sunlight for a long time. They didn't have freedom to go to the bathroom or to wash themselves.
Six-month Term at Benxi City Forced Labor Camp
After Mr. Liu was released from the Yingkou City Forced Labor Camp, he was often harassed by local police. To avoid being arrested again, he lived away from home, only to be arrested again on October 22, 2004 at a bus terminal. 
Police officers put him in a small dark room at the second floor of the Dashiqiao Police Department and whipped him for half an hour with a leather belt.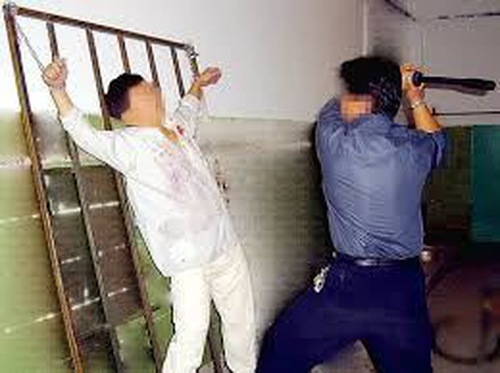 Torture reenactment: Beating
Mr. Liu was sent to Dashiqiao City Detention Center for further persecution later on. Several days later, he was transferred to the Benxi City Forced Labor Camp, where he was tortured both physically and mentally for the next six months. He was forced to sit still on a small stool for extended periods, with several inmates surrounding him cursing Falun Gong at the same time. They also forced Mr. Liu to watch TV programs slandering Falun Gong.
Another One-year Term at Masanjia Forced Labor Camp 
Several years later on May 4, 2008, Mr. Liu was arrested again at the Dashiqiao Railway Station. The police gave him a third term at the Masanjia Forced Labor Camp for one year. Every day, he was forced to do unpaid labor. The guards gave him very little food and only allowed him to sleep for a few hours or no sleep at all. 
In order to force Mr. Liu to give up his faith, police officers from the Haicheng City Police Department, the Anshan City and Yingkou City Police Departments took Mr. Liu out of the labor camp on August 7, 2008 and conducted a marathon interrogation session. 
Mr. Liu said, "They handcuffed my ankles to the legs of a metal stool, and hung me up by handcuffing my hands behind my back. Several people shocked my fingertips and toes, as well as my private part, with electric batons at the same time. When they were tired, they took a break and then continued again. They tortured me from 9 p.m. until 1 a.m. or 2 a.m. The toenails on my big toes dropped off."
After the interrogation, Mr. Liu was taken to the Haicheng City Detention Center and forced to work long hours without pay again. He lost about 65 pounds in a month and was disfigured. Then he was sent back to Masanjia Forced Labor Camp to finish serving the one-year term.
Sentenced to One Year in Prison
On June 28, 2016, when he went to Haicheng City on a business trip, the police chased him down, body-searched him and arrested him. They also took away the 1,830 yuan he had with him.
Mr. Liu was taken to the Haicheng Detention Center. The police beat him, causing severe bruising around his eyes. The injuries took over two months to heal.
The police fabricated evidence against Mr. Liu and submitted his case to the Haicheng City Procuratorate. The prosecutor indicted him on November 21, 2016.
Mr. Liu was tried on December 14, 2016 by the Haicheng City Court. His lawyer entered a not guilty plea for him, refuted the fabricated evidence and demanded Mr. Liu's acquittal.
The judge sentenced Mr. Liu to one year in prison on January 3, 2017. He was released on June 27, 2017.
Related Reports:
Mr. Liu Qingyu Unlawfully Sentenced
Thrice Given Forced Labor, Liaoning Man Faces Indictment for His Faith
Related Report in Chinese:辽宁刘庆余夫妇仍被非法关押 律师会见权被剥夺
All articles, graphics, and content published on Minghui.org are copyrighted. Non-commercial reproduction is allowed but requires attribution with the article title and a link to the original article.
Category: Accounts of Persecution