56-Year-Old Teacher Dies After 4 Years' Imprisonment for Rescuing Imprisoned Husband
April 25, 2021 | By a Minghui correspondent in Hebei Province, China
(Minghui.org) After enduring physical abuses in prison and repeated police harassment when released on medical parole, Ms. Zhou Xiuzhen of Tangshan City, Hebei Province, passed away on April 19, 2020, at the age of 56. At the time of her passing, her husband, Mr. Bian Lichao, was still serving a 12-year prison term for practicing Falun Gong.
Falun Gong, also known as Falun Dafa, is an ancient spiritual and meditation discipline that has been persecuted by the Chinese Communist Party since 1999.
Ms. Zhou, a middle school teacher, was arrested in 2014 for trying to rescue her husband and sentenced a year later to four years in prison. She was released in 2017 on medical parole. On April 17, 2020, she started feeling discomfort in her stomach. That night, she had blood in her stool and also vomited blood. She fell into a coma due to excessive blood loss and passed away the next morning.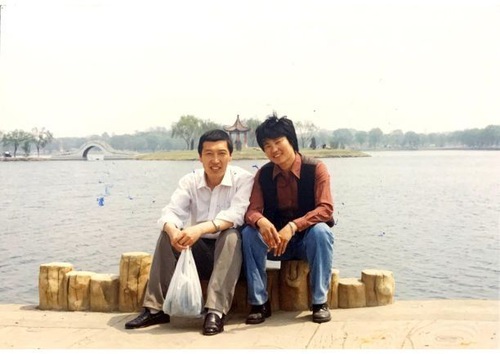 Mr. Bian Lichao and Ms. Zhou Xiuzhen
Husband and Wife Arrested
Ms. Zhou met Mr. Bian in 1985 when they were studying in college. They settled down in Tangshan City upon graduation. Ms. Zhou gave birth to their daughter, Ms. Bian Xiaohui, in 1990.
Mr. Bian, a middle school teacher, used to have heart problems and hypertension. Doctors recommended that he recuperate at home when the hospital couldn't cure his illness. However, after he started practicing Falun Gong in 1996, his ailments disappeared. Having witnessed Falun Gong's healing effect, Ms. Zhou was supportive of his practice even though she didn't practice herself.
In 2000, Mr. Bian was arrested after being reported for writing "Falun Dafa is good" on a wall. Ms. Zhou, who was not in town, rushed home after learning of the arrest and urged their workplace to rescue Mr. Bian from the police station.
Mr. Bian was arrested again on February 25, 2012, and the police used empty DVDs cases as prosecution evidence against him. Ms. Zhou was also arrested and detained for ten days.
At that time, Ms. Zhou was deceived into signing five blank sheets of paper used for indicating a list of items confiscated during the house raid. The over 100,000 yuan in cash that they saved to buy a house was taken away by the police but didn't appear in the confiscation list, which only indicated that 1,480 yuan was seized.
Rescuing Husband
On February 25, 2012, more than 100 Falun Gong practitioners in Hebei and Shandong were arrested for producing and distributing informational DVDs about Falun Gong. When Mr. Bian was detained, Ms. Zhou went several times to the police department, requesting the return of her family's items and money confiscated by police, but to no avail.
Ms. Zhou consulted a lawyer who suggested that she sue the authorities. Hence, Ms. Zhou started sending out complaint letters to various judiciary departments and widely publicized the police's corruption on various social media channels such as Tencent, Sina, NetEase, Weibo, and WeChat.
As Ms. Zhou sought public opinions, some practitioners and their relatives reached out to Ms. Zhou to encourage her and share their own experiences.
When practitioners who were arrested on February 25 stood trial, their family members were often not allowed to sit in the court. Family members were asked if they practiced Falun Gong before they were allowed to enter the courthouse. This question often stumped many of the family members, but Ms. Zhou would ask if the question had anything to do with the trial. Many family members were able to enter the courthouse as a result of Ms. Zhou's quick wit.
Seeking Justice for Husband
Mr. Bian was sentenced to 12 years in prison in July 2012. The court didn't provide the family with a copy of the verdict. Ms. Zhou then went to the procuratorate and court to ask for an explanation, but to no avail. She also sought out Mr. Bian's school principal who had deducted Mr. Bian's salary and bonus after his arrest, for an explanation. Although Ms. Zhou rarely achieved a favorable outcome, she was not deterred by the setbacks and continued to seek justice for her husband.
Mr. Bian was transferred to Baoding Prison in October 2012. Ms. Zhou learned that a practitioner named Mr. Zheng Xiangxing, who was also arrested on February 25 and sentenced to ten years, was sent to the same prison and beaten. Mr. Zheng was later paralyzed. Worried that Mr. Bian would be subjected to the same torture, Ms. Zhou visited the prison authorities many times between October and December 2012 with the aim of stopping the guards from persecuting Mr. Bian.
On January 11, 2013, Mr. Bian was transferred to Shijiazhuang Prison. Nearly every month, Ms. Zhou and their daughter took a nearly eight-hour train ride to the prison to visit Mr. Bian. However, their requests were not always granted, even when they were accompanied by their lawyer.
When they first got the chance to meet Mr. Bian, the first thing that he said was "every time we meet could be our farewell."
Detained practitioners tend to be abused more intensely if they have no family or outside groups paying attention to their situation. Knowing this, Ms. Zhou and her relative, Ms. Chen Yinghua, visited the family members of many imprisoned practitioners and encouraged them to stand up for the practitioners. Ms. Zhou also accompanied the family members to the prison whenever she could.
When social media became more widespread in 2012 and 2013, Ms. Zhou started using social media to publish news on the persecution. When her account was blocked, she would open a new one. She often sent private messages to encourage people after reading their stories of suffering.
In 2013, when Mr. Bian's lawyer, Wang Jingjiang, was arrested, Ms. Zhou took a leave at work and traveled for a day to visit the lawyer. The lawyer was moved by her efforts.
Although Ms. Zhou gained a lot of experience in dealing with the police, she still encountered many obstacles when requesting to meet her husband. Each time she couldn't meet her husband, she posted her experience online, which infuriated the Shijiazhuang Prison authorities.
Sentenced to Four Years Imprisonment
Ms. Zhou was arrested on March 13, 2014, and sentenced to four years in Hebei Women's Prison in August 2015.
Even though Ms. Zhou wasn't practicing Falun Gong at the time, the guards still dragged her to a room without a surveillance camera on October 5, 2016, and forced her to watch videos that slandered Falun Gong. She rebutted each piece of fabricated evidence, leaving the officers speechless.
On November 7, 2016, Ms. Zhou started to vomit blood and had blood in her stool. She stayed at Heping Hospital for five days and was later diagnosed with cirrhosis as a result of the abuses. Five days later, she was transferred to the prison hospital. The prison forced Ms. Zhou to call her relatives and ask them to pay for her hospitalization fees.
Ms. Zhou returned to the 9th ward on November 21. Despite being weak and in need of rest, she was forced to copy a sample guarantee statement every day, promising not to speak up for Falun Gong again, or she wouldn't be allowed to sleep.
Ms. Zhou vomited blood again on April 25, 2017, and was sent quickly to a private hospital. She vomited 900 ml of blood that night and was incontinent. Her heart rate and blood pressure were extremely low. The next day, a nurse came and asked Ms. Zhou, who was on the verge of death, if she was a person of faith. Ms. Zhou asked if this had something to do with being hospitalized. Afterwards, Ms. Zhou applied to be discharged.
Three times the prison applied for medical parole for Ms. Zhou to the judicial bureau in Tangshan City, but the request was denied each time. They applied to Bazhou City and was rejected as well. This dragged on for half a year. Later, the prison asked Ms. Zhou's sister to be the guarantor and submit the medical parole application to Langfang City. Ms. Zhou was finally released, but she had already missed the best time to receive treatment for her liver condition.
Harassed Repeatedly After Release
On June 26, 2017, Ms. Zhou was transferred from the prison to Langfang Hospital. She was later transferred to a hospital in Beijing by her family. As she was unfit to have an operation, she was discharged and had to rely on taking medicines and being put on IV drips. After she was released on medical parole, Ms. Zhou decided to practice Falun Gong.
When Ms. Zhou was on medical parole and in critical condition, the local judicial bureau repeatedly harassed her.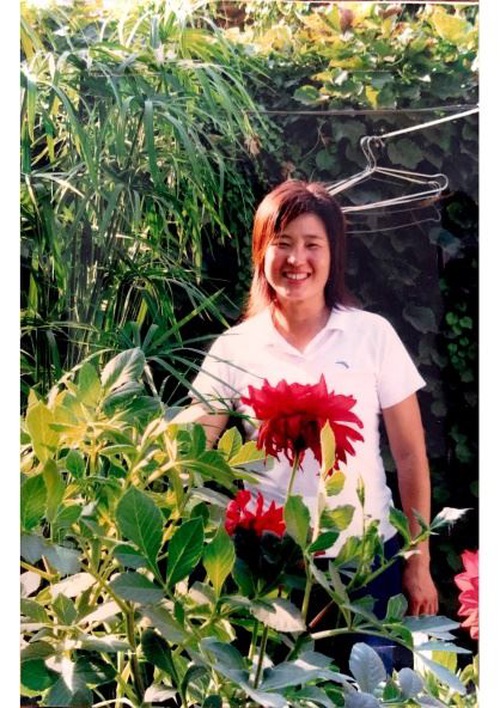 Ms. Zhou before she was persecuted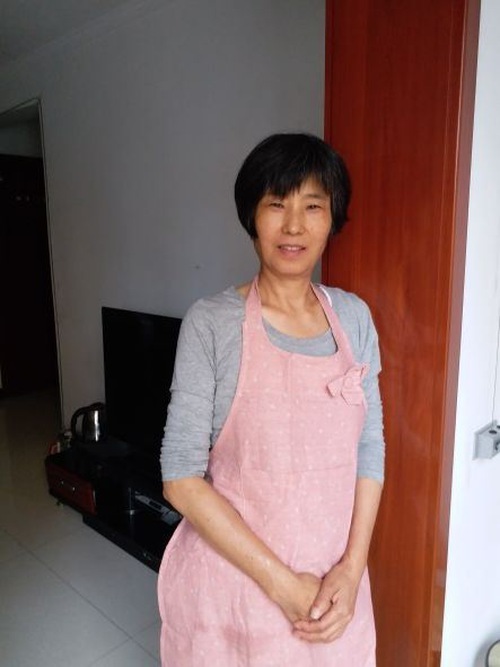 Ms. Zhou after she was persecuted
The local police continued to harass Ms. Zhou after her sentence ended on March 12, 2018. Ms. Zhou's landlord was also forced to evict Ms. Zhou and her daughter. Ms. Zhou returned to her home in Tangshan in June 2018, only to be harassed on the second day after she went back.
In July 2018, Ms. Bian arranged a trip to bring Ms. Zhou to Beijing to seek better medical treatment, but they were stopped at the train station and had their IDs confiscated.
In the same month, Ms. Bian, who has already married and moved to Shanxi Province, attempted to take Ms. Zhou to her new residence. But the police stopped their car and confiscated Ms. Zhou's ID again at a highway intersection.
Ms. Zhou, her daughter, and son-in-law went to visit Mr. Bian in early 2019. They were obstructed and the prison kept asking about the personal information of her son-in-law. In the following months, the prison also harassed her son-in-law many times over the phone.
In September 2019, Ms. Zhou's daughter had just given birth and finished her postpartum confinement when the local police threatened her landlord, forcing the family to move again. After finding a new place, the police questioned the property staff of their new residence, causing them to treat the family coldly.
The continued persecution of the family left Ms. Zhou in constant distress. She never recovered and passed away on April 19, 2020.
After her passing, the police continued to create obstacles when issuing a death certificate. On the day of the funeral, they sent someone to the crematorium to verify the cremation. Half a month later, the police called the funeral parlor to ask if Ms. Zhou had really died.
Related reports:
Sentenced for Rescuing Imprisoned Husband, Wife Dies after Prison Abuse and Harassment Following Release
Imprisoned for Rescuing Husband, Ms. Zhou Now in Critical Condition
Falun Gong Practitioner's Wife and Daughter Prosecuted for Seeking His Release, Attorneys Protest Unfair Trials
Mr. Bian Lichao's Life in Danger; Wife and Daughter Arrested
Imprisoned Teacher Tells His Wife: "Every Time We Meet Could Be Our Last Farewell"
Falun Gong Practitioner Mr. Bian Lichao Unlawfully Tried in Court, His Wife Barred from Attending
Excellent High School Teacher Mr. Bian Lichao Illegally Sentenced to 12-Year Prison Term--Tangshan Intermediate Court Attempts to Uphold Original Verdict
Snapshot of Falun Gong Practitioners Whose Copies of Lawsuits Against Jiang Zemin Were Received by Minghui on July 15 and 16, 2015
All articles, graphics, and content published on Minghui.org are copyrighted. Non-commercial reproduction is allowed but requires attribution with the article title and a link to the original article.
Category: Reports of Death Cases