Zheng Xiangxing, Dead or Alive? - Baoding Prison Denies Family's Visits (Photo)
November 17, 2012 | By a Minghui correspondent from Hebei Province, China
(Minghui.org) Mr. Zheng Xiangxing from Tangshan City, Hebei Province, was seriously injured as a result of being tortured in Baoding Prison. He had a craniotomy, and his family is very worried about him. They are not sure if he is dead or alive. He is not in the intensive care unit of the First Center Hospital in Baoding City. Plainclothes police were gathered in front of the entrance, claiming that Mr. Zheng was still being treated. At the same time they were ready to arrest the Falun Gong practitioners who had come to visit him so that they could withhold any information and cover up the truth of his injuries. The police are currently monitoring Zheng Xiangxing's relatives.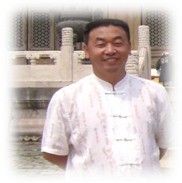 Mr. Zheng Xiangxing
Where is Zheng Xiangxing? How is he?
At around 10 a.m. on October 30, four of Zheng Xiangxing's relatives were outside in front of Baoding Prison. Some were crying and some had fainted. One 40-year-old woman said: "Zheng Xiangxing from Tangshan is a practitioner of Falun Gong. He followed Truth-Compassion-Forbearance to be a good person, and for this he was sentenced and taken to Baoding Prison. He was a 45-year-old robust man. Within two months he fell and had a cerebral hemorrhage. The doctors performed a craniotomy twice without notifying the family. Only when he was dying were we informed of his condition and asked to come."
The family's friends were driven away by the police and not allowed to get close. The prison police said, "Get out of here. You do not know what is going on." Several officers then roughly escorted only the relatives into the prison.
It was said that Zheng Xiangxing was in the intensive care unit at the 8th floor of the First Center Hospital in Baoding City. It was the second time that he had craniotomy. Plainclothes police officers were stationed in front of the ICU.
Mr. Zheng Xiangxing was an honest businessman in Tanghai County, Hebei Province. On February 25, 2012, he was illegally arrested by the Tangshan City police. Soon after, 3,000 local residents signed a petition with their fingerprints asking the authorities to release him. Their appeal was ignored, and he was sentenced him to ten years in prison. In Baoding Prison, the constant strain of being persecuted brought on the cerebral hemorrhage. At around 11 a.m. on October 27, he was taken to the First Center Hospital for a craniotomy. Two pieces of his skull were removed. Earlier that day, staff from the prison went to Mr. Zheng's home and alerted his family. That afternoon, more than 10 of his relatives arrived the hospital. They saw an extremely thin Zheng Xiangxing, who was in a coma and near death.
Over the last ten years, Baoding Prison has used videos, TV, newspapers, and magazines to slander Falun Gong to try and brainwash Falun Gong practitioners. After these approaches failed, they started to brutally torture them. Usually, six prisoners operate in three shifts to torture practitioners. Practitioners are barely allowed to sleep. They are pushed, cursed, beaten, and insulted in various ways. The common methods of abuse include beating, shocking with electric batons, being hung up off the ground by handcuffs, "stewing the eagle," being confined in a small room, force feeding, slave labor, etc.
Policeman Fan Jianli was proud of how he'd detained practitioners for long-term confinement in small rooms. He would organize death row inmates to torture practitioners, as eight prisoners would torture a single practitioner. Lu Xinshu was a teacher in Shijiazhuang City Elementary School, who died from severe abscesses caused by torture. Farmer Wang Gang from Zhuzhou City was detained in a little confinement room. The torture disabled him, and his right leg had to be amputated and he died afterwards. Li Yansheng from Xingtai City lost a finger, and the constant beatings caused his spleen to rupture, adding injuries to his liver, gallbladder, stomach, and bladder. The prison covered up these horrible facts and refused to let the victims' families visit.
When Wang Gang's leg was amputated due to torture, Baoding Prison did all it could to keep the news from getting out. They monitored Wang Gang 24/7 to prevent him from getting in touch with the outside world. Wang Gang's wife and family heard about it and went to the prison several times to confirm what had happened. The prison kept denying the facts and did not allow the family to see him. To avoid generating public attention, the prison secretly transferred Wang Gang to Jidong Prison in Tangshan City. On October 14, 2009, when Wang Gang was dying, he was released. More than ten days after he returned home, he passed away.
Baoding Prison in Hebei Province:
Liu Jianhua, director and CCP secretary: +86-312-5923001, +86-13315272001(Cell)
Zhou Yanping, deputy director: +86-312-5923005, +86-13663300015(Cell),
+86-15131216677(Cell)
Please refer to the original Chinese text for more names and telephone numbers.
Related articles:
Tangshan City Business Owner Mr. Zheng Xiangxing Arrested
http://en.minghui.org/html/articles/2012/3/21/132309.html
562 Signatures Urge Release of Honest Businessman Mr. Zheng Xiangxing
http://en.minghui.org/html/articles/2012/6/9/133877.html

When an Honest Man Is Tried, Hundreds Sign a Petition to Demand His Release and the Area Experiences Earthquakes and a Sandstorm
http://en.minghui.org/html/articles/2012/6/18/134021.html
Police from Tanghai County Threaten Mr. Zheng Xiangxing and His Fellow Villagers Supporting Him
http://en.minghui.org/html/articles/2012/7/5/134298.html
Police Officers from Tangshan City Arrest Mr. Zheng Xiangxing's Wife and Threaten Those Who Signed the Petition Demanding Her Husband's Release
http://en.minghui.org/html/articles/2012/7/6/134316.html
Fellow Villagers Concerned About Mr. Zheng Xiangxing and His Family
http://en.minghui.org/html/articles/2012/7/3/134236.html
Update: Ms. Sun Shuyun Released after Illness, Villagers Refuse to Recant Letter of Petition for Release of Her Husband Zheng Xiangxing
http://en.minghui.org/html/articles/2012/7/30/134697.html
Fingerprints on a Petition to Rescue a Practitioner Signify Strong Support for Falun Gong
http://en.minghui.org/html/articles/2012/8/10/134874.html
Mr. Zheng Xiangxing Sentenced to Ten-Year Prison Term (Photos
http://en.minghui.org/html/articles/2012/8/24/135132.html
Citizens in Hebei Province Sign Third Petition in Effort to Rescue Mr. Zheng Xiangxing
http://en.minghui.org/html/articles/2012/8/26/135159.html
Mr. Zheng Xiangxing Near Death from Persecution, Thousands of People Sign Petition Demanding His Release
http://en.minghui.org/html/articles/2012/9/6/135301.html
China: More Sign Public Petition to Rescue Mr. Zheng Xiangxing (Photo)
http://en.minghui.org/html/articles/2012/9/7/135319.html
An Open Letter Asking for the Release of Zheng Xiangxing
http://en.minghui.org/html/articles/2012/9/7/135314.html