Former English Teacher Serving 12 Years Subjected to Ongoing Torture for Nearly Ten Months
April 16, 2021 | By a Minghui correspondent in Sichuan Province, China
(Minghui.org) A former English teacher serving 12 years for practicing Falun Gong is now suffering intensified persecution every day for not giving up her faith.
Falun Gong, also known as Falun Dafa, is a spiritual and meditation discipline that has been persecuted by the Chinese communist regime since 1999.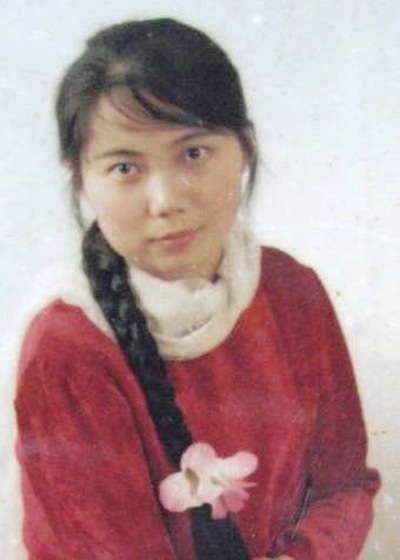 Ms. Wang Hongxia
Ms. Wang Hongxia, an Anyue County, Sichuan Province, resident, was arrested in Chengdu City in the same province in 2011 and sentenced to 12 years in 2013. She is now held in the Sixth Ward at Chengdu Women's Prison. 
Since June 30, 2020, Ms. Wang has been subjected to intensified persecution every day after she was reported by inmate Wang Dan for talking to her about the persecution of Falun Gong. 
Upon returning to her cell in the evening after working more than ten hours each day, Ms. Wang is given five minutes to wash and do the laundry, with only three cups of water. 
When the five minutes are up, she is forced to sit on a small stool, which is placed on a two-foot by two-foot square floor tile. She has to keep her knees together and her hands on her knees, while sitting up straight without moving. 
Torture reenactment: Sitting on a small stool
After sitting for 20 minutes, the standing torture begins. In addition to standing up straight, Ms. Wang has to keep her arms close to her body and her legs together, without moving. The guards put a piece of paper under each of her armpits and between her legs. If the paper drops, they beat her. 
Ms. Wang goes to bed after the standing torture ends at 10:30 p.m., only to be forced to stand again after getting up at 5:30 a.m.
Because Ms. Wang refuses to write "thought reports" to admit any wrongdoing, the guards only allow her to take a shower every two weeks. She isn't allowed to wash her bedding. 
Since she was taken to the prison in 2013, the prison authorities have denied Ms. Wang family visits. Even when she was in critical condition after holding a hunger strike to protest the persecution, the guards still didn't allow her family or lawyer to visit her. The money her family deposited for her to buy daily necessities was also returned. 
Chengdu Women's Prison has been notorious over the past 22 years for torturing Falun Gong practitioners. Those who stay firm in their faith are often beaten, hung up, shocked with electric batons, force-fed unknown drugs, denied restroom use, or held in solitary confinement. 
At least 15 Falun Gong practitioners have been tortured to death, including Ms. Li Rong, Ms. Guo Qirong, Ms. Shi Jinqin, Ms. Li Mengshu, Ms. Zeng Suqiong, Ms. Li Yuhua, Ms. Li Guixiang, Ms. Chen Lianying, Ms. Zhu Yifang, Ms. Lin Feng, Ms. Chen Shikang, Ms. He Chaofen, Ms. Huang Lisha, Ms. Hu Xia, and Ms. Yan Hongmei. 
Prior to her current lengthy prison term, Ms. Wang has served two labor camp terms for practicing Falun Gong. 
She was arrested in December 1999 for appealing for the right to practice Falun Gong and was given two years at Nanmusi Women's Forced Labor Camp. Her term was extended for six months. 
In November 2002, only one month after she was released, Ms. Wang was arrested again for talking to people about Falun Gong and given another 2.5 years at the same labor camp. She developed a severe heart condition, nephritis, and generalized swelling as a result of the torture she endured there. 
Ms. Wang was arrested again on June 26, 2006, and taken to the Erehu Brainwashing Center. She escaped, only to be arrested and taken back to the brainwashing center. 
After escaping from the police station after another arrest on May 22, 2007, Ms. Wang was forced to live away from home to avoid the police. Her husband divorced her and her workplace suspended her salary. 
Related reports:
Seven Practitioners Handed Long Prison Sentences in Sham Trial, Attorney Barred from Attending Hearing
Seven Practitioners Imprisoned in Fabricated Case
Brutalities Taking Place in Xinjin Brainwashing Center
Three Falun Gong Practitioners Detained in Brainwashing Center in Chengdu City
Ms. Wang Hongxia and Two Other Practitioners Arrested in Chengdu City, Sichuan Province
Persecution Suffered by Ms. Wang Hongxia from Anyue County, Sichuan Province
Falun Gong Practitioner Ms. Wang Hongxia of Anyue County, Sichuan Province Sent to Nanmusi Women's Labor Camp Again
All articles, graphics, and content published on Minghui.org are copyrighted. Non-commercial reproduction is allowed but requires attribution with the article title and a link to the original article.
Category: Accounts of Persecution