Seven Practitioners Imprisoned in Fabricated Case
November 10, 2013 | By a Minghui correspondent from Sichuan Province, China
(Minghui.org) The attorney for illegally-detained Falun Gong practitioners in Jianyang City, Sichuan Province received a notice from the Jianyang Court on August 28, 2013 that the trial of seven practitioners would be postponed. The extension request was from the Jianyang Procuratorate, and would make the fourth time the trial has been postponed.
Seven practitioners were wrongfully accused in this case: Mrs. Wang Hongxia from Anyue County, Ziyang; Mr. Ye Jianguo from Longchang County, Neijiang City, Sichuan; Mr. Du Zhongxuan from Jiangjin District, Chongqing; and four practitioners from Jianyang, including Ms. Wang Ying, Ms. Zeng Pingshu, Mr. Ma Daiheng, and Ms. Diao Qixiu. Many of these practitioners are in their sixties or seventies. Ms. Zeng Pingshu is imprisoned at Anyue Detention Center; Mr. Du Zhongxuan and Mr. Ma Daiheng are imprisoned at Jianyang Detention Center; and the other four practitioners are imprisoned at Ziyang Detention Center.
The Jianyang Court originally planned to hold a secret trial in late March, 2013. Since the practitioners hired an attorney to defend them, the court pushed the trial date to early April. In April, the Jianyang Court postponed the trial again, quoting the Chinese Communist Party's (CCP) direction, "All major cases should be postponed during the 18 th National People's Congress Conference." On May 3, the court issued another extension as per the Jianyang prosecutor's request. There was no information for more than three months following, until the August 28 court notice to extend the case again, also at the prosecutor's request.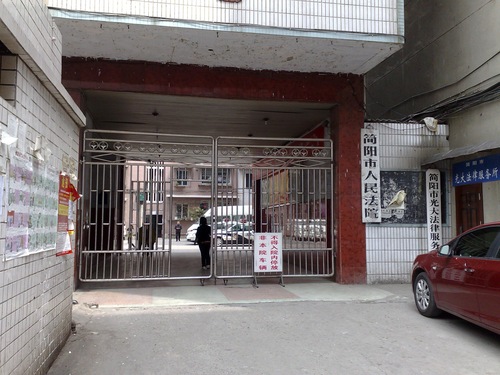 Jianyang Court
Li Jia, CCP head of the Ziyang City Party Committee, stated within the first month after he took the position that he wanted to "plan and push through," "seize the opportunity to conduct," and "process major cases for" intensified persecution of Falun Gong practitioners. Thus, the Jianyang Political and Legal Committee and610 Office "planned and pushed" the case against Ms. Lei Jinxiang and four other practitioners. Ms. Lei was sentenced to nine years in prison. She died under suspicious circumstances in February 2013 while imprisoned at Yangmahe Prison in Jianyang. The prison guards claimed that "she died from reading a book at night."
Currently, the Ziyang Political and Legal Committee is creating a bigger case. They claim that they have arrested seven "key" Falun Gong practitioners, labeling them the "Falun Gong coordinator of Sichuan," "four Falun Gong key personnel," and "Falun Gong key personnel of Jianyang." According to inside information, they have decided the sentence in advance and plan to have the Jianyang Court read a guilty verdict.
The trial will be just for show, since the result was already decided. The court-appointed attorney said, "We don't know how my clients were arrested and why. We'll just say what we were told to say. The Police Department has already decided their case."
Another person who participated in this case said privately, "The case of Ms. Wang Hongxia and others is a Falun Gong case. None of us can tell whether they have committed any crime. The materials prepared by the police read the same as the cooked-up charges and over-exaggeration which the CCP used in the Cultural Revolution. To tell the truth, a few top police officials aim to get a huge bonus from this case. They choose a few parties to share the responsibility and make them the scapegoats: the Procuratorate prosecutes them and the court sentences them."
Abusing Power for Political Gain
Ms. Wang Hongxia, near 50, is the main target in this case. She was an English teacher at Anyue Teacher Training School. After she began practicing Falun Dafa, she lived by the principles of Truthfulness-Compassion-Forbearance. She is well-known for being a good person in her family, school, and society. She has been persecuted by the CCP for a long time. Ms. Wang was placed in a brainwashing center several times, and sentenced to forced labor three times, where she was brutally tortured. Once, she was forced to sit in the full lotus position for 17 hours. Another time she was put on the Tiger Bench for 20 days. Her family was also implicated and suffered.
Ms. Wang lost her job and had to sell tea to make a living, yet she never stopped helping others. The Chengdu City 610 Office in Sichuan and the Chengdu Domestic Security Bureau saw her as a good opportunity to make money – they could label her as a top Falun Gong practitioner because she had her own business with a large number of contacts, and there was money to take. They arrested Ms. Wang from the apartment that she rented in Chengdu, confiscated all her property, including her son's computer accessories, and put her in the Xinjin Brainwashing Center in Chengdu. Three months later, they transferred her to the Erehu Brainwashing Center in Ziyang. Later they sentenced Ms. Wang to two years in the infamous Nanmusi Forced Labor Camp in Zizhong, Neijiang.
Ms. Wang Hongxia was illegally imprisoned in the Xinjin Brainwashing Center.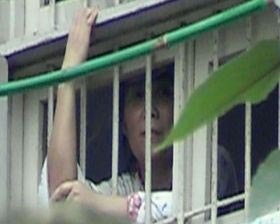 Although she was scheduled to be released, several mid-ranking CCP personnel wanted to take advantage of her case in order to gain political points by stepping up the persecution of Falun Gong. The agents were Li Jia; Tang Yongliang, Ziyang Political and Legal Committee Party Secretary; Wang Hongbin, Jianyang Party head; and Fan Changhua, Jianyang Political and Legal Committee Party Secretary. They cooked up a plan to use other practitioners as part of a frame-up of Ms. Wang.
They arrested six other practitioners on July 28, 2012. Knowing that they would always tell truth, they asked them if they knew Ms. Wang Hongxia. Of course, the practitioners answered yes. This was used as "evidence" to build the case against Ms. Wang Hongxia. They arrested Ms. Wang Hongxia at the end of 2012 and held her in the Ziyang Detention Center.
One of the six arrested practitioners is Mr. Ma Daiheng, 76, from Jianyang. He was known as a very kind person. He worked as both a teacher and a farmer when he was young. The difficult labor left him with several hard-to-cure diseases. After he practiced Falun Gong, the diseases were all quickly cured. He became healthier and better-tempered.
But the CCP wouldn't leave this kind man alone. He was arrested by the Domestic Security Bureau several times. One day in October 2010, over twenty people broke into his home while he was making lunch. They arrested him and confiscated his belongings, worth over twenty thousand yuan. They put him in the Erehu Brainwashing Center.
At noon on July 28, 2012, Jianyang Domestic Security police broke into Mr. Ma's home again. They arrested him and ransacked his home. His wife didn't know of the arrest until she came home later that evening. Their home was a mess. Missing were a set of keys and several hundred yuan which was their monthly living expense. Mr. Ma was taken to the Er'e Lake Brainwashing Center. He was again arrested at the end of 2012.
Also arrested was Ms. Zeng Pingshu, 65, from Jianyang. She once had severe gastritis which made her unable to eat. She was close to death when she discovered Falun Dafa and recovered. She became more virtuous and helpful to others. She is recognized as a good person.
On March 18, 2009, Ms. Zeng was arrested and put in the Er'e Lake Brainwashing Center for one month. In October 2010, eight policemen from the Jianyang Domestic Security Bureau broke into her home and arrested her again. They confiscated over four thousand yuan and put her in the Er'e Lake Brainwashing Center. The guards at the brainwashing center didn't allow her children to visit her. Her arrest took a huge toll on her family. She could no longer care for her sick husband, nor could she help with her daughter's young children while her son-in-law worked in another city. On July 28, 2012, Ms. Zeng Pingshu was arrested for the third time and once again put in the Er'e Lake Brainwashing Center.
Ms. Diao Qixiu, 62, is from Sanhe Town, Jianyang. She used to have many ailments until practicing Falun Gong made her healthy. She was persecuted by Zhong Shiquan, former Party Secretary of the Jianyang Political and Legal Committee. Later, Ms. Diao moved to Chengdu with her husband to babysit their grandchild. She was set up by the CCP in this most recent case.
The other practitioners arrested were Mr. Du Zhongxuan, 69, and Mr. Ye Jianguo, around 60.
The CCP framed these innocent Falun Gong practitioners to get a large bonus. The case keeps getting postponed, as the fabricated evidence is hard for the Procuratorate to use.
CCP Personnel participating in the persecution: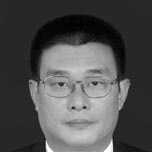 Wang Hongbin, Party Secretary of Jianyang Party Committee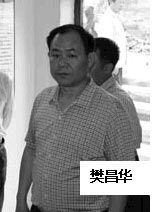 Fan Changhua, Party Secretary of Jianyang Political and Legal Committee (Zhong Shiquan was his predecessor)
Yang Zongkai, Director of Jianyang "610 Office:" +86-28-27210610 (O), +86-28-27214480 (O), +86-13982923297 (M)

Zhong Shibin, Director of Jianyang Police Department
Yan Yiquan, Manager of Jianyang Domestic Security Team: +86-28-27226655 (O), +86-28-27263848 (O), +86-13980382856 (M), +86-18982909056 (M)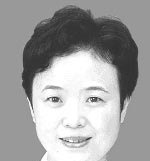 Li Jia, Party Secretary of Ziyang Party Committee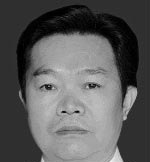 Tang Yongliang, Party Secretary of Ziyang Political and Legal Committee
Song Li, Director of the Ziyang 610 Office: +86-13982979972 (O)
Erehu Brainwashing Center
Xu Hongyan, Director: +86-28-26741799 (O), +86-28-26332128 (O), +86-28-26741031 (O)
Staff Liu Debing: +86-15082130648 (M)
Chen Shikang: +86-13982972278 (M)