Brutalities Taking Place in Xinjin Brainwashing Center
May 26, 2012 | By a Minghui correspondent in Sichuan Province, China
(Minghui.org) Under orders from Zhou Yongkang, Falun Gong practitioners in Sichuan Province are being severely persecuted.
More than 20 practitioners were arrested in Guanghan City, Sichuan Province, on March 28, 2012. Following instructions from Chenghua 610 Office agents in Chengdu City, Fuqinglu police officials arrested Ms. Yang Shuhua and her sister, Ms. Yang Shujsun and transferred them to Xinjin Brainwashing Center. Practitioners have been held there since July 1999.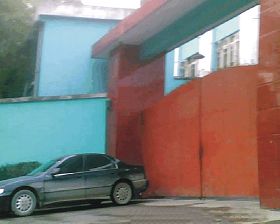 Xinjin Brainwashing Center
Brainwashing center deaths
Ms. Wang Mingrong, 53, from the Chengdu City Jinniu District was a head nurse. Jinniu District 610 Office agents arrested her on September 7. She was severely tortured and died in the Xinjin Brainwashing Center on September 17. She was bruised all over. Due to pressure from the Jinniu District 610 Office, her family did not dare to provide additional information.
Related article: "Chengdu Police Cover Up Brainwashing Center's Responsibility in Ms. Wang Mingrong's Death" (http://en.minghui.org/html/articles/2012/1/3/130490.html)
When Ms. Wang's family went to visit her, officers Bao Xiaomu and thug Huang Zhongzhi verbally abused and threatened them.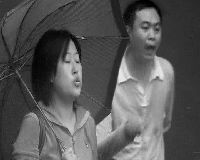 Brainwashing officer Bao Xiaomu (female) and thug Huang Zhongzhi
Brutality and forced drugs
More than 1,000 practitioners were kept in the Xinjin Brainwashing Center. Guards mixed unknown substances in water and food and even injected the drugs into fruit. Symptoms usually appeared half an hour later and as dizziness, swelling eyes, sleepiness, difficulty breathing, heart discomfort, and irritation. Some practitioners were all right before they were detained, but their physical condition worsened not long after they were admitted.
Ms. Liu Shenglu, 53, was from the Xindu District in Chengdu City. Xindu 610 Office agents sent her to the Xinjin Brainwashing Center on April 22, 2003. She was viciously beaten and tortured, resulting in a swollen head and stomach and a bruised chest. Ms. Liu died in the morning of May 26, frothing at the mouth.
Mr. Xie Deqing was employed by the Hydro China Chengdu Engineering Corporation. Funan 610 Office agents and local police took him and his wife to a police station on April 29, 2009. Police station head Liu Chuan and other agents beat and injured him. They then took him to the Xinjin Brainwashing Center. About three weeks later, formerly healthy Mr. Xie became skinny, developed urinary incontinence, and had difficulty drinking fluids. In the evening on May 23, Mr. Xie said that he would not give up his belief in Truthfulness-Compassion-Forbearance. After his death on May 27, police took his body away.
Related article: "Mr. Xie Deqing Tortured to Death, Riot Police Storm Funeral Parlor to Confiscate and Cremate His Body" (http://en.minghui.org/html/articles/2009/6/8/108115.html)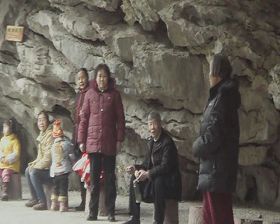 The happy family of Mr. Xie Deqing and his daughter, Xie Weiqiong
Mr. Xie, his daughter Ms. Xie Weiqiong, and his daughter-in-law died as a result of persecution
Framing the innocent and extorting money from them
Brainwashing center officials report the expense for each detained practitioner as 10,000 yuan. The money comes from government funding and by extorting it from the practitioner's family and employer. Then the money goes to thugs in the brainwashing center. To line their pockets, 610 Office agents and those from the State Security Bureau and the Domestic Security Division of the following districts place incarcerated people in this brainwashing center every month: Chenghua, Wuhou, Jinniu, Qingyang and Jinjiang District. Wuhou District Domestic Security Division head Wang Pengfei said they received 200,000 yuan in funds to arrest Chengdu practitioner Ms. Zhong Fangqiong. In addition, brainwashing center officials provide training for brainwashing facilities in other cities or even provinces.
When Ms. Wang Hongxia from Anyue County in Sichuan Province, Mr. Shi Bingjun from Wuxi City in Jiangsu Province, and Mr. Wei Kedong from Jilin Province traveled to Shuangliu Town in Jiujiang County the evening of June 9, 2011, on tea business, more than 30 Chengdu police agents arrested them without notifying their families. The police even labeled them as drug addicts during the arrest.
Ms. Wang, 46, was a teacher at Anyue Teachers Training College. She was sent to forced labor camp twice and tortured. Her family was also affected. Her 20-year-old son could not find a job. Ms. Wang planned to go into the tea business and wanted to help her son to open a computer repair shop. However, agents from Chengdu 610 Office and Domestic Security Division arrested them, confiscated merchandise, and took them to the Xinjin Brainwashing Center.
Related articles:
"Ms. Wang Hongxia and Two Other Practitioners Arrested in Chengdu City, Sichuan Province" (http://en.minghui.org/html/articles/2011/6/27/126287.html)
"Persecution Suffered by Ms. Wang Hongxia from Anyue County, Sichuan Province" (http://en.minghui.org/html/articles/2009/11/26/112622.html)
Ms. Yang Shuhua and her sister, Ms. Yang Shujun, had a barbershop on Huayou Road. More than 10 agents from Fuqinglu Police Station in Chengdu City drove to the shop in nine police cars in the afternoon on March 13, 2012. Ms. Yang Shujun was not in, so they took Ms. Yang Shuhua and ransacked her home. When Ms. Yang Shujun went to the police station at noon at March 27 to get her sister released, Huayou Road police chief Zeng Minjun arrested her and sent her to the Xinjin Brainwashing Center.
According to local police, the head of the brainwashing center is Zhou Yongkang, and the local police have no control over it.
When Ms. Yang Shuhua and Ms. Yang Shujun were sent to Pi County Detention Center on March 6, 2007, their third uncle and mother died from sadness soon afterwards. When Ms. Yang Shujun was arrested on March 27, 2012, her fifth uncle and wife were so upset that they died not long after. Now, there is only a school-aged child left at home unattended. When the child went to the Xinjin Brainwashing Center to visit his mother, brainwashing officers refused to allow it.