Chengdu Police Cover Up Brainwashing Center's Responsibility in Ms. Wang Mingrong's Death
January 03, 2012 | By a Clearwisdom correspondent in Sichuan Province, China
Name: Wang Mingrong (王明蓉)
Gender: Female
Age: 53
Address: Provincial Residential Area, 6 Shuyue Road, Chadianzi, the Jinniu District, Chengdu City, Sichuan Province
Occupation: Former head nurse at the Kangfu Hospital in Chengdu City
Date of Death: September 17, 2011
Date of Most Recent Arrest: September 7, 2011
Most Recent Place of Detention: Xinjin Brainwashing Center (新津洗脑班)
City: Chengdu
Province: Sichuan
Persecution Suffered: Beatings, forced-feeding
(Clearwisdom.net) Falun Gong practitioner Ms. Wang Mingrong, former head nurse at the Ankang Hospital in Chengdu City, was arrested and taken to the Xinjin Brainwashing Center around September 7, 2011. In less than ten days, she was dead. Ms. Wang's older sister went to visit her on September 16, and was allowed to see her. Ms. Wang died the next day. Further information showed that the Chengdu Police Department and other regime agencies tried various means to cover up the crime committed by brainwashing center personnel where Ms. Wang died.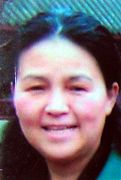 Ms. Wang Mingrong
Wang Mingrong's family went to officials in the brainwashing center, the Jinquan Street Office, the Jinniu District Committee and the Chengdu City Police Department to demand a written statement explaining how Ms. Wang had died. Officials refused to provide any information to her family. The family was turned down on another request they made to meet with the "helpers" who monitored Ms. Wang's every movement in the brainwashing center. The brainwashing center officials first lied, claiming that she committed suicide by hanging herself with her clothing, but her family refused to accept this explanation, and pointed out that while being strictly monitored, there would have been no opportunities for her to do so. The perpetrators then claimed that Ms. Wang died because she used a piece of tile to cut her own throat; however, they couldn't answer where the tile came from and where the "helpers" were when this happened. They also couldn't explain what caused the injuries to Ms. Wang's body. The officials finally replied, "As for how Wang Mingrong died, it has to be decided through a meeting with our superiors."
It is known that Xinjin Brainwashing Center officials sent Ms. Wang Mingrong to a hospital after 1:00 p.m. on September 17. When her body was brought to the hospital, a doctor determined that Ms. Wang was already dead and there was no way to revive her. To cover up their crime, brainwashing center staff pressured the doctor to perform an "emergency treatment," inserting medical equipment into Ms. Wang's dead body and giving her transfusions. Although the hospital authorities ordered all medical staff not to reveal the truth, some conscientious staff members privately told Ms. Wang's family that when she was brought to the hospital, she was actually already dead and the doctor only went through the motions of resuscitating her.
After learning about Wang Mingrong's death, brainwashing center officials, along with the Jinniu District Committee, street office and police department held a meeting and decided to inform Ms. Wang's family. The police lied to Wang's husband and said that she was in the Xinjin County Hospital, but didn't tell him that she had died. They demanded that the family write a statement of guarantee if they wanted to see her, which would state that the family wouldn't investigate the cause of Ms. Wang's death nor expose the truth about what happened.
Chengdu Police Department officials threatened Ms. Wang's daughter, telling her that if she dared to investigate, they would fabricate enough evidence to sentence her father to death, so that she would lose both her parents. They said that if she didn't investigate her mother's death, she would be given several hundred thousand yuan in compensation. Under such coercion and enticement, Ms. Wang's daughter and husband compromised and wrote related guarantee statements more than once, and also didn't dare tell others about the facts surrounding Ms. Wang's death. When their relatives heard that Wang Mingrong had died, and contacted them to confirm the news, they replied that she had gone on a tour.
Since the Xinjin Brainwashing Center was set up in 2003, it is estimated that more than a thousand Falun Gong practitioners have been arrested and taken to this brainwashing center. Many people who have been detained there were subjected to physical abuse, mistreatment and torture, including beatings, forced-feeding as a mean of torture, and having their food laced with poison which caused several deaths. Practitioners who have died as a result of persecution in this brainwashing center include Deng Shufen, Li Xiaowen, Xie Deqing, and Liu Shenglu. Ms. Zhu Xia, Ms. Liu Ying and Ms. Tan Shaolan suffered nervous breakdowns as a result of being persecuted there.
Related article: "Former Head Nurse Ms. Wang Mingrong Died in Less Than Ten Days at the Xinjin Brainwashing Center in Chengdu, Sichuan Province" (http://www.clearwisdom.net/html/articles/2011/10/10/128643.html )