Artists, Musicians, and Poets Persecuted for Their Belief in Falun Gong (Part 3)
July 14, 2019 | By a Minghui correspondent in China
(Minghui.org) (Contiuned from part 2)
Falun Gong (also known as Falun Dafa) is an advanced practice of self-cultivation based on Buddha School teachings, founded by Mr. Li Hongzhi. Since its introduction in 1992, it has spread to over 100 countries, and many people have experienced significant health improvement after taking up the practice.
The Chinese government officially banned the practice in 1999. Since then, many practitioners in China have been persecuted for upholding their belief. Among them were talented artists, musicians, and poets.
Some practitioners have died as a result of the persecution, and some were sentenced to many years in prison. Others have become handicapped as a result of torture they suffered in police custody, and a few have been forced to leave their homeland and flee to other countries.
According to information published on the Minghui website, at least 9 artists have died, 75 were arrested, among whom 50 were sentenced to forced labor camp or prison. The following report represents a small number of the cases that have been published.
International Acclaimed Artist Mr. Li Guangwei Disappeared 14 Years Ago
Mr. Li Guangwei was famous for his Chinese calligraphy and painting. He started practicing Falun Dafa at the end of 1998 after he had come down with a serious illness. Soon after he took up the practice, his health improved greatly.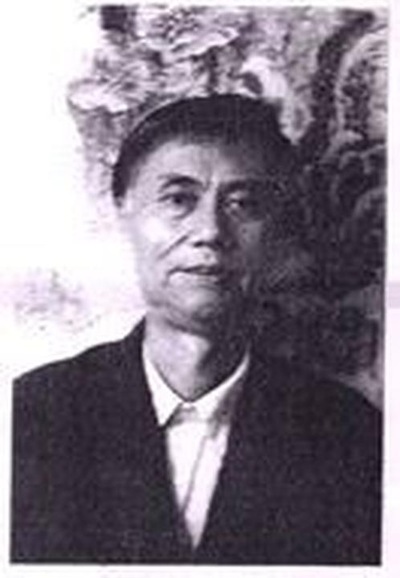 Mr. Li Guangwei
The police ransacked his home and confiscated his Falun Gong books and exercise tapes after the persecution started in July 1999. Mr. Li, who was badly wounded during the Culture Revolution, was petrified. He had a relapse of his old illness. He wrote his experience of cultivating in Falun Dafa and sent it to his fellow painters. Because of that, he was monitored and followed whenever he left his home.
Mr. Li told his family that he wanted to take a walk, and would be back shortly on July 25, 2005, but he never returned. His family searched everywhere for him, and also reported his disappearance to their local police station. However, authorities refused to help them for the simple reason that Mr. Li practiced Falun Gong. Moreover, they even threatened his daughter by saying "be sure not to get yourself in trouble."
Related Article: Falun Dafa Practitioner Mr. Li Guangwei Has Been Missing for Four Years (Photo)
Painter Mr. Wang Mingyue and Photographer Mr. Jin Xiaohui from Beijing Sent to Forced Labor Camp
Mr. Wang Mingyue and Mr. Jin Xiaohui were arrested on July 8 and 9, 2008, respectively. They were incarcerated in the Tuanhe Forced Labor Camp in Beijing for two years.
Mr. Wang Mingyue, a renowned oil painter, was born in Beijing in 1962. He graduated from the Central Academy of Fine Arts, where he specialized in oil painting. Mr. Wang started practicing Falun Gong in 1996 and greatly benefited from it physically and mentally. He continued to diligently practice Falun Gong even after the CCP launched it persecution in July 1999.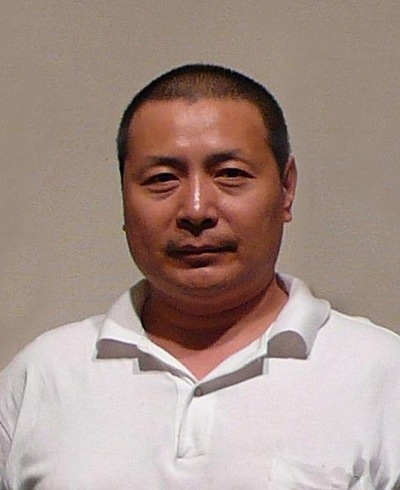 Mr. Wang Mingyue
On the morning of July 9, 2008, police officers from Dongcheng District of Beijing broke into Mr. Wang's home, ransacked it and arrested him. Mr. Wang Mingyue was taken to the Dongcheng District Beijing Detention Center and held for one month. He was then illegally sentenced and incarcerated in the Tuanhe Forced Labor Camp. Mr. Wang was in very good physical condition before his arrest, but now, according to a witness from the labor camp, he looks emaciated.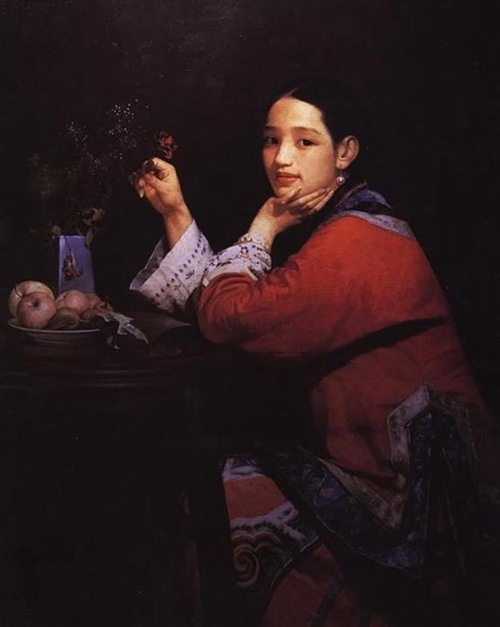 Mr. Wang's Oil Painting: Red Wild Rose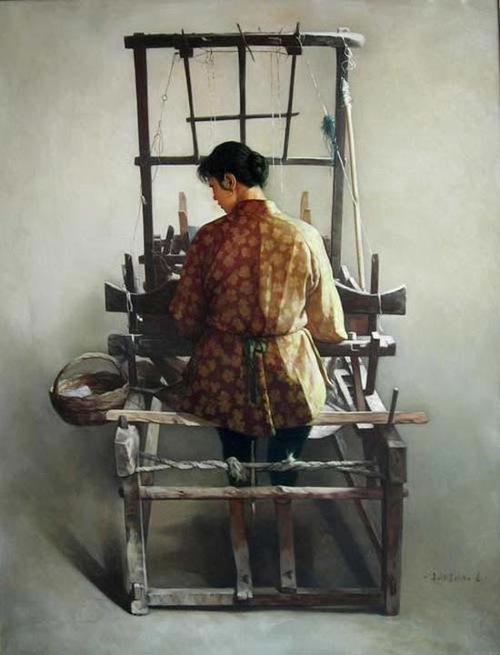 Mr. Wang's Oil Painting: Unnamed
Mr. Wang Mingyue's artworks have been shown in many exhibitions, both at home and abroad. Most of his artworks have been privately sold or become part of museum collections. In 2000, he was invited to paint a portrait of the former Prime Minister of England – the late Sir Edward Heath – as well as to participate in the Cultural Art Exchange. In 2004, he was again invited to England to hold an art exhibition called the "Soul of Dream Flower." All of his paintings were sold on the opening day of the exhibition. On October 15, 2004, he exhibited one of his paintings, called "Seeks Spring," at the International Artistic and Literary Realism Oil Painting Exhibition "Goes the Same Way," which earned him international acclaim.
Mr. Jin Xiaohui, a photographer, is a very good friend of Mr. Wang. He was arrested the day before Mr. Wang's arrest. He was then transferred to the Tuanhe Forced Labor Camp in Beijing after being detained in the Dongcheng Detention Center for a month.
Related Article: Painter Mr. Wang Mingyue and Photographer Mr. Jin Xiaohui from Beijing Illegally Sent to Forced Labor Camp (Photos)
Renowned Painter Mr. Fan Yiming Incarcerated in Forced Labor Camp for Two Years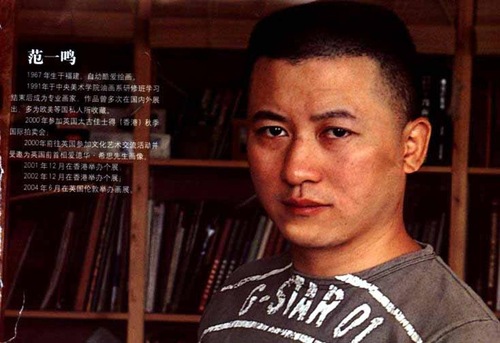 Mr. Fan Yiming
Mr. Fan Yiming, born in Fujian Province, China, in 1967, is known as a kind and honest man. He loved to paint since he was very young. Mr. Fan graduated with a major in oil painting from China Central Academy of Fine Arts in 1991, and became a professional artist. The majority of his artworks were purchased by American and European collectors. In 2001, he was invited to the U.K. to do a portrait of former British Prime Minister Edward Heath.
Between 2001 and 2003, he had three one-man exhibition in Hong Kong. In 2004 another exhibition of his works was held in the U.K. In September 2004, his book "Journeying on the Same Path—Selected Oil Paintings by Fan Yiming" was published. In October 2004, he showcased his artworks at an exhibit entitled "Journeying on the Same Path" at the Beijing International Art Gallery. In November 2005, he again showed his works from "Journeying on the Same Path."
On July 8, 2008, Mr. Fang was on his way home from school with his eight-year-old son when officers from the Andingmen Police Station in Dongcheng Precinct arrested him and gave him a two-year forced labor camp term.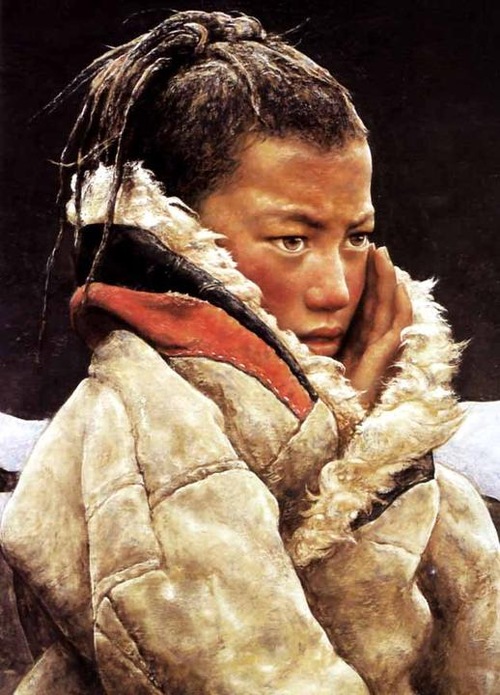 A partial view of "Snow Falling"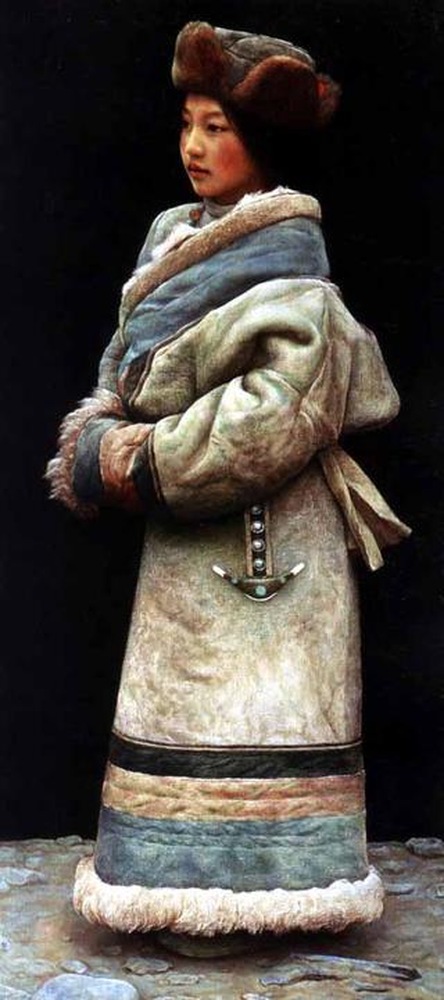 Oil Painting by Mr. Fan Yiming
Related Article: Well-known Oil Painter and Falun Gong Practitioner Fan Yiming Still Detained in Beijing (Photos)
Renowned Calligrapher Mr. Liu Xitong Brutally Tortured in Labor Camp
Mr. Liu Xitong was illegally imprisoned twice in a forced labor camp for practicing Falun Gong, once in 2003 for 3 years and another for 4 years in 2008. He was tortured in the labor camp, including being tied up with a rope for 80 days, and deprived of sleep for over 10 days. He lost consciousness more than 50 times from beatings and electric shocks.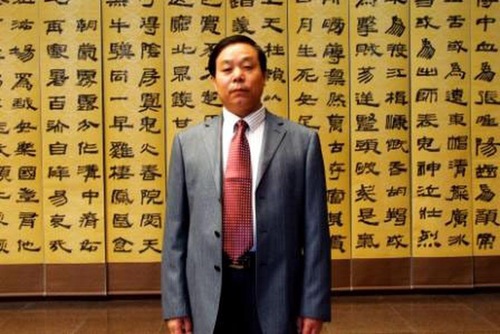 Mr. Liu Xitong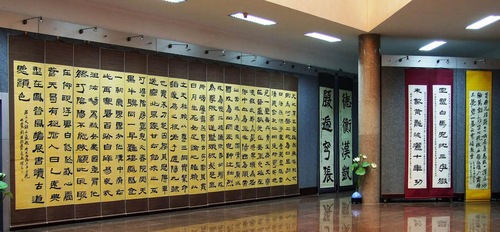 Artworks by Mr. Liu Xitong
Mr. Liu is a famous calligrapher in Qingdao City and a member of the Chinese Calligrapher Association. Mr. Liu had held many successful and well-received personal calligraphy exhibits around the country.
Related Articles:Famous Calligrapher Liu Xitong Persecuted in Shandong Province Prison (Photos)Accomplished Calligrapher Files Criminal Complaint Against Jiang Zemin for Torture
Famous Painter Ms. Qi Bingshu Detained at Mental Hospital and Forced Labor Camp
Ms. Qi Bingshu, Over 60 Years Old, is the granddaughter of the famous painter, Mr. Qi Baishi. She, herself, is also a well-known painter. Before she began practicing Falun Gong, Ms. Qi was diagnosed with illnesses, as well as a serious bleeding problem. Her face was always as white as paper and she was frequently bedridden. After she started practicing Falun Gong, she recovered from all her diseases.
On April 25 1999, Ms. Qi stood in the first row of practitioners who went to Zhongnanhai (Chinese central government compound) to appeal to the government. She stood for the whole day without eating, drinking, or even sitting down.
After July 20, 1999, she was repeatedly arrested for refusing to give up her belief. Her brother took her to the Daliushu Mental Hospital in Dabeiyao Town, the Chaoyang District in Beijing. The doctors in the mental hospital said that she had a "Qigong mental disorder" and injected her with unknown drugs. They also claimed that she couldn't be released until the "incident" with Falun Gong was over. She was taken to the Xin'an Forced Labor Camp a year later.
During her incarceration, police and guards forced her to paint. They then sold the paintings and pocketed the money. Before Ms. Qi was detained, she looked just over 40 due to practicing Falun Gong. Since she's been illegally detained and tortured, her hair has turned completely white and her hands constantly shake, making it extremely difficult for her to paint.
Related Articles:Chinese Painting Master Qi Baishi's Granddaughter, Qi Bingshu is Tortured in the Beijing Xin'an Forced Labor CampThe Granddaughter of Famous Painter Qi Baishi Is Detained in a Mental Hospital for Practicing Falun Gong
President of Poetry Society Arrested for Speaking to People About Falun Gong
Mr. Tu Teng, whose given name is Tu Songshan, is the president of the Chinese Laureate Poetry Society. He was arrested for speaking to people about Falun Gong at a cafe near Giant Wild Goose Pagoda in Xi'an City, Shaanxi Province, on August 13, 2012. He was then taken to a forced labor camp where he was imprisoned for one-year-and-one-month.
Mr. Tu is a poet and writer. He was born in 1978 in Henan Province and lived in Weiyang District, Xi'an City, Shaanxi Province, prior to his arrest. He founded China's Laureate Poetry Society in 2007, with the goal of conducting cultural research, public education, academic exchanges, and producing publications. He has organized 10 poetry seminars and many other writing seminars in Xi'an. Devoted to culture-related public services, he is highly respected in Xi'an's art and academic communities.
Mr. Tu quit smoking, an addiction that he had for more than 10 years, on the day he started practicing Falun Gong. He also quit many other bad habits as he continued to practice. He and his family have benefited from his practicing Falun Gong.
Related Article: President of China Laureate Poetry Society Arrested for Speaking to People about Falun Gong
(To be continued)