Artists, Musicians, and Poets Persecuted for Their Belief in Falun Gong (Part 2)
July 13, 2019 | By a Minghui correspondent in China
(Minghui.org) (Continued from part 1)
Falun Gong (also known as Falun Dafa) is an advanced practice of self-cultivation based on Buddha School teachings, founded by Mr. Li Hongzhi. Since its introduction in 1992, it has spread to over 100 countries, and many people have experienced significant health improvement after taking up the practice.
The Chinese government officially banned the practice in 1999. Since then, many practitioners in China have been persecuted for upholding their belief. Among them were talented artists, musicians, and poets.
Some practitioners have died as a result of the persecution, and some were sentenced to many years in prison. Others have become handicapped as a result of torture they suffered in police custody, and a few have been forced to leave their homeland and flee to other countries.
According to information published on the Minghui website, at least 9 artists have died, 75 were arrested, among whom 50 were sentenced to forced labor camp or prison. The following report represents a small number of the cases that have been published.
Ms. Wang Jinfan Incarcerated for Over Ten Years
Ms. Wang was a performer with the Qiqhar Railroad Dancing and Singing Troupe before she became a teacher at Qiqhar Railroad No. 1 Middle School. She was incarcerated in a forced labor camp for a year, sentenced to prison for 10 years, as well as detained in brainwashing centers, mental hospitals, and detention centers multiple times since 1999.
In 2000, Ms. Wang was taken to a mental hospital where she was forced to take psychotropic medications three times a day. After 15 days, she was evaluated by experts for many hours. Afterward, they concluded that Ms. Wang was not insane, and thus released the next day.
In 2003, Ms. Wang was incarcerated at Heilongjiang Women's Prison. She was beaten unconscious because she refused to recite the humiliating salute sentences or to salute the guards. Because she refused to do the forced labor, she was punished by having to squat continuously for two days and nights. Besides, the inmates were encouraged by the guards to keep beating Ms. Wang. Due to the torture, Ms. Wang's blood pressure remained very high, and she showed symptoms of a stroke.
One month before her release, the guards taped her mouth and hands. She was carried into a room and beaten. They then taped her to the bed and did not let her sleep or use the toilet. Later she was forced to sit on a small stool for long periods. In an attempt to force her to renounce Falun Gong, they kept her from sleeping until she started to hallucinate.
Mr. Wang was released on April 29, 2014.
Related Article: Nine Years of Imprisonment: Ms. Wang Jinfan Recounts the Persecution She Suffered
Poet Ms. Fu Ying Imprisoned for Nine Years for Refusing to Give Up Falun Gong
Ms. Fu, a talented poet, started practicing Falun Gong in January 1999. She was arrested on July 12, 2001, and sentenced to a 9-year prison term after 18 months of detention.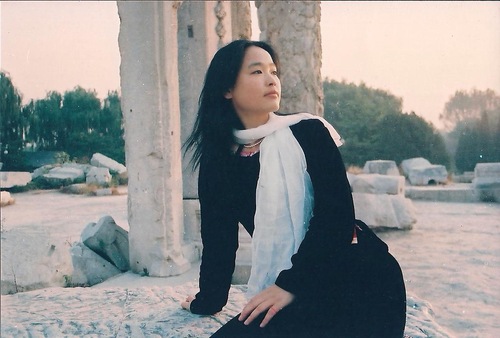 Ms. Fu Ying
She was incarcerated in the Liaoning Province First Women's Prison, where she had to perform heavy labor for more than 12 hours daily. She was brutally beaten. Her poetry book was confiscated.
Ms. Fu, who took care of her niece after her release in 2010, moved to Shenyang in 2012. However, she was arrested again on August 28, 2013, and detained for more than a month. Her niece was forced to drop out of school.
Ms. Fu married Mr. Ouyang Hongbo, also a practitioner, in May 2014. He was arrested on July 16, 2014, and tortured. He was sentenced to a six-year prison term.
Related Article: Poet Files Lawsuit Against Jiang Zemin for Nine Years of Imprisonment
Chengdu Artist Ms. Yi Wenjun Sentenced to Eight Years in Prison
Ms. Yi and her husband were arrested on February 12, 2018. They were interrogated that night before being taken to the Chengdu City Detention Center. Police confiscated their two new computers, several cellphones, Falun Gong books, as well as some of their valuable paintings, and thousands of yuan in cash and credit cards. Her husband was released after 37 days. Ms. Yi's case was forwarded to the Qingyang District Court.
At the detention center, a doctor took her blood, raising concern that it was related to the communist regime's harvesting of organs from Falun Gong practitioners. In addition, the detention center guards beat her and didn't allow her to use soap, toothpaste, or even toilet paper because she refused to wear the inmate uniform. The guards withheld the clothes her husband sent to her in August and November 2018. Only when Mr. Ding sent the clothes to her for the third time on December 4, 2018, did the guards give them to Ms. Yi.
Ms. Yi was sentenced to eight years in prison on June 12, 2019.
Related Articles;Two Practitioners Given Long Sentences for Not Giving Up Their FaithChengdu Artist Facing Trial for Her FaithChengdu Artist and Husband Arrested Again for Their Belief
Award Winning Musician Given Heavy Prison Sentence
Mr. Jin Yuan, a musician with the Anhui Province Song and Dance Troupe from Zhuhai, was sentenced to eight-and-a-half years in prison by the Xiangzhou District Court in Zhuhai City on June 24, 2011. He was also arrested in 2001 and incarcerated in a forced labor camp for three years.
Mr. Jin was arrested on November 10, 2010, at his home. He became severely ill at the detention center and was unconscious for two days. During his trial on April 25, 2011, an experienced human rights lawyer defended him and argued for his immediate release. However, the court went ahead and sentenced him to eight-and-a-half years in prison.
Mr. Jin was once the second prize winner of the National Youth Erhu Music Competition. Mr. Jin's wife is a dancer and the pressure of her husband's persecution devastated her. Their son is still young and unable to take care of himself, yet he has the responsibility of helping and comforting his mother.
Mr. Jin's elderly mother is severely ill. She only has one lung and relies on an oxygen tank to breathe. While enduring extreme pain, she waits for and hopes to see her son again.
Mr. Jin's father used to be a local high-ranking official and was said to be a non-corrupt official. He was so agonized by his son being treated like a criminal, arrested, and sentenced to jail, that he developed severe back problems.
Related Article: Unjustly Sentenced to Eight and a Half Years in Prison, Musician Mr. Jin Yuan Is in Critical Condition
Art Teacher Repeatedly Sentenced to Prisons And Forced Labor Camps
Mr. Qin Wei was sentenced to two-and-a-half years in prison on December 2, 2016, less than seven months after his eighth arrest for refusing to renounce Falun Gong. Mr. Qin and his family filed an appeal, but the Beijing First Intermediate Court denied his appeal on July 11, 2017. His latest arrest came after he handed a copy of the Nine Commentaries on the Chinese Communist Party to a plainclothes police officer.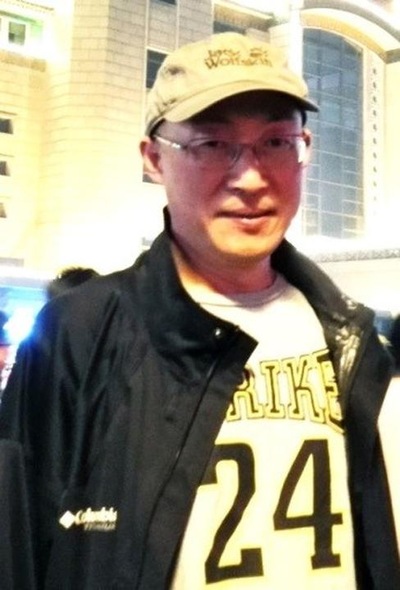 Mr. Qin Wei
Mr. Qin Wei graduated from the Department of Decorative Painting at the Central Academy of Fine Arts. He taught at Bayi Middle School. During the 13 years of the Chinese Communist Party's (CCP) persecution of Falun Gong, Mr. Qin has been arrested multiple times. In 2000, he was sentenced to one-and-a-half-years of forced labor at Tuanhe Forced Labor Camp in Beijing, and was beaten and shocked with electric batons. He was sentenced to five years in prison at Qianjin Prison in Beijing in 2004. There, he was physically abused, forced to undergo brainwashing, and held in solitary confinement. He was later transferred to the Chadian Prison of Beijing, where he was also tortured.
Related Articles:Beijing Man Not Allowed to Meet with Lawyer after Being Convicted for His FaithBeijing Man Sentenced to 2.5 Years after 8th Arrest, Court Stalls His AppealBeijing Art Teacher Mr. Qin Wei Again Sentenced to Forced Labor
Artist Mr. Liu Yong Sentenced Four Years to Prison For Writing "Falun Dafa Is Good" on a Wall
Mr. Liu was born in 1972 in Changling City, Jilin Province. He graduated from the Department of Fine Arts in Northeast Normal University. Mr. Liu began to practice Falun Gong in 1994. Soon after, his neurasthenia, insomnia, and chronic cough disappeared.
He became a kindhearted and hardworking person who was liked by his supervisor and colleagues. Throughout his career, Mr. Liu had worked in the Institute of Posts and Telecommunications of Jilin University, and the Business School of Yunnan Normal University. In 2001, Mr. Liu and his wife moved to Kunming City in Yunnan Province, where he was recognized as an outstanding painter and sculptor.
On September 1, 2012, Mr. Liu wrote "Falun Dafa is good" and "Truthfulness-Compassion-Forbearance is good" on a wall while working on a project in Menglian County. He was reported, arrested, and detained in the Menglian Detention Center by the Menglian Public Security Bureau. He was later sentenced to a four-year prison term.
Related Articles:Artist Liu Yong Given Four-Year Prison Sentence by Menglian County CourtRenowned Artist's Family Suffers Cruel Persecution in Yunnan Province
Husband and Wife Jailed For Handing Out Software to Breakthrough the Internet Firewall
Mr. Huang Guangyu and his wife Ms. He Wenting are both talented artists and Falun Gong practitioners. They were arrested for passing out anti-firewall software. Both were tried and each sentenced to a three-years-and-three-months prison term.
Mr. Huang is a Ph.D. candidate at the Institute of Modern China, studying methods and essence of classical painting. His paintings have won high praise in the art world.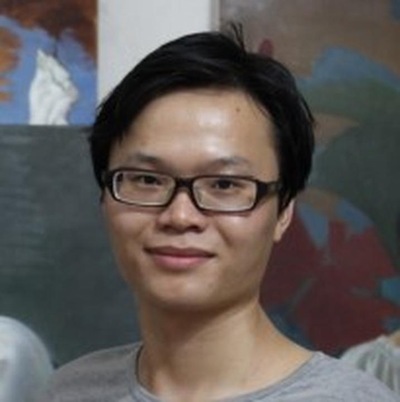 Mr. Huang Guangyun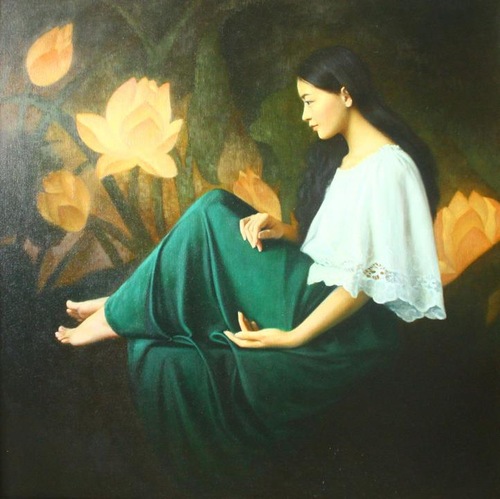 One of Mr. Huang's Paintings
His wife is equally talented. Ms. He was invited to become a member of the Yongzhou Writer's Association at a young age. She published numerous novels and comics in several newspapers. Teachers and classmates considered her a rising star. Later, she studied painting as well.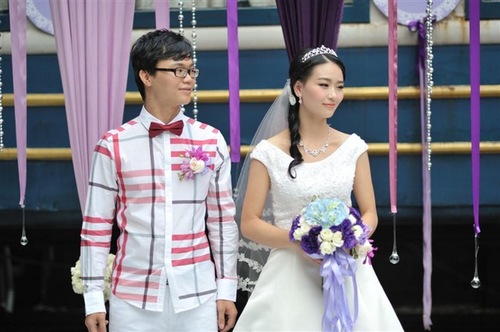 Mr. Huang and His Wife Ms. He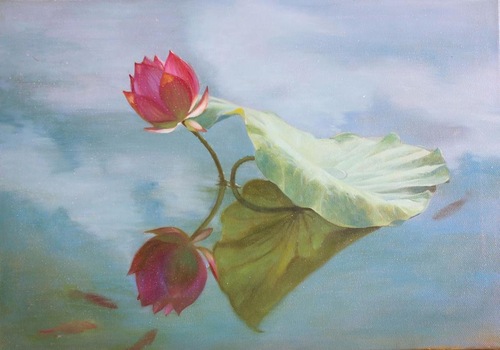 Painting by Ms. He Wenting
Ms. He was arrested the first time in 2009 at her studio for telling people about Falun Gong. A policeman grabbed her hair and slammed her head against the wall, all the while cursing at her. She was detained for 15 days.
Following her most recent arrest in December 2013, Ms. He smuggled her diary out of the detention center, revealing the torture and humiliation she experienced.
Related Articles:Promising Artist Couple Illegally Sentenced (Photos)Persevering Through Torture and Humiliation—Excerpts from a Young Woman's Diary Written While in Detention
Writer and Educator Mr. Yun Xiao Tortured in Prison
Mr. Yun Xiao, also known as Wang Xueming, is a well-known Internet writer. He is also the founder of Fu-De-Jiang-Tang School, a school dedicated to teaching traditional values and promoting morality. Mr. Yun taught Chinese literature at the school and was well-liked by students.
Mr. Yun was arrested on October 27, 2011, and charged with operating an illegal business. He was first detained at Wuhan No. 2 Detention Center for three months, then transferred to the Wuchang Detention Center for another eight months before being sentenced to one year in prison. He was released on October 26, 2012. However his school was closed down and all books and equipment lost, a loss of over 1 million yuan.
Prior to that, Mr. Yun was imprisoned from December 2001 to December 2004 at Ya'an Prison, where he was tortured. They pierced his hand with bamboo sticks, burned his face with cigarettes, deprived him of sleep, and so on. While he was imprisoned, his wife Ms. Shi Junhua was also arrested in 2003 and sentenced to four years in prison for practicing Falun Gong. Mr. Yun's father passed away the same day that he heard the news of Yun's arrest.
Mr. Yun was fired from his job at Longquan Bureau of Education in 2000 because he would not give up practicing Falun Gong.
Related Articles:Educator in Wuhan Illegally Imprisoned for Six Months
(To be continued)