Artists, Musicians, and Poets Persecuted for Their Belief in Falun Gong (Part 1)
July 12, 2019 | By a Minghui correspondent in China
(Minghui.org) Falun Gong (also known as Falun Dafa) is an advanced practice of self-cultivation based on Buddha School teachings, founded by Mr. Li Hongzhi. Since its introduction in 1992, it has spread to over 100 countries, and many people have experienced significant health improvement after taking up the practice.
The Chinese government officially banned the practice in 1999. Since then, many practitioners in China have been persecuted for upholding their belief. Among them were talented artists, musicians, and poets.
Some practitioners have died as a result of the persecution, and some were sentenced to many years in prison. Others have become handicapped as a result of torture they suffered in police custody, and a few have been forced to leave their homeland and flee to other countries.
According to information published on the Minghui website, at least 9 artists have died, and 75 were arrested, among whom 50 were sentenced to forced labor camp or prison. The following report represents a small number of the cases that have been published.
Singer Mr. Yu Zhou Died in Police Custody 11 Days after Arrest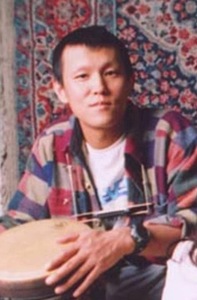 Singer/drummer Yu Zhou
Mr. Yu and his wife were arrested on January 26, 2008, ahead of the Beijing Olympics. They were detained in the Tongzhou Detention Center. Mr. Yu died in police custody on February 6 at the age of 42. Authorities concealed his death from the public and ordered his family not to disclose his death to anyone. Even his parents' home was under surveillance. Yu's wife, Ms. Xu Na, was sentenced to a three-year term, and taken to the Beijing Women's Prison, where she was tortured for refusing to give up Falun Gong.
Mr. Yu started practicing Falun Gong in 1995. Prior to his death, he and his wife were detained for 15 days in August 1999. Police tortured the couple in an attempt to extract information about other practitioners.
Related article: Update: Murdered Musician's Family Members Disappear
Renowned Painter Ms. Zheng Aixin Died after Years of Mental Pressure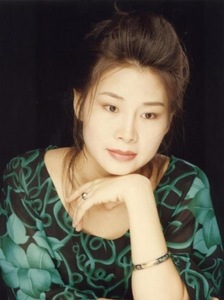 Ms. Zheng Aixin
Ms. Zheng, an accomplished painter, refused to renounce her belief in Falun Gong. She was detained for almost four years, beginning in 2000, and was released only after her husband, an award-winning artist, made a public plea for her freedom during an interview. After her release, police monitored the couple around-the-clock. Ms. Zheng was not allowed to travel and hold exhibits. Even her husband was not allowed to give interviews or leave the country.
Because of the couple's fame, they had many visitors. Ms. Zheng used those opportunities to tell them about Falun Gong and her experiences as a practitioner. However, she felt tremendous mental pressure because of living without the freedom to express herself. The frequent arrests and incarceration of her mother Ms. Yang Huanying, also a Falun Gong practitioner, it took its toll. Her health deteriorated until she passed away in 2012 at the age of 45.
Related Article: Grieving Mother Sues Jiang Zemin for Daughter's Untimely Death
Musician Mr. Li Jingsheng Passed Away after Being Jailed for Three Years
Mr. Li Jingsheng was a self-taught guitarist and singer. He was born with congenital heart disease and had been in such poor health that he was advised to stay home and rest indefinitely. He started practicing Falun Dafa in May 1998. Within a month, he was back on stage performing.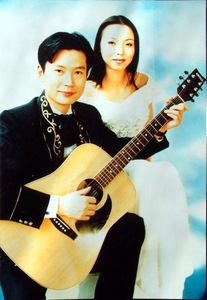 Mr. Li Jingsheng and his wife performing
Mr. Li went to Beijing to appeal for the right to practice Falun Gong in June 2001. He was arrested and incarcerated in the Tuanhe Forced Labor Camp. Mr. Li went on a hunger strike numerous times to protest the abuse he suffered in prison, resulting in the authorities extending his sentence by ten months. He was deprived of sleep and food. He was beaten by several policemen, who injured his arm. Even long after his release, he could not stand any pressure on his wrist.
In the intensive brainwashing session, he was forced to sit on a small stool for more than ten hours, and he was tied to a big wooden board, unable to move. His sight and hearing were badly damaged due to the torture, and he suffered brain damage. As a result, his reactions became very slow.
When Mr. Li was released in October 2003, he was bedridden because of severe weakness. He continued to suffer enormous mental pressure and his health deteriorated rapidly. He passed away in his sleep on December 13, 2004.
Related Article: Dafa Gave My Husband a New Life, but the Persecution Took it Away
Cartoonist Mr. Zhang Zhiquan Carried Out of Prison on a Stretcher and Died
Mr. Zhang Zhiquan was a cartoonist. He taught at the Hengshui Normal Academy in Hengshui, Hebei Province. He began practicing Falun Gong after he retired.
He was arrested on March 19, 2001 and sentenced to seven years in prison. During the first four years, Mr. Zhang was very healthy. Even the prison doctor was amazed that this man in his 70s had a heart comparable to that of a man in his 40s.
To make him suffer, prison guards ordered two prison inmates to torture him. They beat him, shouted insults at him, spit on him, deprived him of sleep by knocking on his metal bed to interrupt his sleep, pulled the blanket off him at night, interrogated him, and did things to frighten him. As the result, Ms. Zhang's health suffered greatly.
Mr. Zhang Zhiquan
Mr. Zhang was released on bail for medical treatment in March 2007. When his family picked him up, he was only half-conscious, and he had to be carried out on a stretcher. Even his own son had a difficult time recognizing him. After he was released, Mr. Zhang continued to face frequent harassment from the local 610 Office and police. He never recovered and passed away at the age of 76 on May 1, 2010.
(To be continued)