Grieving Mother Sues Jiang Zemin for Daughter's Untimely Death
September 13, 2015 | By a Minghui correspondent from Guangdong Province, China
(Minghui.org) A grieving mother recently filed a lawsuit against Jiang Zemin on the third anniversary of her daughter's death.
Ms. Yang Huanying from Zhuhai City, Guangdong Province, is suing the former Chinese dictator for launching the persecution of Falun Gong that led to her daughter Ms. Zheng Aixin's passing at the age of 45.
An accomplished artist who was well-known in the local community, Ms. Zheng became a target after she went to Beijing to appeal against the persecution of Falun Gong in 2000. The next three years she was transferred back and forth between a brainwashing center and a labor camp. She wasn't released until her husband, an award-winning artist, made a public plea for her freedom during an interview.
Upon her release in 2004, Ms. Zheng used her fame and her husband's as a way to tell visitors to their homes and studios about the persecution of Falun Gong. The couple was placed under around-the-clock police surveillance, and Ms. Zheng was not allowed to travel to hold exhibits or do other things.
Unable to live her artistic life to the fullest, Ms. Zheng felt tremendous mental pressure. The frequent arrests and incarceration of her mother Ms. Yang, also a Falun Gong practitioner, only added to her pain. Her health went downhill by the day. In 2011, a new wave of arrests of local practitioners, many of whom she knew well and saw often, was the last straw. She died the following year.
In her lawsuit, her mother Ms. Yang detailed what Ms. Zheng endured. Ms. Yang also shared her own ordeals during the past 16 years for practicing Falun Gong. She was arrested eight times, sent to forced labor camps twice, tortured at a brainwashing facility six times and had her place ransacked on multiple occasions.
The mother is holding Jiang responsible for her own suffering and her daughter's premature death.
Painting Skills Advanced Through Practicing Falun Gong
Ms. Zheng was a painter skilled at oil painting and calligraphy. In May 1998, Ms. Zheng followed a friend's recommendation and began to practice Falun Gong. After reading the book Zhuan Falun she found her purpose in life. Although she did not take up the practice for health reasons, three months later, the rheumatism in her legs simply vanished.
When the persecution began, she stayed with a group of practitioners for a period of time. Every day before beginning to paint, Ms. Zheng did the exercises and read one lecture of Zhuan Falun with them.
She painted flowers initially and then moved on to portraiture. Sometimes she could finish a painting a day. Her skill improved by leaps and bounds. Her works showcased traditional Chinese culture and expressed her unwavering faith in Falun Gong.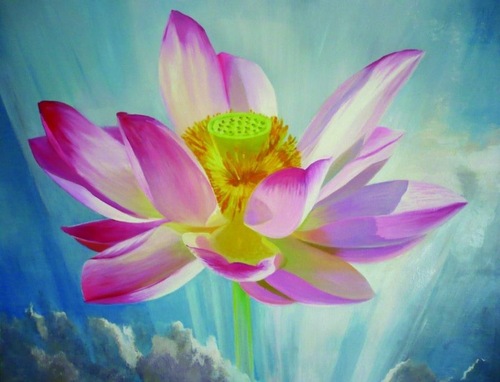 Painting by Ms. Zheng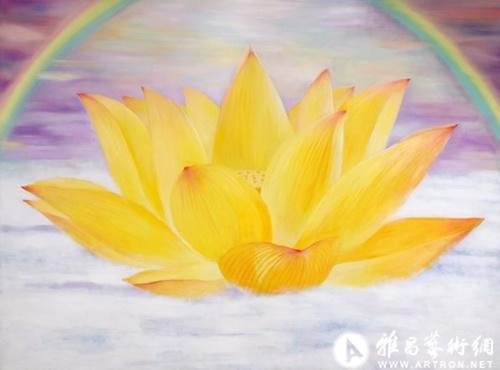 Painting by Ms. Zheng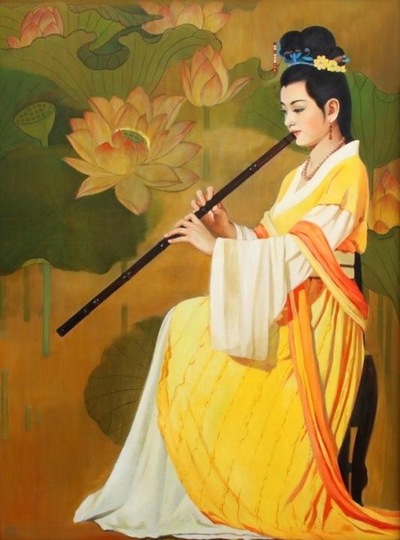 Another painting by Ms. Zheng. She originally intended to submit this for the International Art Competition hosted by the NTD television station.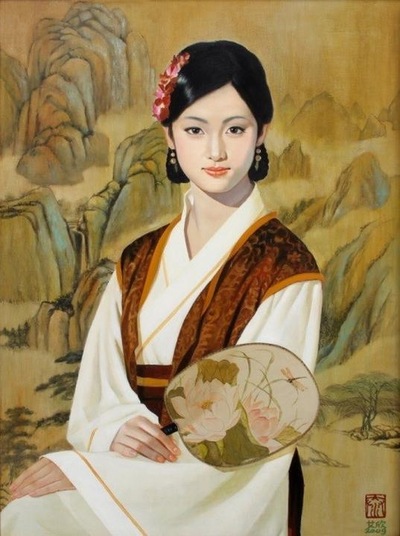 This painting was also planned as a submission to the International Art Competition.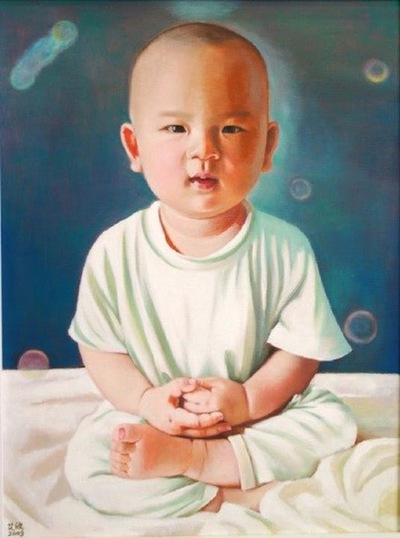 Painting by Ms. Zheng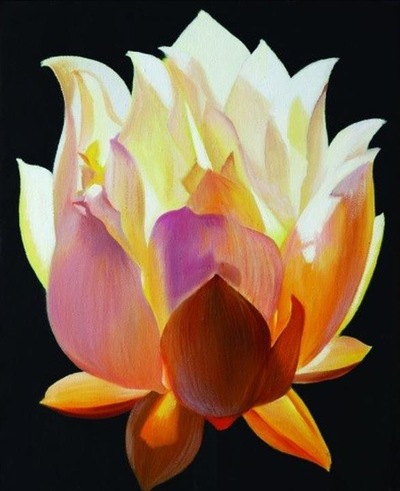 Painting by Ms. Zheng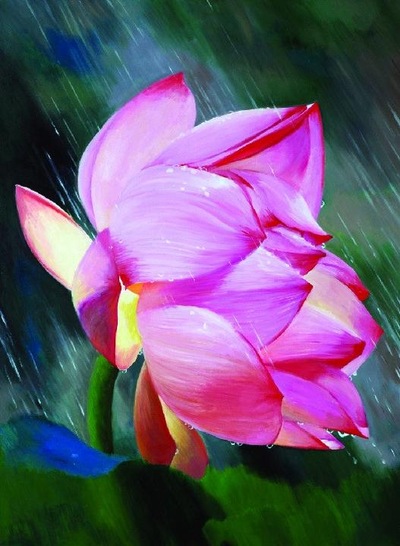 Pure Lotus in Muddy Water by Ms. Zheng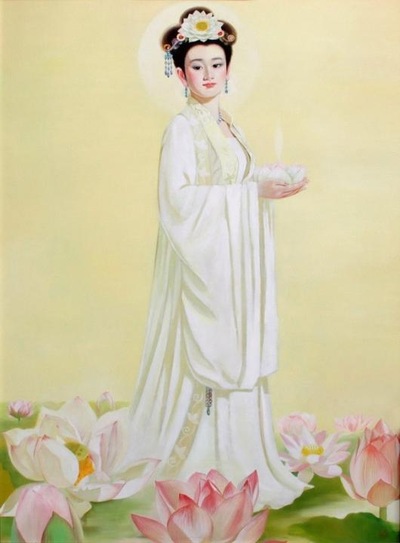 Flower Fairy by Ms. Zheng
Arrests, Strict Surveillance, and Death
However, such good times did not last long. Ms. Zheng was a celebrity and influential person in Zhuhai City, as was her husband. She was arrested in March 2001 and tortured at a brainwashing facility. Soon after she was sent to a forced labor camp for a year.
When she was released from the camp in April 2002, because she refused to give up Falun Gong, authorities transferred her to another brainwashing center. When she still persisted in her belief, she was sent back to the same labor camp for another two years.
Practitioners who were locked up with Ms. Zheng remember her as a beautiful and elegant lady with a gentle temperament. She made a lasting impression on people. Yet this talented artist was humiliated and brutally tortured in prison.
When she would not to give up Falun Gong, she was targeted for severe treatment. She was constantly monitored and deprived of sleep. She was not allowed to bathe. Guards hit her with a high heel shoe. She was kept in solitary confinement.
Her husband won first place in an international creative design competition in 2003 held in Japan. In an interview, he told reporters that his health was deteriorating and he needed his wife back to take care of him. Not long after, Ms. Zheng was released in April 2004, before her term was up.
After her release, the authorities continued to keep a close watch on Ms. Zheng and her husband. The couple could not appear on TV or be reported on in the newspapers. They could not leave the country. Her phone was tapped. She became very depressed.
Her mother was arrested and taken to a labor camp twice from 2005 to 2008. Many Falun Gong practitioners, including some close friends, were arrested in 2011.
Ms. Zheng was under enormous mental stress and fell ill. In 2012, she died from uterine cancer and chronic kidney disease at the age of 45.
Persecution Endured by Her Mother
Ms. Yang Huanying was not spared persecution. She was arrested, imprisoned, and tortured.
She was arrested several times and detained in brainwashing facilities, drug rehabilitation centers, and detention centers, anywhere from two weeks to a year between September 2000 and September 2003.
She was sentenced to 18 months of forced labor in March 2005. She was forced to watch slanderous videos about Falun Gong for five months straight. She was deprived of sleep and forced to stand in the scorching sun for three hours at a time.
A year after her release, Ms. Yang was arrested again and illegally sentenced to another 18 months of forced labor in May 2007. She was watched by criminal drug addicts who swore at her. Guards took turns to try to make her give up Falun Gong.
When she refused to renounce her faith, she was made to stand for long hours. Her legs swelled up and she lost weight until her bones showed. On the verge of death, she could not take care of herself and had to be carried to the toilet.
Ms. Yang returned home in October 2008. She was actively involved in telling people about the persecution. To avoid arrest, she decided to leave home. To make things worse, since 2010, the government has withheld her pension.
She concluded in her complaint letter: "I used to have a happy family – a loving husband and four children who treated me well. I could have spent my old age in the company of five grandchildren. Yet, because I practice Falun Gong, my daughter died and my family was torn apart."
She wants Jiang Zemin to be punished for his crimes.
Background
In 1999, Jiang Zemin, as head of the Chinese Communist Party, overrode other Politburo standing committee members and launched the violent suppression of Falun Gong.
The persecution has led to the deaths of thousands of Falun Gong practitioners over the past 16 years. More have been tortured for their belief and even killed for their organs. Jiang Zemin is directly responsible for the inception and continuation of the brutal persecution.
Under his personal direction, the Chinese Communist Party established an extralegal security organ, the 610 Office, on June 10, 1999. The organization overrides police forces and the judicial system in carrying out Jiang's directive regarding Falun Gong: to ruin their reputations, cut off their financial resources, and destroy them physically.
Chinese law now allows for citizens to be plaintiffs in criminal cases, and many practitioners are exercising that right to file criminal complaints against the former dictator.