Famous Calligrapher Liu Xitong Persecuted in Shandong Province Prison (Photos)
(Clearwisdom.net) Mr. Liu Xitong, 56, a famous calligrapher from Shandong Province, was illegally sentenced to four years of imprisonment by the Chinese Communist Party (CCP) in May 2008 in Qingdao City for practicing Falun Dafa. Before this, he was detained and persecuted at the detention center in Qingdao City by CCP officials, who claimed a need to "maintain security for the Olympic Games." His family was prohibited from visiting him. Presently, he is being held in the No.1 Shandong Provincial Prison. His family went to visit him but were denied entry.
The 11th ward of Shandong Province Prison is a dark den, infamous for its prisoner orientation team that specializes in brainwashing Dafa practitioners. Mr. Liu refused to give up his belief in Falun Dafa. Because of this, he suffered inhuman torture. Mr. Liu's body and mind were seriously damaged.
Mr. Liu Xitong, a famous calligrapher in Qingdao City and a member of the Chinese Calligrapher Association, was illegally held twice in a forced labor camp for practicing Falun Gong. To promote traditional culture, Mr. Liu held several successful and well-received calligraphy exhibits in Weifang and Anqiu, Shandong Province in 2007. From November 3 to 8, 2007, Mr. Liu Xitong successfully held a six-day calligraphy exhibition in the Publishing Art Hall in Qingdao City. Thousands of people visited the exhibition and the media widely reported his event.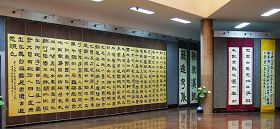 Artwork in the Calligraphy Exhibit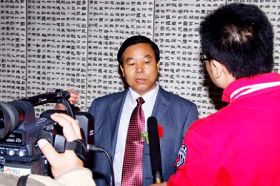 TV Station reporter interviewing Mr. Liu
When the 610 Office and the Politics and Legal Committee discovered the exhibition, they ordered the Public Security Bureau and Department of Culture to pressure the venue to cancel Mr. Liu's exhibit. During the exhibition, numerous plainclothes police officers loitered about on site. On November 12, 2007, Mr. Liu Xitong and his wife, Ms. Liu Aifang, were arrested by officers from the Xiangtan Road Police Station in Licang District of Qingdao City. Mr. Liu's home was ransacked and many of his works of calligraphy were confiscated. Mr. Liu was detained for a month and was held in the No. 1 Detention Centre in Qingdao City before his formal arrest on December 14.
On May 13, 2008, in Li Cang District Court in Qingdao City, Mr. Liu was sentenced to four years in prison for practicing Falun Dafa. Only five people were allowed in the courtroom during his hearing.
No.1 Shandong Provincial Prison:
Chen Ran, warden, team 8 of the 11th ward: 86-531-87072680
Guo Jian, team 8 of the 11th ward: 86-531-87072680