Well-known Oil Painter and Falun Gong Practitioner Fan Yiming Still Detained in Beijing (Photos)
(Clearwisdom.net) The well-known oil painter, Falun Gong practitioner Fan Yiming is still being detained in Beijing. In August 2008, he was illegally arrested and sent to a forced labor camp. According to someone who knows him, Fan Yiming's hometown is in Fujian Province, and it is believed that some time after New Year's Day, there is a very good likelihood that he will be transferred to Inner Mongolia by the authorities in Beijing's forced labor camp system.
On October 22, 2008, the Minghui website (Chinese version of Clearwisdom) reported that Mr. Fan Yiming had been arrested. On the night of July 8, Mr. Fan picked up his eight-year-old son from school. They were followed by officers from Andingmen Police Station in the Dongcheng District. The police arrested Mr. Fan and his wife and ransacked their home. The couple was detained in Dongcheng District Detention Center in Beijing. After a month, friends posted bail for Fan Yiming's wife. Mr. Fan was taken to the Beijing Labor Camp Dispatch Division and sentenced to forced labor for two years. The Chinese Communist Party (CCP) used the excuse of getting ready for the Olympics to conduct mass arrests of Falun Gong practitioners throughout 2008 and Fan Yiming was arrested in this round of persecution. The news of his arrest was reported on the Minghui website two weeks later.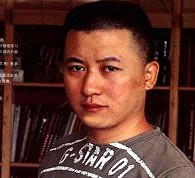 Oil painter Mr. Fan Yiming
Mr. Fan was born in Fujian Province in 1967. He was interested painting from a very young age. In 1991, he graduated from the Painting Department of Central Fine Arts College and began his professional career as an oil painter. Mr. Fan's artwork has been exhibited in China and abroad, and many well known people in Europe as well as in America know of him and have purchased his works. In 2001, he was commissioned to paint a portrait for former British Prime Minister Mr. Edward Heath and to head a cultural and arts exchange project between Britain and China. Between 2001 and 2003, Mr. Fan held three private art exhibits in Hong Kong and a separate one in London in 2004. In September 2004, Beijing Industrial and Art Publishing Press published the book Go the Same Way, which is a special edition publication featuring Mr. Fan's finest paintings. In October 2004, he participated in the first "Go the Same Way" oil painting exhibition, which was held at the Beijing International Arts Academy. In November 2005, he participated in the second "Go the Same Way" exhibition, which was held at the Jinri Arts Museum in Beijing.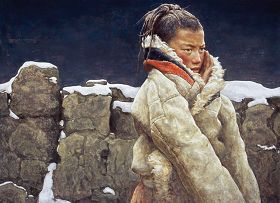 "Snow Falling" (detail), an oil painting by Fan Yiming, winner of the Silver Award in the Chinese Figure Painting Competition hosted by New Tang Dynasty Television (NTDTV)
The Persecution of Falun Gong Practitioners in the Beijing Labor Camp Dispatch Division
According to the report on the Minghui website on March 3, 2004, the Beijing Forced Labor Camp Dispatch Division is located in Tuanhe, Daxing County, Beijing. People sentenced to forced labor (including Falun Gong practitioners) from different places are temporarily detained in this facility. According to practitioners who have been held there, this facility is notorious for the police atrocities that take place there.
As soon as Falun Gong practitioners brought in from other detention centers entered the gate, a group of policemen came up and stomped the practitioners to the ground. Officers, each with an electric baton in hand, formed two lines, sandwiching practitioners between them. They shouted out orders and forced practitioners to squat on their heels, interlocking their fingers with both hands clasped at the backs of their heads with their elbows jammed down between both legs. If anyone dared to disobey, the police would immediately jump on the person, shocking him with their electric batons and kicking him. This is the first abuse that everybody coming in through the gate is subjected to.
In the dispatch division, all practitioners, including the ones who were forced to write a guarantee statement, were divided into groups and they were forced to do heavy labor such as packaging the one-use "hygienic" chopsticks and folding paper. Everybody was forced to package 7,000-10,000 pairs of chopsticks per day. Spider webs, children's dirty socks, chicken excrement, and phlegm is known to be mixed in with these "hygienic" chopsticks. These dirty chopsticks are distributed by CCP officials to different restaurants in different areas.
In 2004, while detained in the dispatch division, practitioner Zhang Liqian refused to write the guarantee statement and was beaten brutally by four or five officers. Practitioner Ms. Shen Wenmin was deprived of sleep for two weeks because she called out, "Falun Dafa is good," in May 2002. When practitioner Ms. Fang Yongmei refused to write the guarantee statement, the police instigated drug addict inmates to beat her, badly injuring her feet. Because the perpetrators did not provide her with proper medical treatment, the muscles in her feet were permanently damaged. They are now numb, and she cannot walk normally. Beijing practitioner Ms. Yu Suqin's face was clawed up and her teeth were loosened as a result of abuse. Once, she almost passed out while she was force-fed.
If practitioners did not finish their assigned work quota, they were deprived of sleep. They often had to work until after midnight. Some practitioners were not allowed to wash their pants and socks after being detained there for more than two months. Many of them developed lice. Sometimes the perpetrators have tried to force practitioners to take unknown drugs. If the practitioner refused to swallow them, two policemen ganged up on the person. One pressed on the victim's head and held his/her nose, while the other one forced the drugs down the practitioner's throat.
Everybody who has been in the dispatch division knows that it truly is a living hell.
At the end of 2006, the dispatch division established the Eleventh Squadron, also called the "Attack Team," which is solely designated for assaulting female practitioners.
We are calling upon all kindhearted people from different areas to make phone calls or write letters to rescue practitioner and world-renowned artist Fan Yiming.
Related Information:
Beijing Switchboard to Different Forced Labor Camps: 86-10-1600225
Management Section of Tuanhe Forced Labor Camp: 86-10-61292590
Education Section of Tuanhe Forced Labor Camp: 86-10-61292591
Head of the Beijing Forced Labor Bureau Zheng Zhenyuan, Political Head Zhang Xingrong, Deputy Head Dai Jianhai
Head and Party Secretary of Tuanhe Forced Labor Camp Zhang Jingsheng
Deputy Head Li Aimin (transferred from the Dispatch Division to Tuanhe Labor Camp in November 2002)