We have one Fa conference a year nowadays, and some of you have come from quite far, including from China, and so the costs involved are large. You spend tens of millions on travel, food, and lodging for our annual conferences, because you see the conferences as an opportunity to improve in cultivation and to learn from each other's experiences. This indicates that cultivators take their own spiritual development seriously.
(Team Yellow Translation)
To attend the Fa conference once a year, some of you have come from afar, some come from mainland China, and the cost is quite significant. Spending tens of millions every year on the annual Fa conference for travel, meals, and lodging, you simply want to be able to gain through the Fa conference the opportunity to improve your cultivation and learn from one another. This is to say, as cultivators, you place great importance on cultivation itself.
(Team Blue Translation)
Falun Gong practitioners have become a regular part of this 110-year-old annual community festival.
A Harbin City, Heilongjiang Province resident has been in critical condition since shortly after he was imprisoned for his faith in Falun Gong. The local judicial bureau director refused to grant him parole on the grounds that both he and his family are still holding firm to their faith in Falun Gong.
Festival-goers appreciated the paper lotus flower demonstrations and learned the Falun Gong exercises.
~ Accounts of Persecution ~
~ Journeys of Cultivation ~
~ Minghui's 20th Anniversary Fa Conference ~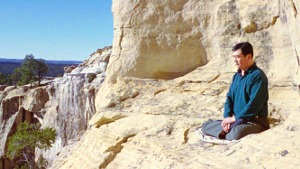 Master Li quietly watching the world from amidst the mountains after leaving New York following July 20th, 1999. (Published January 19, 2000)