Quebec, Canada: Mayor of Sherbrooke Proclaims Falun Dafa Day
June 4, 2019 | By a Falun Dafa practitioner in Quebec, Canada
(Minghui.org) Falun Gong practitioners gathered on the banks of the Lac-des-Nations in Sherbrooke's Jacques-Cartier Park on May 25, 2019, to celebrate World Falun Dafa Day.
Soothing music could be heard as the practitioners meditated in orderly rows on the green grass backed by an azure sky dusted with white clouds.
Sherbrooke, in southern Quebec, is an important economic and cultural center. Steve Lussier, the Mayor of Sherbrooke, proclaimed the date "Falun Dafa Day."
A member of Parliament representing the area attended and spoke at the event.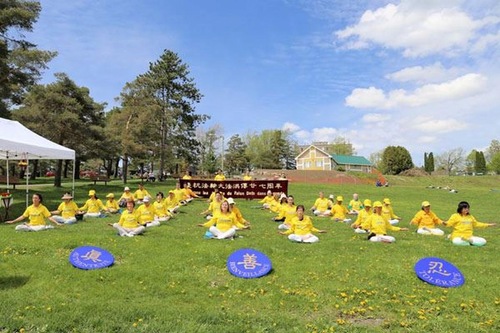 Falun Gong practitioners from Sherbrooke and surrounding areas gathered in Jacques-Cartier Park in Sherbrooke on May 25, 2019, to celebrate the 27th anniversary of the practice being introduced to the public.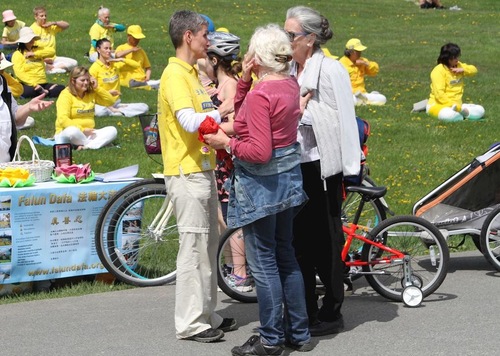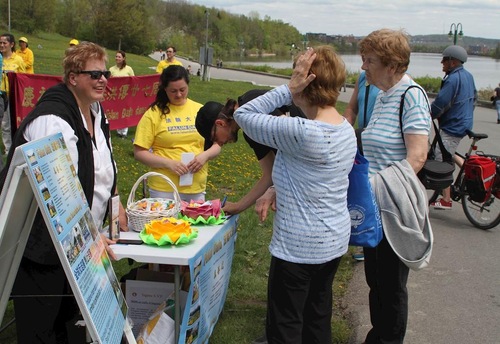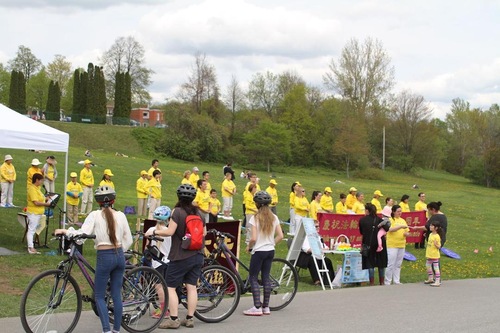 Passersby watch the Falun Gong exercise demonstration and chat with practitioners.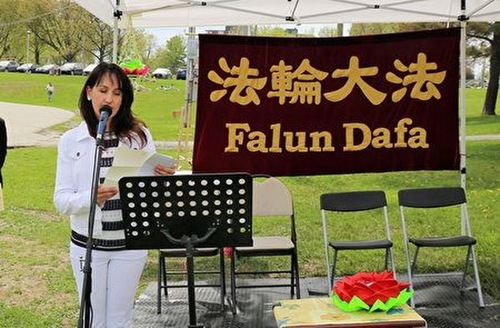 Mayor Steve Lussier delegated his wife Ms. Pascale Larocque to read his letter of greeting at the event due to a scheduling conflict.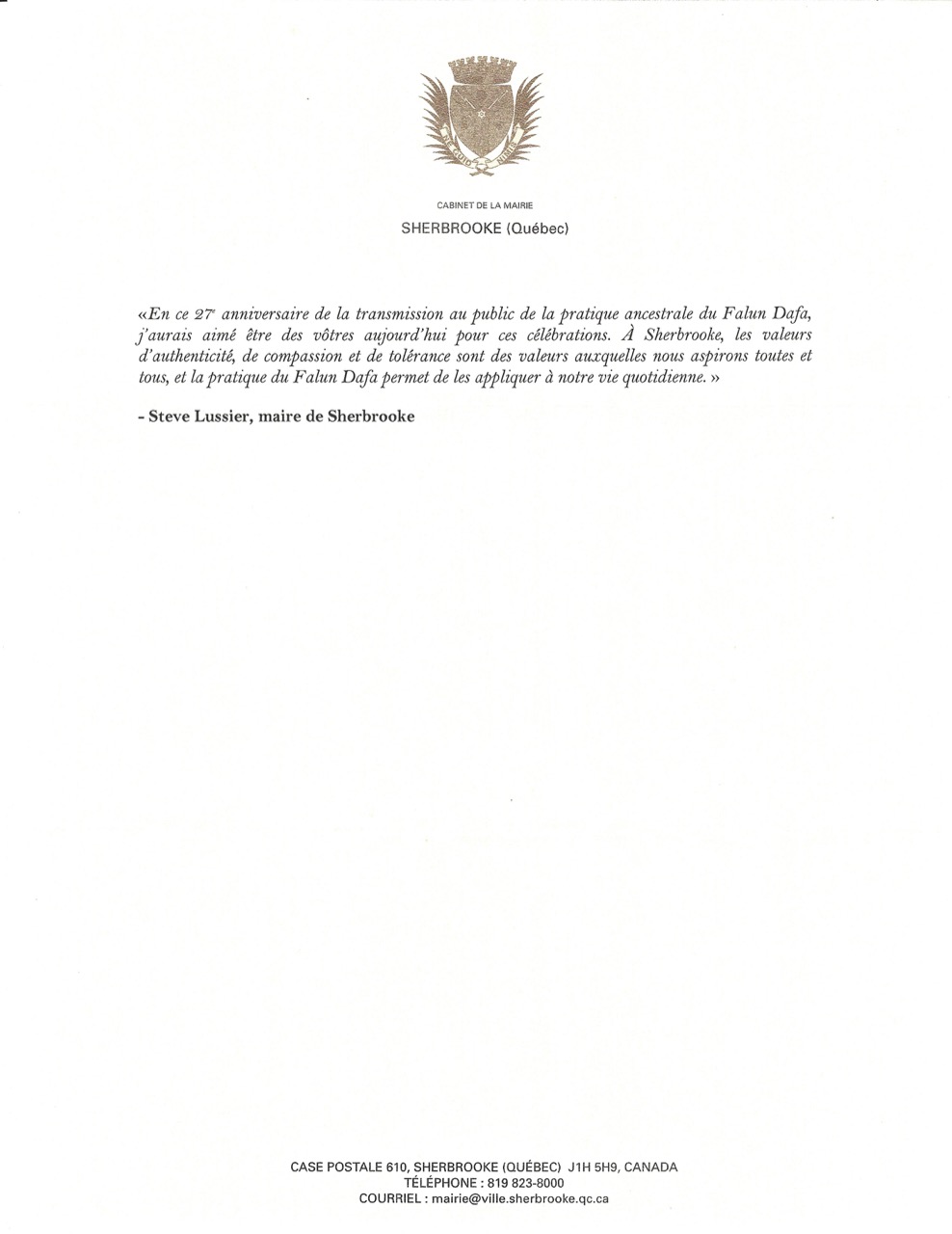 Letter of greeting from Mr. Steve Lussier, Mayor of Sherbrooke.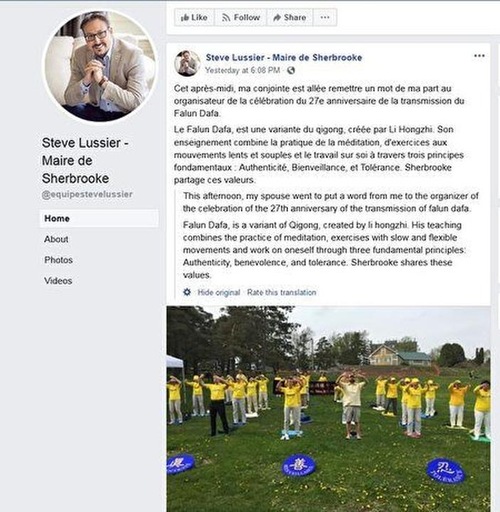 Mayor of Sherbrooke Steve Lussier shared a photo of the event on social media.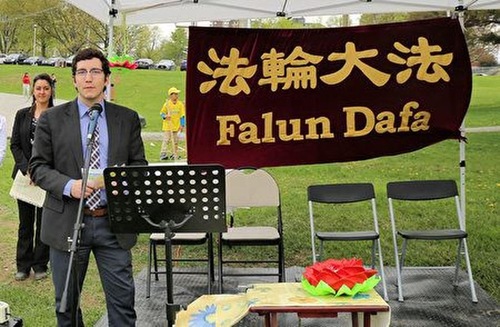 Honorable Member of Parliament Mr. Pierre-Luc Dusseault spoke at the event.
Honorable Member of Parliament Mr. Pierre-Luc Dusseault spoke at the event. He said he and other members of Parliament were concerned about the persecution in China and were aware of a great deal of evidence. "The Canadian government ought to speak up (for Falun Gong) and make China listen," he said.
He commented that it was good that one of the major local media, "La Tribune Media Journal," was interviewing people during the event. "Their report will let more people know what Falun Dafa is, about the persecution happening in China, and why we support Falun Dafa," he said.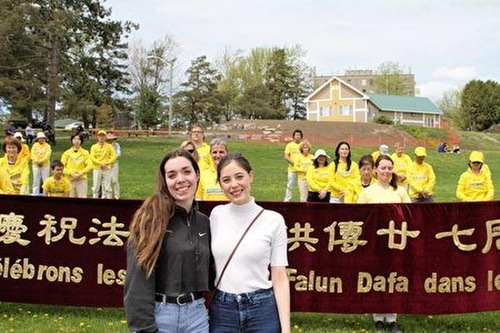 Mary (right) and friend Virginie came over after hearing the music. Mary said, "I felt peace and strength here. They [Falun Gong practitioners] are very diversified, of different races and different backgrounds. This is a good and meaningful community event that can unite people."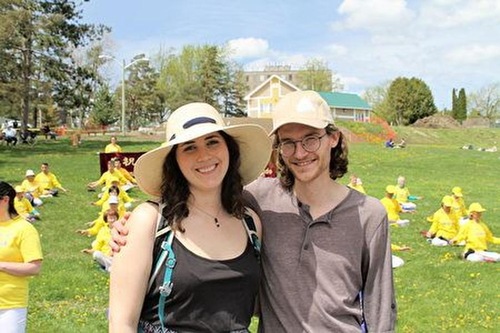 Local residents Jeremie Houele (left) and Alexandra Stigui expressed their support for Falun Dafa practitioners' efforts to end the persecution. Stigui said. "We learned that the persecution in China has been going on since 1999. It is terrible that people are persecuted because they participate in a meditation practice." Houele said, "You are doing the right thing to raise awareness. This is important, and thank you for telling us."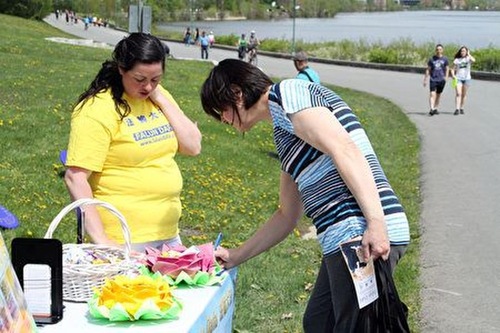 Resident Ms. Lyne signed a petition opposing the persecution and said it was ridiculous and unacceptable that the communist regime put people in jail because they wanted to be good people.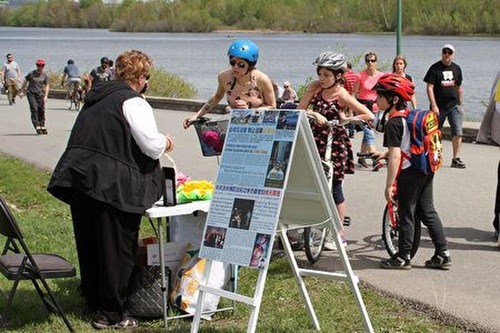 Melanie (in the blue helmet) signed the petition and commented that the persecution was irrational and senseless.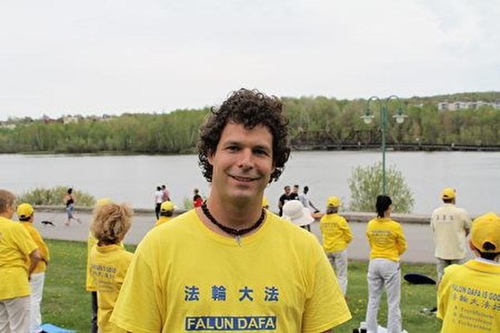 Falun Gong practitioner Tommy Poudrier, a resident of Windsor, participated in the celebration. "I had been searching for a genuine practice since 2011 and finally found Falun Gong two years ago. I knew it was what I wanted after only a few pages into the book Zhuan Falun. Falun Dafa brought me an internal peace, a healthy body, and an understanding of why we live in this world. I want to thank Master Li Hongzhi for introducing Falun Dafa to the public," Poudrier said.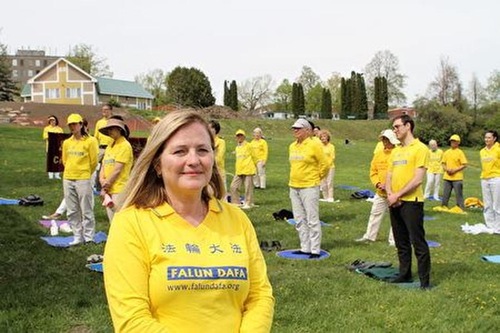 Practitioner Solange Lemay lives in Sherbrooke. Her life changed a lot after she started practicing Falun Dafa two and a half years ago. The pain in her shoulder disappeared and her family says she is calmer and more good-tempered. "Falun Dafa enables me to be with family and friends more closely. I am immersed in happiness. Falun Dafa is great!" she remarked.