We have one Fa conference a year nowadays, and some of you have come from quite far, including from China, and so the costs involved are large. You spend tens of millions on travel, food, and lodging for our annual conferences, because you see the conferences as an opportunity to improve in cultivation and to learn from each other's experiences. This indicates that cultivators take their own spiritual development seriously.
(Team Yellow Translation)
To attend the Fa conference once a year, some of you have come from afar, some come from mainland China, and the cost is quite significant. Spending tens of millions every year on the annual Fa conference for travel, meals, and lodging, you simply want to be able to gain through the Fa conference the opportunity to improve your cultivation and learn from one another. This is to say, as cultivators, you place great importance on cultivation itself.
(Team Blue Translation)
A Member of Parliament spoke at the event, saying that he and his colleagues were concerned about the persecution in China and aware of a great deal of evidence.
The Falun Gong display was visible from a distance, catching the attention of passersby and bike riders, who stopped by to sign the petition opposing the persecution of Falun Gong in China.
Four of the six practitioners who were recently arrested for their faith were forced to undergo thorough physical examinations of their blood, livers, kidneys, hearts, lungs, and corneas. The exams are thought to be related to China's state-sanctioned organ harvesting crimes.
~ Podcasts ~
~ Beginning Cultivation ~
~ Returning to Cultivation ~
~ Minghui's 20th Anniversary Fa Conference ~
~ Experience Sharing Conferences ~
~ Accounts of Persecution ~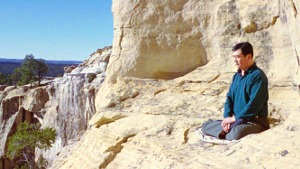 Master Li quietly watching the world from amidst the mountains after leaving New York following July 20th, 1999. (Published January 19, 2000)