Bay Area Residents Learn About Ancient Meditation at Cherry Festival
June 05, 2019 | By Minghui correspondent Wang Ying
(Minghui.org) The 110th San Leandro Cherry Festival took place on Saturday, June 1, 2019. Falun Gong practitioners from the San Francisco Bay Area participated in the parade and in the celebration that followed with a booth to introduce the practice. Many local residents were interested in this ancient meditation practice from China and signed up for an upcoming workshop.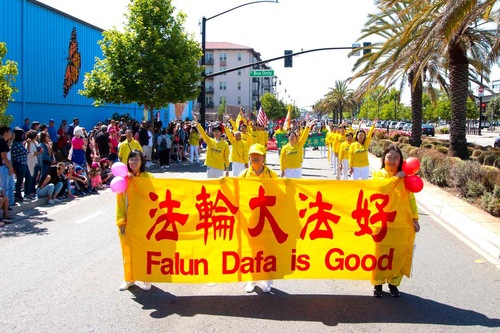 Falun Gong practitioners participate in the parade at the 110th San Leandro Cherry Festival on Saturday, June 1, 2019.
The first San Leandro Cherry Festival was held in 1909 and has continued as a tradition that brings the community together. Most of the Falun Gong practitioners who took part this year are from San Leandro, a suburban town on the eastern shore of San Francisco Bay.
Practitioners of all ages participated, from elementary school children to elderly men and women. Their peaceful exercise demonstrations drew a lot of attention from the parade spectators.
Peace and Relaxation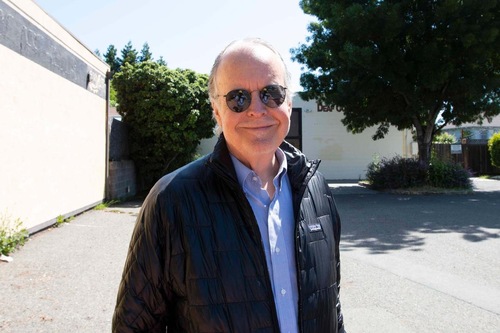 Lawrence Allphin, an organizer for the San Leandro Cherry Festival, remarked that he felt a sense of peace from the Falun Gong practitioners.
As the practitioners passed the main stage, the host told the crowd that Falun Gong is a meditation system that improves mind and body.
Lawrence Allphin, President of the San Leandro Downtown Association, said that he enjoyed the practitioners' performance. "I could feel peace. It is a great performance and helps bring us relaxation."
Another festival organizer, Edward Shapiro, is a representative to the city's Recreation and Parks Commission. He has been involved in the festival for 25 years and has seen Falun Gong practitioners participating in the event for many years now. He thanked practitioners for their participation and said their performance this year was excellent.
Jeff, a festival committee member, said he remembers seeing Falun Gong practitioners in the parade last year. He thanked the practitioners for their contribution to the community and said he hopes to see them take part in the festival again next year.
Mind and Body Improvement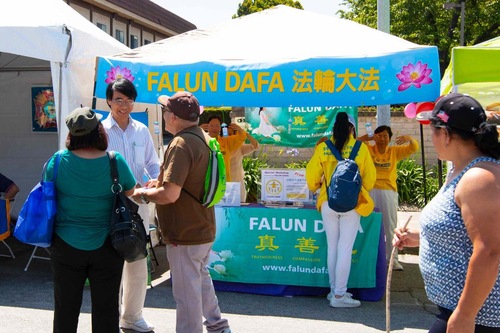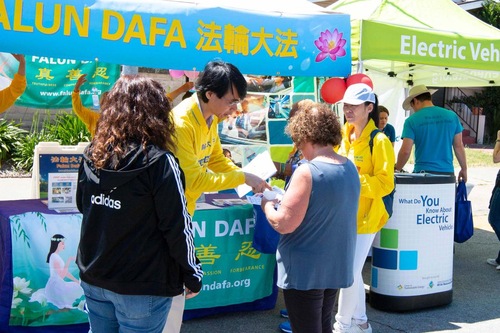 People stop at the practitioners' booth for more information.
After the parade, practitioners had a booth at the festival to introduce the practice to more San Leandro residents and tourists.
Dominick Mazotti, a public safety officer for the city, went straight to the practitioners' booth. Impressed by their exercise demonstration, he came over to get more information about the practice.
Mr. Mazotti said that he had been meditating, but was unable to reach tranquility. He hopes that practicing Falun Gong will enable him to enter tranquility and said he was looking forward to the free workshop on June 15.
Ernest Hardmon, who works for Alameda County, was eager to learn more about Falun Gong. He is interested in the practice for the benefits it brings to the mind and body, and said he plans to read the main teachings of Falun Dafa in the book Zhuan Falun.
Reducing Stress and Achieving Inner Peace
Andrea Renderas also signed up for the workshop. "I often see practitioners doing this in a park. They look really awesome and I want to be part of it," she remarked. Ms. Renderas plans to bring her mother to the workshop and believes that the practice will improve their quality of life.
Melly Garcia said she had faced many challenges in life and hopes the practice will reduce stress and allow her to achieve inner peace. "I think meditation would work and this practice [Falun Gong] is also special, allowing me to do it in any place."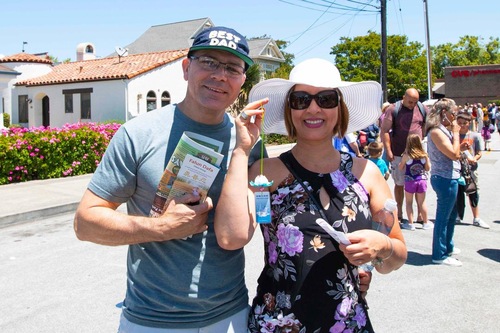 Neuza and his wife signed up the upcoming Falun Gong workshop. They said they look forward to learning the exercises.
Graphic designer Neuza works long hours in front a computer every day, which causes him lower back pain and headaches. He hopes to reduce stress and reach inner peace through practicing the Falun Gong exercises.
Ginger LinLin told practitioners that her grandfather was from southern China. She signed up for the workshop for both herself and her son. "I like the principles of Truthfulness-Compassion-Forbearance, because they will bring us a better world," she said.