Falun Gong Practitioners Administered Unknown Drugs at Yongchuan Prison
October 26, 2019 | By a Minghui correspondent in Chongqing, China
(Minghui.org) Many Falun Gong practitioners have been injected with unknown drugs while in police custody or prisons as part of the systematic persecution by the Chinese communist regime since 1999.
Included below are two cases of practitioners being given unknown drugs in Yongchuan Prison in Chongqing.
Loss of Cognitive Ability After Injections
Mr. Liu Daoquan, an entrepreneur from Chongqing, was arrested on April 9, 2013, and sentenced to an eight-year prison term on October 16, 2014, for refusing to renounce Falun Gong.
The 45-year-old man was repeatedly beaten and sustained severe injuries while being held at the Yongchuan Prison. The guards revoked his visitation rights to prevent his family from finding out about his injuries. He held hunger strikes in protest, only to be force-fed each time.
The guards in the prison injected him with an unknown drug. Mr. Liu's behavior changed drastically after two injections. He became very obedient and acted like a puppet. He stared into the distance and sat in the same position all day long without moving. No matter what was asked, he replied, "Yes, I know." He appeared to completely lack cognizance and was not even aware of his own defecation or urination.
Mr. Liu developed a severe lung infection and brain disease as the injections continued. He could not eat and quickly lost weight. He fell critically ill around May 2016 and was many times shuttled back and forth between hospitals and the prison.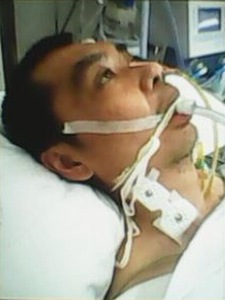 Mr. Liu Daoquan in hospital
Upon his family's repeated requests, the prison granted him medical parole on June 24, 2016, but took him back into custody on July 9, before he had a chance to recover.
His family was notified days later that his condition had worsened, and that he had been taken to a hospital. The family again requested medical parole but were turned down.
Mr. Liu was finally released to his family on January 25, 2018, in serious condition.
Unexplained Death
Mr. Deng Fushou was arrested and sentenced to a four-year term in Younchuan Prison in 2008. In late 2011, Mr. Deng developed open sores in large areas of his scalp, which later formed scabs. He also lost his eyesight. He died suddenly in early February 2012. His family was ordered not to disclose his death to anyone. The prison authorities had his body cremated soon after his death without his family's consent. The family suspects that he was a victim of drug tests.
A Yongchuan Prison Hospital staff member once shouted to a detained practitioner, "We do human body experiments here. So what? It is allowed by the national policy and is legal. It is an order from our superiors."
According to recently released Falun Gong practitioners, the guards use the drugs on non-practitioners as well. One inmate became cross-eyed after being injected with drugs. He walks like a robot in a straight line, with his eyes fixed forward, unless someone guides him to turn.
Related Reports:
Mr. Deng Fushou from Chongqing Tortured to Death in Yongchuan Prison
Critically Ill Man's Medical Parole Revoked, Family's Complaints Go Unanswered
Lawyer for Critically Ill Practitioner Files Criminal Complaint against Prison
Mr. Liu Daoquan Transferred to Yongchuan Prison from Hospital ICU
Business Owner Near Death in Prison, Father Denied Visit
Chongqing Man on Hunger Strike to Protest Prison Sentence for His Faith
Chongqing Business Owner Sentenced to 8 Years at Third Trial