51 Falun Gong Practitioners Sentenced for Their Faith in July 2018
August 25, 2018 | By a Minghui correspondent
(Minghui.org) According to information compiled by Minghui.org, the month of July 2018 recorded 95 new cases of Falun Gong practitioners sentenced to prison by the Chinese Communist Party's (CCP) court system.
Among the 95 new cases, 51 practitioners were sentenced in July 2018, and 44 practitioners were sentenced in the first half of 2018.
Due to the CCP's information blockade, the number of Falun Gong practitioners who were sentenced cannot always be reported in a timely manner, nor is all the information readily available.
The practitioners were sentenced for various reasons, such as talking to people about the communist regime's persecution of Falun Gong or making and distributing materials related to Falun Gong.
The lengths of sentences range from 6 months to 9.5 years, with an average sentence of 3.6 years. Among them, seven elderly practitioners aged 65 years and above were sentenced, with some of them receiving long sentences.
Three women from Chengdu, Sichuan Province, were sentenced on July 26. Ms. Wu Chunlan, 54, was given eight years in prison and fined 10,000 yuan; Ms. Guo Qingcheng, 74, and Ms. Jiang Yilin, around 70, were each given seven years and fined 7,000 yuan. They were ordered to serve time outside of prison.
Among the 51 practitioners sentenced, a total of 18 practitioners were fined a total of 151,000 yuan, averaging 8,390 yuan per person, with a median amount of 2,000 yuan and a maximum of 20,000 yuan.
Ms. Wang Xiyu, a mother of two from Shandong Province, was sentenced to four years in prison and fined 20,000 yuan. This is Ms. Wang's third jail term. For refusing to renounce her faith, Ms. Wang was previously sentenced to five years in 2001, three and a half years in 2012, and two years in a forced labor camp from 2007 to 2009.
Apart from the 51 practitioners sentenced in July, 44 additional cases from the first half of 2018 were reported in the same month, including 1 in March, 4 in April, 12 in May, and 27 in June, bringing the running total for the year to 525.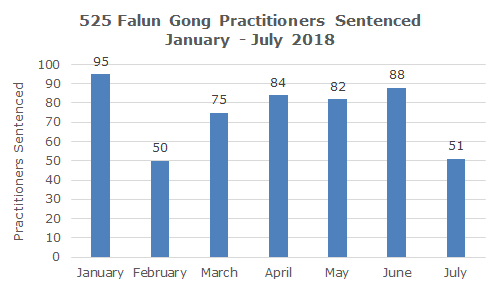 The sentencing of practitioners peaked in January with 95 sentenced.
The following is a snapshot of some sentenced practitioners.
Wuhan's Disabled Woman Sentenced to Eight Years in Prison for Owning Falun Gong Materials
Ms. Zhu Ya, 54, from Wuhan City was a disabled woman. After practicing Falun Gong, her dysfunctional kidney was healed, and she could move her disabled leg. She was arrested at home on April 25, 2017, and the police ransacked the place for over three hours.
On June 15, 2018, Ms. Zhu was tried by Huangpo District Court and charged under Article 300 of the Criminal Law, "using a cult organization to undermine enforcement of the law."
The evidence provided by the prosecution included Falun Gong literature printed by Ms. Zhu and Falun Gong CDs and books. In July 1999, China's Administration of Press and Publications issued two notices on banning the publication of Falun Gong books. However, it later repealed the ban in 2011, and it is now completely legal to own Falun Gong books.
The trial lasted an hour and a half and adjourned without a verdict. A month later, Ms. Zhu was pronounced guilty and sentenced to eight years in prison.
Man Given Seven Years in Prison, Appeals Despite Threats from Authorities
Mr. Guan Zhongji, 66, of Pingdu City, Shandong Province, was arrested on June 5 and sentenced to seven years in prison on July 13.
After the verdict, his son was repeatedly told by various authorities to visit his father in the detention center and try to talk him out of an appeal and to plead guilty. The authorities claimed that Mr. Guan's heavy sentence was a result of his hiring a lawyer and making a not-guilty plea.
Bank Employee Sentenced to Two Years for Talking About Falun Gong on Social Media
Ms. Zang Jianxin, a 47-year-old employee of People's Bank of China in Zhucheng City, was arrested at her home on May 22 by six agents who broke in without showing any identification.
She appeared in Fangzi District Court on July 20 and was sentenced to two years in prison 30 minutes into the session. The prosecutor alleged that the two cell phones confiscated from Ms. Zang contained evidence that she talked to people about Falun Gong on WeChat, a Chinese social media platform.
Three Young Women Sentenced for Posting Flyers About Persecution of Falun Gong
On May 12, 2017, three young women in Beijing–Ms. Shan Shan, a 27-year-old piano teacher; Ms. Jiang Liyu, 26; and Ms. Tian Feng, also in her 20s–were arrested while putting up flyers about the persecution of Falun Gong. Police ransacked their homes and confiscated a large amount of Falun Gong informational materials, which were later used as evidence for the prosecution.
The three women appeared in Shijingshan District Court on January 3, 2018, and were sentenced to prison on July 12. Ms. Shan and Ms. Jiang were each given 4 years, and Ms. Tian was sentenced to 3.5 years. All three were also fined 5,000 yuan.
Court Tried Three Jilin Women at 6:30 A.M.
On July 10, three Falun Gong practitioners from Yushu City–Ms. Li Xiangyun, Ms. Guo Shuxue, and Ms. Ren Shuxia–were tried at Yushu City Courthouse at 6:30 a.m. without their lawyers or families being informed.
After Ms. Guo and Ms. Ren's family members learned of the trial from a court insider, they went to the courthouse and were allowed into the trial.
Ms. Guo and Ms. Ren were each given 3 years and fined 10,000 yuan, while Ms. Li was sentenced to 1.5 years and fined 5,000 yuan.
Inner Mongolia Woman Suffered Beatings in Detention, Sentenced to One Year in Prison
Ms. Zhang Libin was talking to people about Falun Gong in Lingyuan City, Liaoning Province on October 19, 2017, when she was reported to police by two staff members from the Hongling Community Office.
During the arrest, she was beaten and received injuries to her arms, back, and legs. Later that day, the deputy director of Chaoyang City Women's Lockup knocked her teeth out, causing her mouth to bleed profusely. Her eyesight and hearing were also damaged by the brutal beatings.
Ms. Zhang was sent to the Chaoyang City Detention Center 15 days later, when her administrative detention was changed to criminal detention. When she refused to renounce her faith, she was placed in solitary confinement.
A hearing for Ms. Zhang was scheduled on June 28, and her lawyer entered a not-guilty plea for her. On July 25, her family learned that she had been sentenced to one year in prison.
Download full list of 95 practitioners whose sentences were reported in July 2018