Taiwanese Practitioner: The Most Meaningful Thing in My Life
August 25, 2018 | By Minghui correspondent Shen Rong
(Minghui.org) When she first started practicing Falun Gong in high school with her mother, He Zongning didn't think that cultivating Falun Gong would influence her future or career.
Today, when 30-year-old Zongning looks back, she sees that Truthfulness-Compassion-Forbearance is firmly rooted in her heart and has become the most meaningful thing in her life. These principles, as well as the mentality of helping others, selflessness, and taking hardship as joy, have served as pillars that have supported her in her career.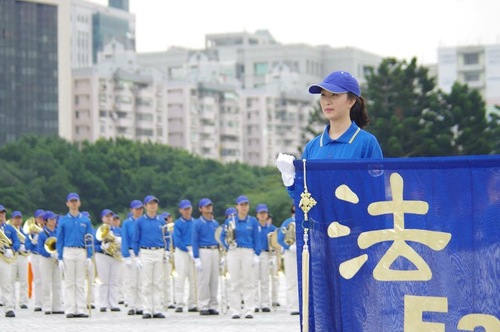 Zongning performs with the Tian Guo Marching Band.
Internship
Before she graduated in 2007, Zongning had an internship opportunity at a well-known insurance company. The company was in a transition back then, and many employees were busy developing new projects. That meant that a lot of simple yet time-consuming tasks were assigned to the interns.
"It was stressful," Zongning recalled, "but Master Li Hongzhi (the founder of Falun Gong) said in Teaching the Fa at the Conference in Switzerland: 'Whether you're an adult or a child, I think that you should, as a cultivator, do everything well in whatever position you have. If you're a student, learn your schoolwork well; if you work, do your job well.'
"I realized from this teaching that there is no trivial issue when it comes to cultivation. No matter how difficult or how easy, I should do my best and have the same attitude.
"When I rectified my attitude, many opportunities presented themselves," she added.
Her excellent work was rewarded. After the internship, she got an official offer from the company, a dream job for many people in her field.
"How come you didn't get scared away?"
Zongning once had a tough supervisor, who not only assigned extra tasks to subordinates but also was very rigorous about details. His subordinates often had to work after hours and often got yelled at.
Zongning worked in that environment for four or five years. Many co-workers could not tolerate it and left. They were amazed by Zongning's tolerance.
Zongning said, "Master Li said in Zhuan Falun: 'With any social status, one can still be a good person. There are different conflicts for people of different social classes. The upper-class society has conflicts of the upper-class society, all of which can be properly dealt with. In any social class, one can be a good person and care less for different desires or attachments. One can be a good person at different strata, and one can practice cultivation at one's own social level.'
"As a Falun Dafa practitioner, I understood that my supervisor's requirements would help me to develop a detail-oriented mindset, which was necessary for my job, and his scolding taught me to be humble, to let go of my self and endure setbacks that others cannot, and to be able to take criticism.
"This tough environment helped me to develop my potential and to mature quickly. If I were able to see the problems from his perspective, many conflicts and difficult feelings could be resolved."
After a while, Zongning was able to keep up with her supervisor's pace at work. One day, the supervisor joked with her: "How come you didn't get scared away, while many others did? You are really tolerant."
Zongning's hard work was rewarded. After working in that department for 10 years, the supervisor helped her to get a promotion to work at company headquarters.
Stepping Out of Her Comfort Zone
In her new role, Zongning has to communicate with all kinds of people.
"I have to facilitate communication between departments. That requires letting go of my pride and maintaining a good attitude. I need to follow Truthfulness-Compassion-Forbearance in my communications for things to go well," she said.
"Nonetheless, it was difficult to leave my co-workers and my position where I had worked for 10 years. I'd earned a good reputation and gained experience. I was also a high-ranking officer. Moving to headquarters, I had to give up some of those gains as well as the opportunity of a salary increase. It required courage to leave my old position."
While many people regard salary and rank as the most important factors when choosing a job, Zongning had different considerations when she decided to move to headquarters.
She said: "I know everybody in my life is important. They need to know the truth about Falun Dafa and how terribly it is persecuted in China. So the main factor when it came to making the decision to change jobs was that the new job offered more opportunities to meet department managers as well as the high-ranking officers, including the CEO, the president, the vice president, and their assistants.
"I was hoping to tell them about Falun Gong."
Over the last few years, Zongning often places a stack of Falun Gong flyers and other materials on her desk for her co-workers.
"Some co-workers asked me what Falun Gong is. When I told them the details, most of them were surprised. Although they'd heard about Falun Gong, they didn't know anyone who practiced it.
"I always take these opportunities to tell them that Falun Gong teaches Truthfulness-Compassion-Forbearance and that it improves one's body, mind, and spirit. But practitioners have been persecuted in mainland China because the number of people practicing it made the Chinese Communist Party jealous and fearful.
"I found that many people didn't understand why the Communist Party persecutes Falun Gong, so I keep flyers handy. I hope more people will pay attention to the persecution. I believe that the more people know the truth, the less likely it is that they will spread the propaganda and the sooner this human rights crisis will end. So I never miss a chance to tell someone about it."
Zongning smiled, "Every time I come back from an international trip, I bring souvenirs for my co-workers. When they ask me about my trip, I tell them that I am a member of a marching band that gets invited to perform in other countries. The goal of the band is to spread the beauty of Falun Gong through music. The name of the band is Tian Guo (Divine Land) Marching Band."
"I am a cultivator first and a professional second"
Zongning said, "I understand that I must look within for my shortcomings both in cultivation and at work. Only when I find my shortcomings and fix them can I improve.
"I know that I am blessed by Falun Gong, and that is why I have a good job and a successful career. I know I am a cultivator first and a professional second. Only if I am a good person can I do things well."
Recalling her journey of cultivation, Zongning said, "In high school, I practiced Falun Gong only because my mom asked me to. I didn't know what cultivation was. I didn't know how wonderful and serious cultivation is until I read Zhuan Falun again after I graduated from college.
"Although I didn't cultivate diligently in college, Truthfulness-Compassion-Forbearance took root in my heart. That is the most meaningful thing in my life. It is a part of everything in my daily life. Whenever and wherever I am, I always try to follow this principle. I believe that if I can follow this principle and share it with every person who has a predestined relationship with Falun Gong, the results will be positive, and this world will be a better place."