Three Young Women in Beijing Sentenced to Prison for Raising Awareness of the Persecution of Falun Gong
July 30, 2018 | By a Minghui correspondent in Beijing
(Minghui.org) Three young women in Beijing were sentenced to prison for "using a cult to undermine law enforcement," a standard pretext used by the Chinese communist regime in its attempt to frame and imprison Falun Gong practitioners.
Falun Gong, also known as Falun Dafa, is a mind-body practice based on the principles of Truthfulness-Compassion-Forbearance.
Ms. Shan Shan, a 27-year-old piano teacher; Ms. Jiang Liyu, 26; and Ms. Tian Feng, also in her 20s, were arrested on May 12, 2017, while putting up flyers about the persecution of Falun Gong. The police searched them and ransacked their residences. A large number of Falun Gong informational materials were confiscated and later used as evidence for the prosecution.
Because all legal channels for Falun Gong practitioners to protest the persecution have been blocked, they often put up flyers and hand out brochures to inform the public of the illegality of the persecution. Many practitioners have been arrested and sentenced for raising awareness of the persecution that started in July 1999.
The three women appeared in the Shijingshan District Court on January 3, 2018, and were sentenced to prison on July 12 by judge Mou Fangfei.
Ms. Shan and Ms. Jiang were each given 4 years, and Ms. Tian 3.5 years. All three were also fined 5,000 yuan. At the time of writing, Ms. Jiang's family hasn't received formal notice of her verdict, even though the deadline for filing appeals has passed.
Arrest and Trial
Officers Liu Yang, Yang Haifei, and Liu Wensong of the Shijingshan District Police Department, as well as officer Cui of Guangninglu Police Station, were responsible for the practitioners' arrests.
The police confiscated 6 CDs with software to break through the internet firewall and 9 banknotes with Falun Gong messages written on them from Ms. Jiang's handbag. They also took the following items from Ms. Tian's bag: 1 speaker, 6 Falun Gong brochures, 5 cell phones, 28 Falun Gong keepsakes, 1 laptop, 54 banknotes with Falun Gong messages written on them, and 5 tickets to Guizhou Province's famous attraction "Hidden Character Stone" (the stone is engraved with characters that say the Chinese Communist Party is doomed to destruction).
The police proceeded to ransack the practitioners' residences. They confiscated the following items from the apartment unit shared by Ms. Jiang and Ms. Shan: 1,617 banknotes with Falun Gong messages written on them, 46 banners, 119 brochures and flyers, 82 Falun Gong books, 191 CDs, 2 laptops, 1 cell phone, 36 items including a flash drive, hard drive, audio equipment, and data transfer interface USBs, and 58 other items including calendars, paper-cutters, keepsakes, greeting cards, and decals.
Ms. Shan also had in her apartment more than 7,000 yuan in cash that her employer had told her to use to pay her coworkers. The police confiscated the money, and her employer is now unable to pay his workers.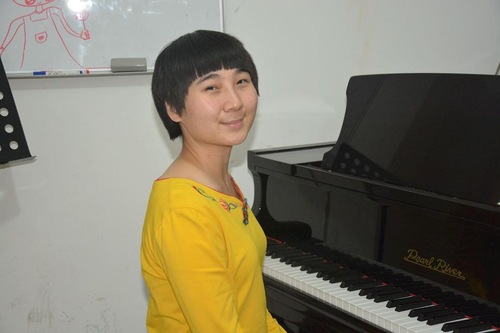 Ms. Shan, a piano teacher
During the hearing, Ms. Jiang's lawyer, Mr. Liang Xiaojun, defended her, noting that there is no law in China that says practicing Falun Gong is a crime and that the confiscated items were all lawful possessions of his client and her co-defendants.
The prosecutor alleged that those items contained Falun Gong messages and thereby undermined law enforcement. He failed, however, to specify which law stipulates that citizens are not allowed to produce or distribute Falun Gong informational materials.
Ms. Jiang, a receptionist at an education institution in Beijing, testified in her own defense. She shared how her family was persecuted for holding firm to their faith in Falun Gong. Her mother, Ms. Qiao Liangyu, and her father, Mr. Jiang Qixiang (a physician in Baoxia Town Zhongxin Hospital in Shiyan City, Hubei Province) had been repeatedly arrested in the past. Her father was once detained for three years, during which time one of his legs was broken and his teeth were knocked out from being beaten.
Ms. Jiang's older sister moved to another country to avoid arrest. Their parents were being monitored around the clock and not allowed to leave their hometown in Hubei Province. The older sister is calling for the younger sister's release.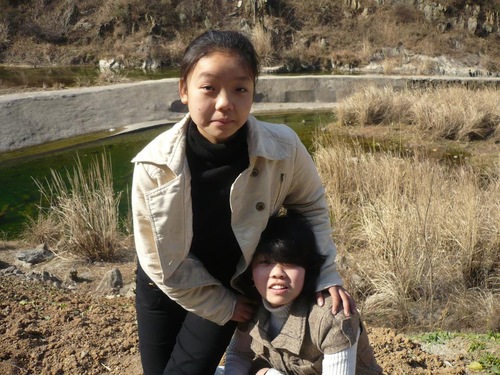 Ms. Jiang Liyu (standing) and her older sister, Ms. Jiang Lianjiao)
Related Articles in Chinese:
Related Report:Young Piano Teacher Detained for Giving Out Falun Gong Materials