Woman On Medical Parole Returned to Prison Before Full Recovery, Soon in Critical Condition Again
November 23, 2018 | By a Minghui correspondent in Chongqing, China
(Minghui.org) A woman in her 60s was given only a few months to live after she was abused in prison for refusing to renounce Falun Gong and subsequently developed serious medical problems. Only then was she released on medical parole.
Falun Gong is a spiritual belief based on the principles of Truthfulness-Compassion- Forbearance. It has been persecuted by the communist regime since 1999.
Ms. Zhang Chenying resumed practicing Falun Gong at home and saw her health gradually improve in the two and a half years since her release. She was taken back into custody on July 26, 2018 when authorities found out about her improved health.
The Chongqing City resident fell ill several times after she was returned to Chongqing Women's Prison. She developed a lung infection and is now held at the prison hospital. Her family's request to have her released on medical parole has been repeatedly denied.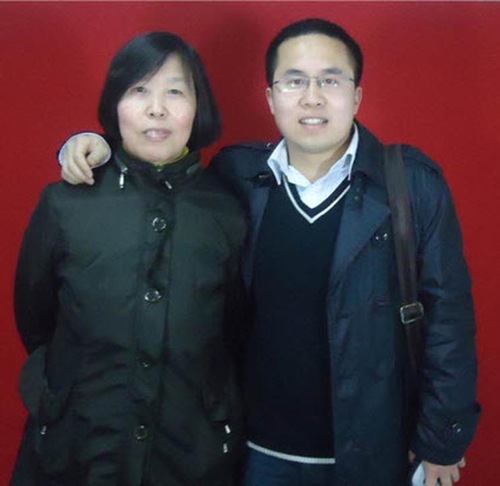 Ms. Zhang Chenying and her son Mr. Xiang Youwei
Sentenced to Five Years for Her Faith
Ms. Zhang was sentenced to five years in prison shortly after she was arrested in January 2014 for not giving up Falun Gong. She was admitted to Chongqing Women's Prison in December 2014, after her appeal was turned down.
From late December 2014 to early 2015, Ms. Zhang was only allowed to sleep on a wooden board for four hours every night, without any blankets. Her warm coat was removed, leaving only the thin prison uniform. During the time she was awake, the inmates dragged her to the bathroom and poured cold water on her. When she screamed from the torture, the inmates stuffed her mouth with mop cloth that they used to clean the restroom. They also punched and kicked her.
Guard Tang Renzhi placed Ms. Zhang in solitary confinement and handpicked several inmates to watch her around the clock and torture her with the most brutal methods possible. Tang also instilled hatred against Falun Gong among the inmates.
Starved, Stomped on, and Rushed to Emergency Room
The inmates also cut back the food rationed to Ms. Zhang, leaving her starved at all times. Meanwhile, they added a lot of pungent spices or vinegar to the very little food she had, causing her to suffer from severe stomach and intestinal disorders.
When she was unable to take in any food, the inmates put meat in her bowl and then dumped it in front of other detainees, and blamed her for refusing to eat and being out of her mind.
Ms. Zhang began to suffer from gastric perforation several months later. Her weight dropped from 130 lbs to 90 lbs.
She later told a Minghui correspondent that on the day of June 20, 2015, she couldn't stand up and was rolling on the ground because of the intense pain. An inmate stood over and stomped on her, blaming her for pretending to be ill. The inmate did not get off her until she started vomiting blood. She was sent to Jiulong Hospital that night and stayed in the emergency room for more than four hours before regaining consciousness.
The guards kept her at Jiulong Hospital for a few days before bringing her back to the prison hospital.
Abuse-induced Symptoms Labeled "Preexisting Condition"
When Ms. Zhang's husband was informed by the prison to visit her in July 2015, he was shocked to see that his once-healthy and energetic wife was only skin and bones, pale, and lethargic. Guard Tang told him that the treatment given to his wife at the prison hospital was only enough to keep her alive. In order for her to improve, she would need to be treated with albumin (made of plasma proteins from human blood), which cost 900 yuan per bag but would not be covered by the prison.
Tang claimed that Ms. Zhang's stomach problem was a preexisting condition, which was why the prison wouldn't cover the cost of medical care. Ms. Zhang's husband countered that his wife was a healthy woman before her arrest and requested medical parole for her.
Tang said that Ms. Zhang wasn't sick enough to qualify for medical parole.
Granted Parole When Given Only Months to Live
Ms. Zhang's condition continued to deteriorate. Her weakened and perforated stomach finally led to her esophageal rupture. She also suffered from lung infections that seriously threatened her life.
She suddenly lost consciousness on January 23, 2016, and the prison hospital transferred her to Chongqing Third People's Hospital, where she was issued a critical condition notice. The prison released her on medical parole three days later.
Her husband took her to Wanzhou District People's Hospital, and the doctors there said she only had a few months to live.
Ms. Zhang decided to spend her last days at home. Miraculously, she got better and better as she resumed her practicing of Falun Gong.
Returned to Prison Before Full Recovery
When the police heard about her recovery, they took her to a hospital for medical examination on July 26, 2018. The report stated that her health improved but she hadn't made a full recovery. By law, she should still remain on medical parole. The police, though, took her to the prison straight from the hospital.
Ms. Zhang developed life-threatening conditions again from lung infections during the next few months in prison. Her family went to several government agencies to seek her release but were given the run-around when the officials all denied being responsible for her condition.
Previous reports:Prison Releases Dying Woman and Arrests Her After She Regains Health
Ms. Zhang Chenying's Life in Danger Due to Torture
Ms. Zhang Chenying Arrested for Visiting Illegally Detained Practitioners