Cancer-stricken Woman Forced to Stand Trial and Sentenced to Prison, Lawyer Files Complaint Against Judge
November 23, 2018 | By a Minghui correspondent in Yunnan Province, China
(Minghui.org) A woman nearly collapsed during her first court hearing, but was still forced to sit through the four-hour-long session. Her second hearing was adjourned when she became too weak to talk, and the presiding judge resumed the hearing six days later.
Ms. Gao Cuifang was sentenced to 1.5 years in prison and fined 4,000 yuan one day after her third hearing for practicing Falun Gong, a spiritual discipline persecuted by the communist regime since 1999.
The Xundian County, Yunnan Province resident refused to sign her name when the verdict was issued on October 16. She vowed to appeal against her prison sentence, as no law in China criminalizes Falun Gong.
Ms. Gao's lawyer filed a complaint against presiding judge Zhang Yunjiang for violating legal procedures in the prosecution of his client.
Ms. Gao had been been feeling unwell since her arrest in April 2018, but Zhang still forced her to stand trial. She was diagnosed with thyroid cancer one day before her second hearing, but Zhang refused to grant her medical parole and proceeded to convict her for upholding her faith.
Additionally, the lawyer had a time conflict with the third court date, but Zhang refused to accommodate his schedule as required by law. Ms. Gao was left without legal representation during her third hearing on October 15. When the lawyer met with her on October 23, she told him that Zhang lied to her, claiming that her family had dismissed him. She requested to hire another lawyer or to have her sister defend her, but Zhang ignored her and continued on with the third hearing.
Near Collapse at First Hearing
Ms. Gao was arrested on April 29, 2018 for putting up two posters that read, "Falun Dafa is good." She has been detained at Kunming No.1 Detention Center since.
Ms. Gao first appeared in court on August 10 and was forced to sit through a four hour long hearing when she was near collapse. Judge Zhang found a doctor to examine her midway through the hearing and said that she was pretending to be sick.
Her lawyer met with her on October 7. She appeared to be extremely weak and in great pain. She told the lawyer that her physical condition kept deteriorating after the August hearing. She had difficulty breathing and was unable to eat and felt sharp pain around her head and neck. She also said that she was waiting for the result of a recent physical examination, as the doctor said she may have cancer.
Ms. Gao stopped the meeting 25 minutes later, as she felt very ill.
The lawyer communicated her condition to her family and also urged the detention center director to release her on medical parole should the doctor confirm that she had cancer. The director agreed.
Ms. Gao's family received her medical examination results on October 8. She was diagnosed with thyroid cancer.
Second Hearing Adjourned After Ms. Gao Became Too Weak to Talk
Judge Zhang held the second hearing of Ms. Gao in the same makeshift courtroom inside the Kunming Detention Center on October 9.
Ms. Gao walked into the courtroom with help from the bailiffs. She couldn't maintain the sitting position and slumped in her chair, with her eyes closed.
Her lawyer raised his concern for her health at the beginning of the hearing and requested medical parole for her, given her cancer diagnosis. The judge asked the lawyer to submit a written request later on and signaled for the hearing to continue.
When the lawyer and the prosecutor asked Ms. Gao questions, she was too weak to respond.
The judge adjourned the hearing, given her physical condition.
Ms. Gao collapsed on the way back to her detention center cell, and was carried back by two bailiffs and two court staff.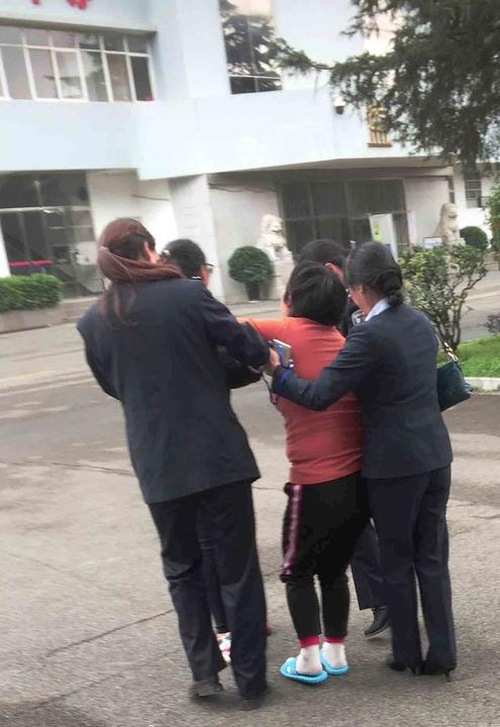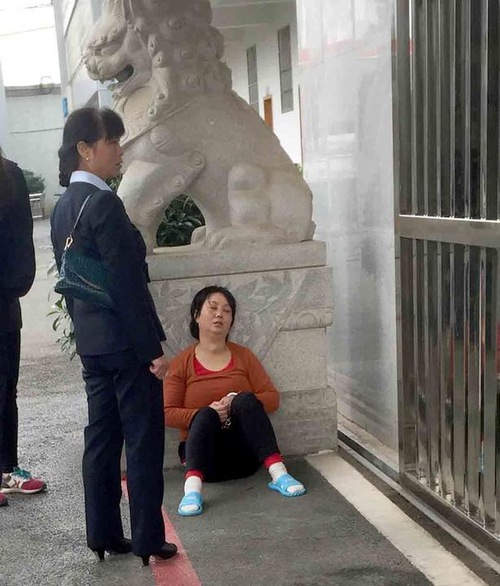 Ms. Gao collapsed after her second hearing
Third Hearing Held With Lawyer Unable to Attend
The lawyer submitted the parole request to both the detention center and the judge immediately after the second hearing. He was surprised when told on October 11 that judge Zhang had scheduled the third hearing of Ms. Gao for October 15.
The lawyer requested a different court date, as he already had another hearing scheduled for the same day. By law, the court must accommodate the lawyer's request.
Judge Zhang still held the hearing on October 11, leaving Ms. Zhang without legal representation. No family members were allowed to attend the third hearing.
Zhang sentenced Ms. Gao to 1.5 years in prison the day after the hearing.
Past Persecution
Ms. Gao used to suffer from Meniere's syndrome and lumbar disc herniation. She began to enjoy perfect health after she picked up the practice of Falun Gong. She fell compelled to share the benefits of Falun Gong with others, only to be arrested on multiple occasions.
Prior to her latest prison term, she was sentenced to three years of imprisonment on January 19, 2009 for distributing Falun Gong informational flyers.
While serving time at Yunnan Province No. 2 Women's Prison, the guards forced her to sit on a small stool from 6 a.m. to 11 p.m. Two inmates watched her around the clock. If she moved a little, they would beat and verbally abuse her. She was only allowed to use the restroom four times at set times, and she was not allowed to take showers or talk to others.
After being forced to sit on a small stool for extended periods over the course of five months, she began to suffer from dizziness, a distended stomach and extreme pain in her eyes. The doctor at the prison hospital found swelling on her neck, which kept growing and also affected her eating. The prison never provided her with any medical treatment before she was released on April 12, 2011.
Previous reports:Hearing Adjourned After Critically Ill Woman Became Too Weak to Talk
Near Collapse, Woman Forced to Sit Through 4-Hour Hearing
Related article in Chinese:被强行开庭判刑 云南高翠芳上诉