Ms. Zhang Chenying's Life in Danger Due to Torture
July 30, 2015 | By a Minghui correspondent from Chongqing
(Minghui.org) Ms. Zhang Chenying from Chongqing was imprisoned for five years because in 2014 she visited Falun Gong practitioners detained in a police station and demanded their release. She has been tortured while in prison, and her life is now in danger.
Her husband, who previously was not allowed to visit her, was able to pay her a short visit this time. He could hardly recognize her. Her eyes were deeply sunken, and she was emaciated. She was supported by two inmates when walking. When she spoke, her voice was very weak.
A guard told Ms. Zhang's husband: "The medication we provided her can only sustain Ms. Zhang's life. In order to have her fully recover, we have to inject her with protein. But the cost is on you. It is up to you whether you want to pay it or not. It's 900 Yuan per bag."
Thus, beyond the stress of the situation for all of them, Ms. Zhang's husband had to pay 4,500 Yuan as an exchange for five bags of injection. He told the guard that they would come to check on her situation every month.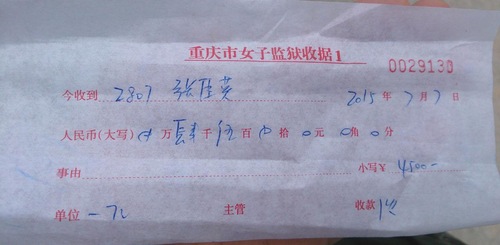 Photo of the receipt given to Ms. Zhang's husband for his payment of 4,500 Yuan for her medicine.
Tortured in Prison
It was revealed by an insider that Ms. Zhang never renounced her belief in Falun Dafa at the prison, despite her being mentally and physically tortured every day.
Guard Tang has been ordering other inmates to take turns monitoring her. They have deprived her of sleep and only provided her with 50 grams of rice every day. They hit her in the face and sealed her mouth when Ms. Zhang did not follow their orders and spoke out against the persecution of Falun Gong.
She fainted to the ground due to severe pain on June 20, 2015. She was taken to Jiulong Hospital and rescued by an operation that lasted over four hours. She was diagnosed with gastrointestinal erosion. A few days later, she was brought back to the prison hospital.
Only then was Ms. Zhang's husband allowed to visit her. However, her son was still not allowed to visit her, simply because he is a Falun Gong practitioner. And none of them could visit Ms. Zhang before this.
Sentenced to Five Years in Prison for Visiting Practitioners Held at the Police Station
Ms. Zhang and five other practitioners went to Guanyinyan Police Station on January 10, 2014 to visit Mr. Mu Lunhui and Ms. Zhang Zhengyi, who were held there. They demanded that police release the two practitioners. However, they ended up being arrested. At the end of December 2014, Ms. Zhang Chenying was sentenced to five years and imprisoned in Zoumazhen Woman's Prison in Jiulongpo District, Chongqing.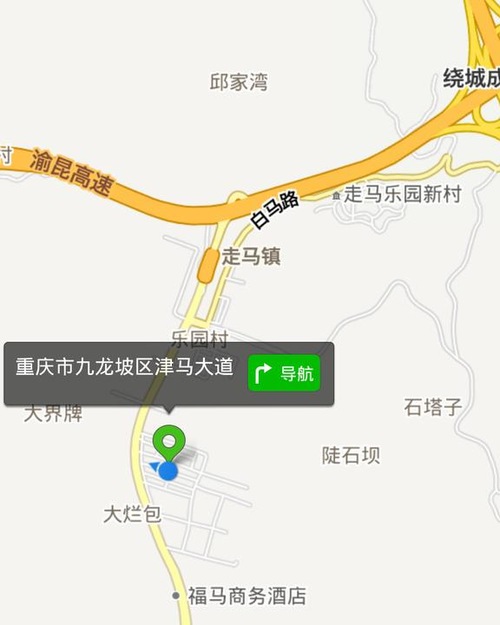 Map showing the location of the Zoumazhen Women's Prison

Background
Ms. Zhang Chenying, from Wanzhou District in Chongqing, began practicing Falun Dafa in 1998. Her illnesses went away and she became a kinder, happier person.
She has persevered in her belief and told people the facts about Falun Gong since the Chinese Communist Party began to persecute and defame Falun Dafa in 1999. As a result, she was arrested and held at detention centers and brainwashing centers, and twice she was held in forced labor camps.
Party involved in persecuting Ms. Zhang:Guard Tang (badge number 5021204): +86-023-6577506