54 Falun Gong Practitioners Released in First Half of 2017
Aug. 3, 2017 | By a Minghui correspondent in Jilin Province
(Minghui.org) According to information compiled by Minghui.org, 54 Falun Gong practitioners in 21 provinces and centrally-controlled municipalities were released in the first half of 2017 after a police department, Procuratorate, trial court, or appeals court decided to terminate their prosecution.
Additionally, 90 other practitioners had their prosecution temporarily halted after a Procuratorate returned the case to police, a trial court returned the case to the Procuratorate, or a higher court ordered a retrial.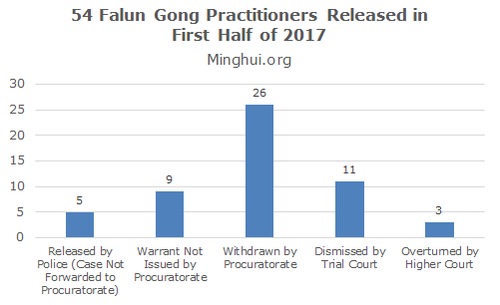 5 Released Before Police Forwarded Cases to Procuratorate
Five practitioners were released before police forwarded their cases to procuratorates.
Ms. Han Xuejiao in Shanghai was arrested on February 17, 2017 and released one month later, thanks to her family's rescue efforts.
Ms. Hao Shengqiao of Hailin City, Heilongjiang Province was arrested on March 22, 2017 and released on April 5, after police received numerous letters from supporters calling for her release.
9 Released After Procuratorate Declines to Issue Arrest Warrants
Nine practitioners were set free after their local Procuratorates decided to not issue warrants for their arrests.
Ms. Qu Beixiang of Zhenjiang City, Jiangsu Province was arrested on March 11, 2017 and given criminal detention. The local Procuratorate interviewed her and decided against issuing an arrest warrant. She was released on March 24.
26 Released after Procuratorate Withdraws Indictments
Twenty six practitioners regained their freedom after their local Procuratorates dropped indictments against them.
Mr. Bai Jingjie of Wu'an City, Hebei Province was arrested on August 13, 2016. Many practitioners called the police to seek his release. On January 8, 2017, the local Procuratorate withdrew its indictment against him, and he returned home on the same day.
11 Released after Trial Court Dismisses Case or Issues Acquittal
Eleven practitioners were released after their local trial courts acquitted them or dismissed their cases due to lack of evidence.
Ms. Huang Yanzi of Jieyang City, Guangdong Province was arrested on July 13, 2016, and tried on January 17, 2017. Her lawyer defended her constitutional right to freedom of belief, and the presiding judge acquitted her.
3 Released after Higher Court Overturns Verdicts
Three practitioners were released after appeals courts ruled to overturn the original guilty verdicts.
Ms. Zhang Sufang of Yancheng City, Jiangsu Province was arrested on July 9, 2016, and later sentenced to two years in prison. She appealed and testified at her appeals hearing how Falun Gong taught her to be a good person. She stated that she was only exercising her constitutional right to freedom of belief.
The higher court ruled that none of the evidence could prove Ms. Zhang guilty. She was released on March 29, 2017.
11 Await Retrial After Higher Court Revokes Original Verdicts
Eleven practitioners had their convictions overturned and are awaiting retrial.
They include:Wang Lilin of Shenzhen, Guangdong ProvinceDeng Shi'e of Heyuan, Guangdong ProvinceFeng Youfu of Anyang, Henan ProvinceSun Tongqing of Harbin, Heilongjiang ProvinceZhong Weiling of Lianyungang City, Jiangsu ProvinceLi Heping of Xinjiang ProvinceZheng Qiong, Luo Jiping, Ma Lingxian, Dong Xiuqiong, and Shen Jiafeng of Liangshan, Sichuan Province
6 Practitioners' Cases Returned to Procuratorates
Six practitioners already had their cases forwarded to local courts, but the courts decided to return the cases to the Procuratorate for additional information.
The practitioners include:Cai Wei of Fushun, Liaoning ProvinceZhao Yanfeng of Xi'an, Shaanxi ProvinceDuan Chunchao of Shunyi District, BeijingLu Jiarong, Bai Xuesong and Liang Jun of Qinhuangdao, Hebei Province
4 Have Indictments Dropped but Remain Detained
Four practitioners saw their indictments dropped, but police have refused to release them.
They are Wang Fengying, Chen Yixin, and Cao Shulan (all residents of Nanchong, Sichuang Province) and Zhou Yuqin of Wuhan, Hubei Province.
69 Practitioners Have Cases Returned to Police
A total of 69 practitioners had their cases returned to police by Procuratorates for insufficient evidence.
33 in Liaoning
Li Shimian, Lin Youyan, Yang Guoquan, Qian Fengli, Ye Zhongqiu, Chen Hong, Dai Shubao, Zheng Lihong, Wang Guifang, Sun Guojun, Zhao Xuejing, Sun Lihao, Liu Defu, Wu Naiying, Li Guitian, Shi Yanqing, Gao Bo, Zhang Qinghua, Chen Hong, Han Qing, Lu Qing, Hu Fengqiu, Xu Guirong, Zhang Guiping, Liu Fengjuan, Li Mingyu, Qin Zengyun, Pan Fude, Dong Weirong, Jiang Shunai, Li Gang, Li Yanrong, and Sun Jing
8 in Sichuan
Zhou Xiaoli, Jing Huan, Tang Yunxia, Zhong Fangqiong, Xiong Zhiying, Liu Zhaoliang, Du Xiuyun, and Wang Fengying
4 in Beijing
Qing Xiuying, Li Yeliang, Xia Hong, and Yang Guanren
3 in Gansu
Li Fubin, Zheng Shu, and Fang Jianping
3 in Guangdong
Zhu Yuqin, Chen Zeqi, and Feng Shaoyong
3 in Jilin
Niu Yuhui, Li Wei, and Li Leping
3 in Shandong
Liu Xinhua, Kang Zongfeng, and Wei Fengqin
3 in Tianjin
Feng Dong, Sun Jianhua, and Chai Baohua
2 in Henan
He Shuqin and Lu Shejiao
2 in Heilongjiang
Sun Yanhuan and Shi Xiangyun
2 in Hubei
Xi Guoxiu and Duan Shouzhen
1 in Ningxia
Tan Xiuxia
1 in Inner Mongolia
Ding Yufang
1 in Hebei
Zhu Yushen