Vancouver: Falun Dafa Entry Shines in Caribbean Days Parade
August 03, 2017 | By Zhang Ran, a Minghui correspondent in Vancouver, Canada
(Minghui.org) Falun Dafa practitioners participated in the Caribbean Days Festival on July 29, 2017 and joined the Multicultural Street Parade in Vancouver Canada. Their float, marching band, and exercise demonstration were welcomed by the spectators. Many people took videos of the contingent, posed for photos with the practitioners, mimicked their exercise movements, read the fliers given to them, and learned about the practice. Falun Dafa, also known as Falun Gong, is a spiritual discipline currently persecuted in China.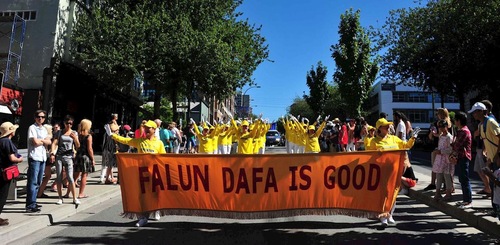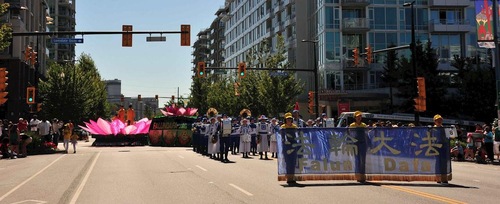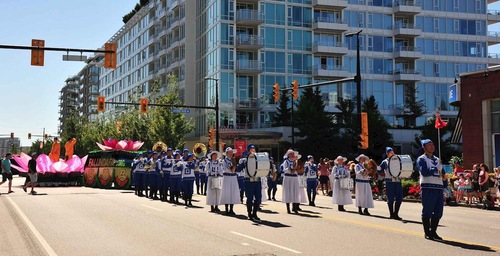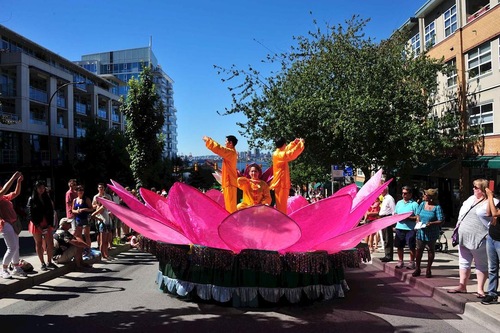 Falun Dafa practitioners participate in the Multicultural Street Parade during the Caribbean Days Festival. The entry drew warm applause.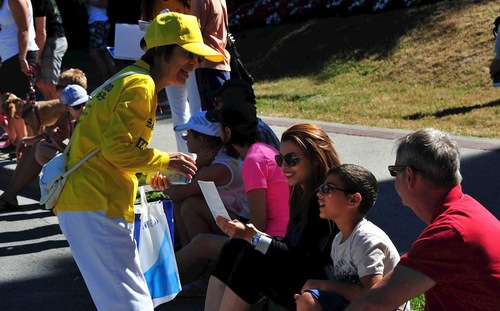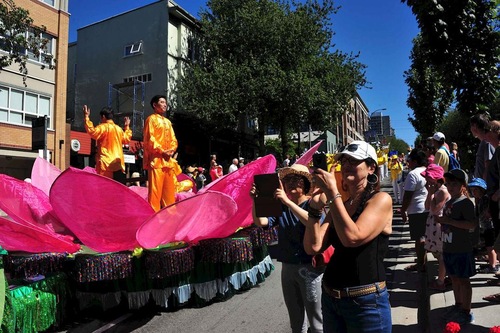 Many spectators took videos of the Falun Dafa parade entry and read about the practice and the ongoing persecution.
The Falun Dafa entry included the Tian Guo Marching Band, the Truthfulness-Compassion-Forbearance float, and a team of practitioners demonstrating the five exercises. Following the beats of the music pieces played by the Tian Guo Marching Band, the spectators clapped and cheered. Many shouted "Falun Dafa is good" to show their support.
Sylvia Soska and her twin sister Jennifer Soska were in the cheering crowd. The Soska Sisters own a film production company, and are both directors, producers, and screenwriters. With big smiles on their faces, they said they were glad to see the Falun Dafa entry. This was their first time hearing about the practice. Sylvia said that the performance was wonderful, "We really like it!" They especially enjoyed the exercise demonstration, and mimicked the movements of the practitioners on the street.
Sara, who just moved to North Vancouver six months ago, said this was her first time seeing Falun Dafa in a parade. She cheered for the entry as she took photos of the contingent. She said she liked the music performed by the marching band, and that the colors of the practitioners' costumes were amazing and attractive.
Annie sat on the sidewalk as she waved to the practitioners in the parade. She said she knew about Falun Dafa and the brutal persecution happening in China, and that it was great to see practitioners able to join the parade in Canada. She believes that practitioners are entitled to freedom of belief.