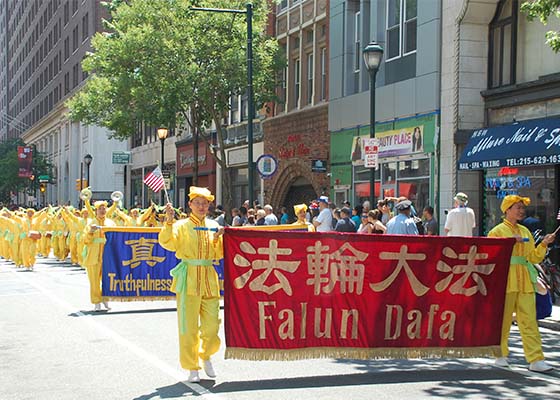 For the 17th year, the Falun Dafa group was invited to participate in the Independence Day festivities in Philadelphia, Pennsylvania. The group played the waist drums in the 4th of July parade, the highlight of this week-long celebration in the birthplace of the Declaration of Independence.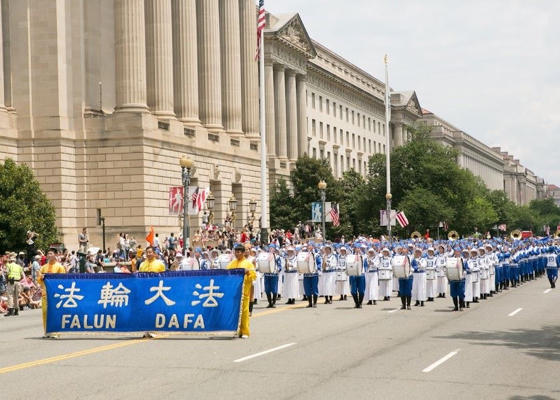 For the past twelve years, Falun Gong practitioners and the Tian Guo Marching Band have brought their uplifting music and spirit to the United State's premier Independence Day parade. Spectators, from American citizens to visitors from mainland China, were enthusiastic about Falun Gong's unique contributions to the celebration.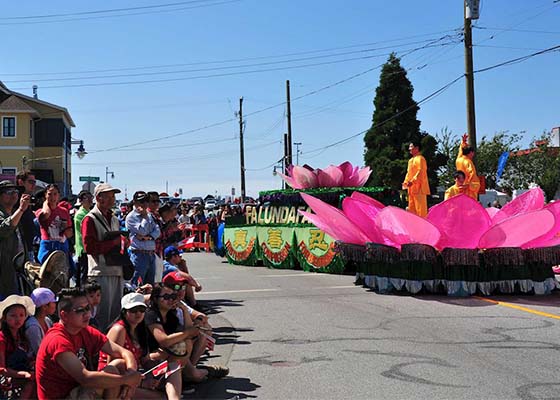 The practitioners formed a marching band, a waist drummer team, and a lotus flower float in the Salmon Festival parade in Richmond on July 1 and the Canada Day parade in downtown Vancouver on July 2. Their public appearance impressed many spectators, especially tourists from China. One of them remarked, "It is impossible to see in China. They have freedom here!"
Tourists and city residents are intrigued by a peaceful meditation practice amidst a bustling Manhattan street fair.
A teacher who exposed the truth behind the staged self-immolation as a stunt perpetrated by the Chinese regime is unjustly arrested and put on trial.
A Falun Dafa practitioner takes in her mother-in-law and they form a special bond, but, sadly, they are torn apart due to the persecution.
~ Accounts of Persecution ~
~ Clarifying the Truth ~
~ Improving Oneself ~
~ Journeys of Cultivation ~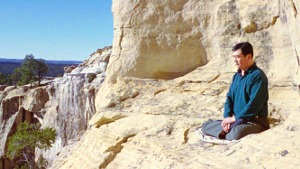 Master Li quietly watching the world from amidst the mountains after leaving New York following July 20th, 1999. (Published January 19, 2000)