Calling for Justice over the Death of Mr. Li Zhiqin – Villagers Support Son's Appeal with 224 Fingerprints
September 18, 2013 | By a Minghui correspondent from Hebei Province, China
(Minghui.org)
In Xingtai, Hebei Province 224 citizens stamped their fingerprints on the appeal to support Mr. Li Zhiqin's family in Xiaozhao Village, Ningjin County, Xingtai, Hebei Province.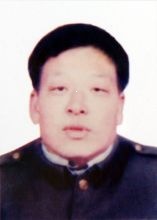 Mr. Li Zhiqin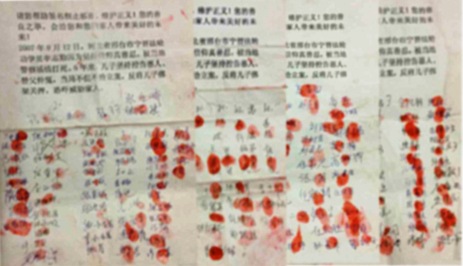 224 fingerprints supporting the son of Mr. Li Zhiqin in his pursuit of justice.
Mr. Li Zhiqin used to suffer from severe TB. He regained his health after he practiced Falun Dafa. He was being harassed by the Ningjin County Domestic Security Division and the 610 Office, and had to leave home to flee from the persecution in April 2006. At around 11p.m. on September 12, 2007, Shen Jianzhong, an agent from the Ningjin County 610 Office led officers from Xintai, Shijiazhuang, Ningjin County and Zhao County to arrest him in his apartment in Zhao County, Shijiazhuang. Mr. Li was beaten to death in three hours.
Mr. Li's family has been pursuing justice for the last six years, but the Zhao County Court, Ningjin Court, and the Xingtai Count has rejected the case. The family recently hired an attorney and submitted the case to the Hebai High Court. They are waiting for the court's decision.
Mr. Li's son was not a practitioner, however, officers from the local Domestic Security Division still broke into his home and arrested him at midnight on July 9, 2013, and held him in the Xingtai Brainwashing Center on July 10.
It has been 14 years since the Communist Party began persecuting Falun Gong practitioners. More and more people are speaking out against the persecution.
In Helongjiang Province 15,000 citizens signed and fingerprinted Ms. Qin Rongqian's appeal. Ms. Qin's father, Mr. Qin Yueming was tortured to death in prison ( http://en.minghui.org/html/articles/2012/10/30/136097.html ).
When Iowa governor Terry Branstad visited Zhengding County, Hebei Province in June 2012, the Zhengding County 610 Office and Politics and Security Committee arrested Mr. Li Lankui in the name of "security." Citizens were outraged, and thousands of people signed and fingerprinted the appeal for Ms. Li's release ( http://en.minghui.org/html/articles/2013/5/26/140128.html ).
In another case, a young couple's story touched many hearts. In Qinhuangdao 2,300 citizens appealed for the release of Mr. Zhou Xiangyang. Later 528 appealed, and then another 939 citizens from Fengrun, Tangshan appealed for the release of Ms. Li Shanshan ( http://en.minghui.org/html/articles/2013/3/7/138392.html ).
Related articles: Father Killed by Police, Son Arrested for Seeking Justice More Information About the Death of Mr. Li Zhiqin in Ningjin County, Hebei Province