Queensland, Australia: Raising Awareness about the Persecution at the Redland Spring Festival (Photos)
September 18, 2013 | By Chen Xinning in Queensland, Australia
(Minghui.org) The 2013 Redland Spring Festival, or Redfest, is an annual music and cultural event that was held on September 6-8 in Cleveland, Queensland, Australia. Hundreds of artists from around the world visited the town to entertain, attracting more than ten thousand people.
Falun Gong practitioners have participated in the festival for three years in a row. At the festival, they not only introduced to people about the practice of Falun Gong, but also raised awareness about the ongoing persecution of Falun Gong that is currently occurring in China. Many people were appalled at the brutality of the persecution.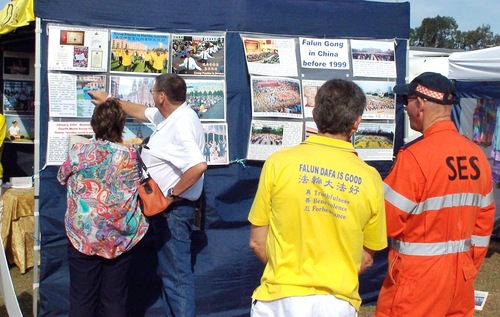 People learn about Falun Gong and the persecution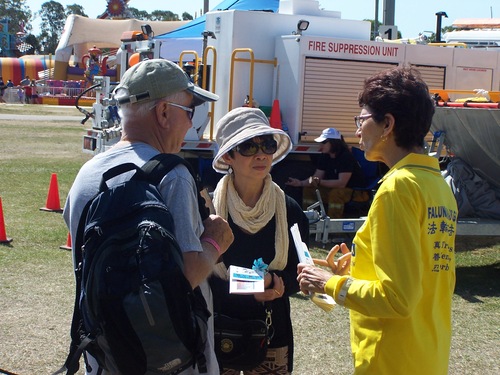 Falun Gong Impresses People of All Age Groups
A steady flow of people came over to the Falun Gong booth to learn about the practice. A member from a band that came to perform was drawn to a photo of Falun Gong practitioners doing the exercises in a large group in China. He expressed his interest in Falun Gong and also talked with a practitioner to learn about the Chinese regime's persecution of Falun Gong practitioners.
A lady who was ill because of stress at work said that her doctor told her that she needs to learn meditation. After hearing a practitioner introduce to her about Falun Gong's tremendous effect on people's physical and mental wellbeing, she was pleased and said that she wanted to get online to learn more about Falun Gong.
Another lady who wanted to learn how to practice Falun Gong asked for information about a practice site in her neighborhood. After she heard that Falun Gong is suitable for people of all age groups, she immediately looked for a practice site for her daughter living in another city.
A number of students also expressed their desire to learn the practice. They said that they would contact local practitioners after they got back and go to a practice site to learn.
People Shocked at the Brutal Persecution
Falun Gong practitioners' peaceful exercise demonstration formed a stark contrast with the illustration on the flyer of the brutal methods that the Chinese regime has employed in the persecution. Many people asked why the regime persecutes Falun Gong.
A man showed great interest in learning about the origin and history of Falun Gong, and the reasons for the persecution. After talking with a practitioner, he said that he was appalled at such a horrible thing happening in the 21 st century.
Two firefighting staff working on the scene said that they found it incredible that Chinese practitioners have been subjected to such severe persecution. They thanked the practitioners for telling them about it.
A Chinese woman and her Caucasian husband said that it is unacceptable that the Chinese regime inhumanly persecutes Chinese people. They expressed their concern and sympathy for the practitioners who have suffered from the persecution for their belief.