More on the Case of Mr. Zheng Xiangxing - Violence Continues Against Him and His Family Despite Public Outrage
June 24, 2013 | By a Minghui correspondent from Hebei Province, China
(Minghui.org) Mr. Zheng Xiangxing has received much attention over the last year, both inside and outside China. Mr. Zheng is in prison, arrested illegally for refusing to give up his belief in Falun Gong. Badly treated in prison, the saga now continues with violence against his wife and family.
Local residents have responded with a petition drive to obtain the release of Mr. Zheng. Over 10,000 signatures have been collected, yet the attention has not led to his release, but instead to more violence and harassment from the authorities.
Past reports on Mr. Zheng's situation:
-After Witnessing Zheng Xiangxing's State of Health in Prison, His Family Calls for Help
-Mr. Zheng Xiangxing's Life in Danger; His Wife Appeals for Justice Outside Prison (Photos)
-Family Grief-Stricken as Badly Injured Mr. Zheng Xiangxing is Returned to Prison
Recent brutality against Ms. Zheng's family
At about 11 a.m. on May 29, 2013, more than 10 police officers surrounded Mr. Zheng's wife, Ms. Sun Suyun, and their son in front of the prison. Prison Political Office head Shi Zhiyong dashed towards Ms. Sun and grabbed her by her clothes, yelling, "What are you wearing?" He then forcibly pulled her clothing downward, exposing her shoulder and bra. Ms. Sun called out for help and Shi returned to the prison office building. Because of the trauma and humiliation, Ms. Sun had a heart attack and collapsed to the ground.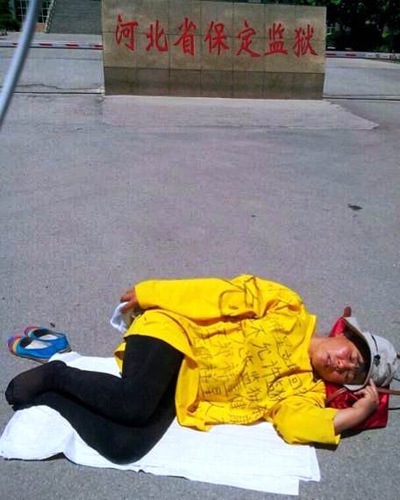 Traumatized Ms. Sun had a heart attack and fell down on the ground, unable to move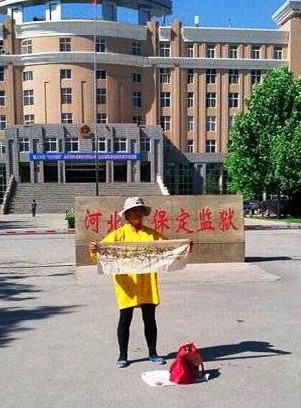 Ms. Sun stood up again later and continued her effort to save her husband in front of Baoding Prison
During Shi's attack, more than 10 prison police blocked Ms. Sun's son, who is in his 20s, from helping his mother. Neither prison officials nor the guards stopped Shi. After Ms. Sun fell to the ground and she was unable to move, they all left the scene. Ms. Sun's son ran to his mother, gave her some water, and helped put on her clothes.
By 3 p.m., Ms. Sun gradually recovered. When prison head Ma walked by, Ms. Sun told him about Shi's thuggish behavior. Ma did not say anything and went into the building. About one hour later, Ms. Sun was able to stand up again, and she continued appealing for her husband. Soon afterward, a staff member came out of the prison office building to take pictures and videos of her. Ms. Sun was very upset, "When Shi Zhiyong harassed me this morning, I had a heart attack and fell to the ground. Why didn't you videotape that?"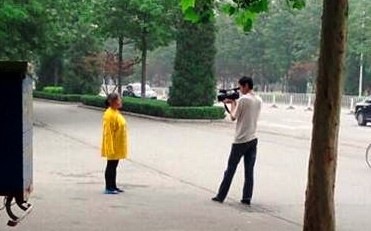 Ms. Sun and the prison staff member who videotaped her
After prison head Ma took over Mr. Zheng's case, officials often videotaped his wife and son. When Ms. Sun asked for a copy of the video, officials refused. She wanted to know: what was the purpose of the videotaping? Did the officials plan to manipulate the video and use it to frame her or her son?
Standing at the prison for 8 months to rescue her husband
In order to rescue Mr. Zheng, Ms. Sun and her son suffered tremendously. They have been standing in front of the prison every day for the past 8 months, asking people from all walks of life for help. They have two requests: 1) Release Mr. Zheng based on his poor physical condition. 2) Investigate the personnel responsible for fracturing Mr. Zheng's skull.
Ms. Sun and her son have no income. Some relatives and friends offered to help, but they refused. Ms. Sun said that it was not easy to make money. In order to save money, her son sometimes only eats one meal a day. Despite their difficulty, Ms. Sun often tells people who are willing to help them to not worry too much about her and her son; instead they should spend money on those who need help the most.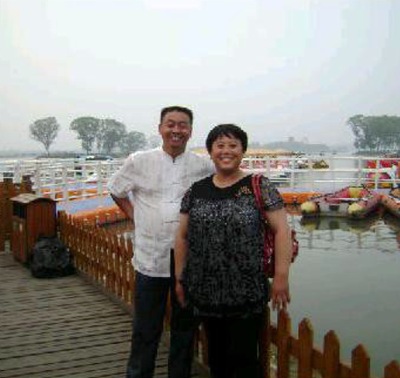 Picture of the couple (before Mr. Zheng's arrest)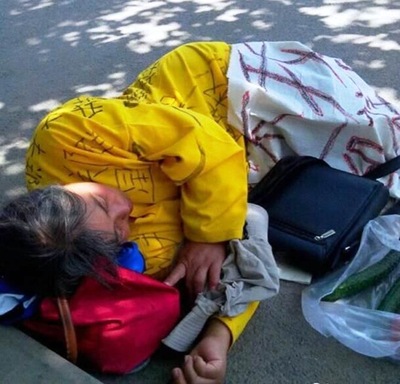 To rescue her husband, Ms. Sun slept on the street with two cucumbers as lunch
Mr. Zheng was a merchant in Tanghai County in Tangshan City. Local police secretly arrested him at 6 a.m. on February 25, 2012. He was sentenced to 10 years of imprisonment on July 26 and taken to the Hebei Province Prison in Baoding City on August 8. When officials tortured him on October 26 to give up his belief, under the supervision of Shi Zhiyong, his skull was fractured on the left side. Although doctors said the injury was caused by being struck with heavy objects, Baoding Prison officials tried to cover it up. In addition, they worked with Baoding First Hospital to conduct a surgery with a vicious intention. After opening up Mr. Zheng's skull, doctors removed brain tissue responsible for thinking, memory, and expression, as well as a 10-cm bone on each side of the brain.
After the surgery, hospital staff said that Mr. Zheng would die or become vegetative. However, he gradually regained consciousness, but he was nearly blind and he lost control of his urination and defecation. Mr. Zheng's damaged skull has not been repaired yet. Because he lays in bed all the time, the doctor said that he could die of thrombosis.
Mr. Zheng's family suspected this was done with the intent to harm and submitted an appeal letter. This made prison officials even more nervous. After two open skull surgeries and the removal of brain tissue, doctors repeatedly concluded that his brain cells were virtually dead. However, Mr. Zheng miraculously recovered and regained some memory.
Baoding Prison officials secretly sent Mr. Zheng, who was under intensive care, to prison on February 21, 2013. His health has deteriorated since then. Three months have passed and officials have not conducted a single thorough physical examination on him.
Because of Mr. Zheng's poor health, his mother and other family members requested that he be released so that his skull could be repaired. When they visited him on May 23, they saw he was very thin and he could hardly eat anything. After they put one spoon of rice in Mr. Zheng's mouth, it took him a long time to chew and swallow it. They also gave him a can of drink. Mr. Zheng only had half of it and could not continue.
Several times, Mr. Zheng's family requested his release so that he could receive proper medical care. But prison officials insisted that a second open-skull surgery be conducted at the prison. Mr. Zheng's family members were strongly opposed to it. They were afraid that, after the severe harm in the first surgery, Mr. Zheng could be murdered during the second surgery. They have hired an attorney and sued the prison officials.
Mr. Zheng's head was severely harmed in the first surgery and an investigation to find out who is responsible for this still has not been started. Under these circumstances, how could the prison officials—the defendants—forcibly conduct another surgery on him? Many people were thus concerned about Mr. Zheng's safety.
Prison head Ma told Ms. Sun that Mr. Zheng was eligible for release because of his physical condition, but officials would not release him because the incident was widely known. Ma also told Mr. Zheng's family that, because prison was a special place, officials could directly send Mr. Zheng to open-skull surgery without notifying his family. This shocked the family and upset them. In addition, officials told the family that Mr. Zheng's second surgery would still be carried out at Baoding First Hospital. This worried the family, since that hospital already conducted one open-skull surgery on Mr. Zheng without his family's consent. Therefore, the hospital acted as an accomplice and it should not be allowed to give Mr. Zheng any medical care.
Jia Tongle, a doctor working at Baoding First Hospital, participated in the first surgery on Mr. Zheng. Ms. Sun went to him on May 23, asking him not to commit bad deeds. Jia said, "The hospital is a place where patients can be cured. It is also a place where patients die." This made Ms. Sun nervous. Were Mr. Zheng to die during surgery, the hospital would not be held responsible. Ms. Sun felt that this was very odd.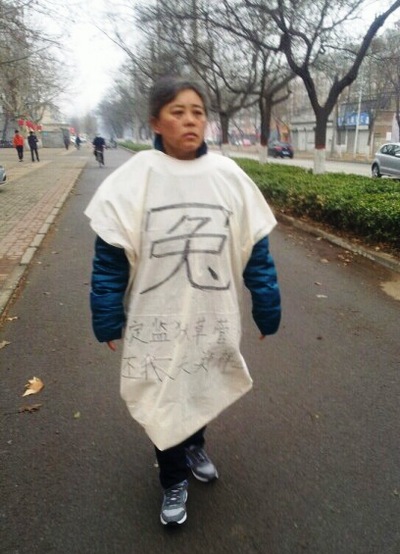 Ms. Sun tried her best to rescue her husband Mr. Zheng
Mr. Zheng owned an electronics store in Tanghai County before his arrest. As Falun Gong practitioners, the couple offered honest and reliable service, which earned them a very good reputation in the local area. After graduating from college, their son found a very good job. The family was preparing for him to get married and start his own life. However, this happy family was broken apart when Mr. Zheng was arrested.
After Mr. Zheng was arrested, in order to rescue him, Ms. Sun was once interviewed by NTDTV. Many people world-wide expressed their concern and offered to help. When Tanghai police arrested her, they were brutal and Ms. Sun sustained a head injury. Because of the injury, she had to stay in bed for more than two months after being released. In order to care for her and keep the business, her son was forced to quit his job. While they worked hard to keep the store running, Mr. Zheng was injured in Baoding Prison. A heavy blow to his head caused his skull to break. To save his life, Ms. Sun and his son waited at the Baoding Prison calling for help. With the physical and mental stress, Ms. Sun's health deteriorated and people in her hometown could hardly recognize her.
Nonetheless, Ms. Sun and her son did not give up. They kept doing what they could, calling on people from all walks of life to help. Their efforts drew worldwide attention and many people expressed their concern and support.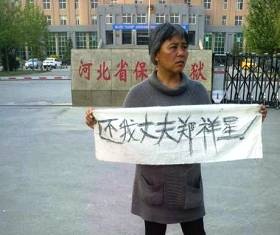 Ms. Sun stepped forwarded to rescue her husband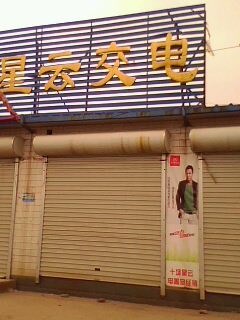 The store owned by the couple was forced to close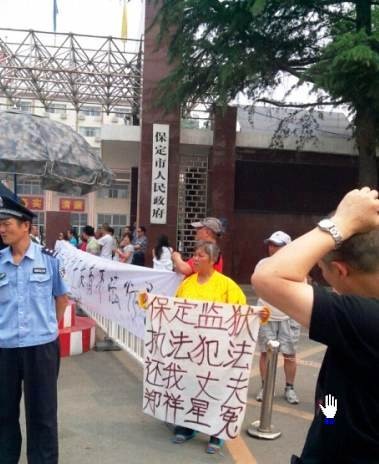 Ms. Sun called for help to rescue her husband
Awareness in the community
In order to rescue Mr. Zheng, 562 local residents signed their names and submitted three appeal letters. However, the CCP's legal and judicial system continues to commit bad deeds. Outraged by the regime's treatment of the well-liked family, more residents stepped forward to sign the petition, and the number of signatures increased to 10852 within one year. This is also the third case where over 10,000 signatures were collected to support Falun Gong practitioners. Below are photos of some signatures.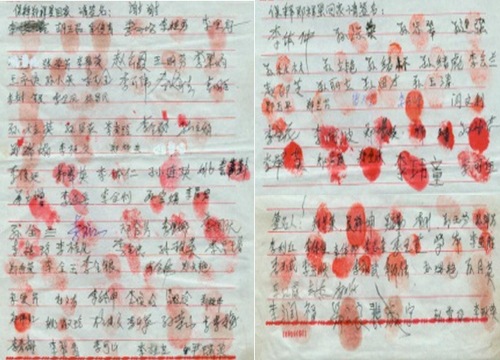 562 Tanghai County residents urged to release Mr. Zheng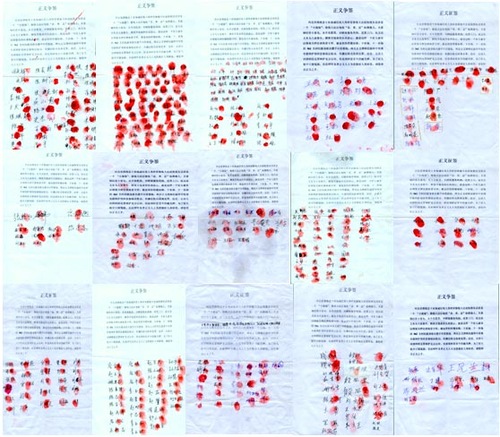 979 Tangshan and Qinhuangdao residents requested to release Mr. Zheng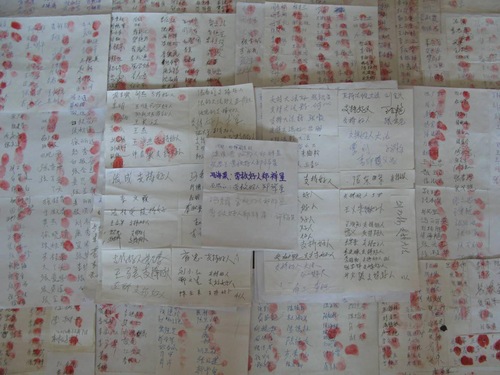 4011 signatures were collected in Tangshan City and surrounding areas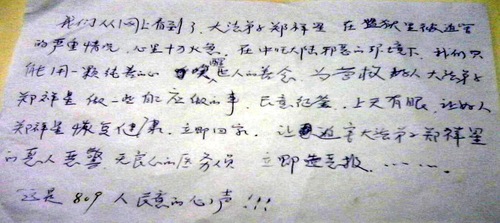 809 residents from one county in Tangshan City supported with their signatures
After receiving 562 signatures and three appeal letters, Tangshan officials did not take proper action to address this. Instead, they arrested practitioners involved in the signature-collection and sent them to forced labor camps. During the court trial against Mr. Zheng, 610 Office agents took the lead role and the judge followed them. They ignored a strong defense from the attorney and sentenced Mr. Zheng to 10 years of imprisonment.
The series of unlawful and brutal incidents led many people to step forward and support Mr. Zheng. As more people heard about this, the number of signatures quickly increased to 3,000. After Mr. Zheng's skull was broken and he had intra-cerebral hemorrhage, the signatures went up to 7,000. After the family hired attorneys to defend him, officials nonetheless forcibly sent him to prison. More people in Tangshan City and Qinhuangdao City showed their support. 10,852 people signed their names, requesting to release Mr. Zheng and investigate who is responsible for the mistreatment.