Mr. Zheng Xiangxing's Life in Danger; His Wife Appeals for Justice Outside Prison (Photos)
April 14, 2013 | By a Minghui correspondent from Hebei Province, China
(Minghui.org) Mr. Zheng Xiangxing's family was notified by Baoding Prison on March 8, 2013, that they could meet with Mr. Zheng on March 11. When they arrived on that date, however, prison officials changed their stance and didn't allow them to see him. The family is very worried about Mr. Zhang's safety and well-being. His wife and other family members have stayed at the prison entrance every day calling for justice. The prison personnel constantly drove away the bystanders who stopped to listen to them.
The family has issued the following plea to the international community: "We cannot accept the fact that an originally healthy son was persecuted to the point of a fractured skull, and then returned to jail from the Intensive Care Unit in the hospital. The prison does not allow us to see him, and his life is in danger. Please help us rescue Zheng Xiangxing! Our entire family thanks you all!"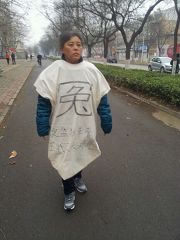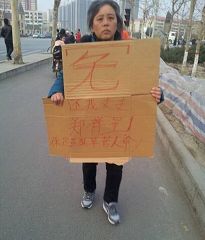 Mr. Zheng's wife stayed at the prison entrance every day, calling for justice.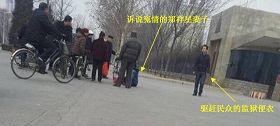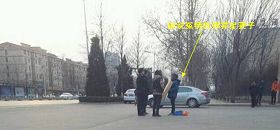 Prison personnel drove away bystanders listening to Mr. Zheng's wife.
Mrs. Zheng Calls for Justice; Prison Personnel Drives Passers-by Away
Shortly after being transferred to Baoding Prison on August 8, 2012, Mr. Zheng was said to have fallen as a result of a brain hemorrhage. He was sent to a hospital and underwent open cranial surgery. The family learned about this event in October. However, prison authorities refused to respond to their inquiries.
With no other options available, Mr. Zheng's wife, Sun Suyun, hired an attorney in mid-February 2013 to initiate legal proceedings in seeking justice for Mr. Zheng. Ignoring the fact that his life was in danger, the prison personnel secretly transferred Mr. Zheng from the hospital Intensive Care Unit back to prison about one hour after the attorney had left at noon on February 21.
Mr. Zheng's wife and other family members subsequently stayed at the prison entrance daily, trying to find out information about Mr. Zheng's condition.
Under the watch of society and constant requests of Mr. Zheng's family, prison authorities finally notified the family on March 8 that they could meet with Mr. Zheng on March 11. However, when Mrs. Zheng and her son went to the prison on March 11, they were not allowed to see Mr. Zheng.
Mrs. Zheng became even more worried about her husband: "Why did they suddenly change their mind? Is there something about my husband that they don't want us to see, or did something unexpectedly happen to him?"
Being desperate, Mrs. Zheng decided to call for justice at the prison entrance. Many passers-by stopped and showed their concern. Some offered food, some offered ideas, and others wanted to give money as a way to help the family. However, the prison enlisted personnel to prevent Mrs. Zheng from calling for people's attention, constantly driving away all passers-by who stopped to listen to Mrs. Zheng's case.
Mr. Zheng's Elderly Parents' Letter to Prison Director
Mr. Zheng's father Zheng Zengjian and mother Tong Jingwen lost much sleep and shed many tears worrying about their son's situation. Their health also declined as a result. They wrote a letter to the director of Baoding Prison, asking for Mr. Zheng's release.
Their letter read:
"We are Zheng Xiangxing's parents, and are over 70 years old. Although we have four sons, only Xiangxing and his wife frequently came to see us and take care of us. Now that they are gone, we feel extremely lonely. Everyday we want them back and think about them at every moment. Thinking about how they cared for us, we often cry.
"In the past, Xiangxing didn't treat us well. He was a well-known thug who continuously fought with people. His wife also didn't come to see us. During the holiday season, other sons' families all came to see us, but Xaingxing's wife never did. Even when she passed us on the street, she wouldn't say hello to us. We often cried over this. Around 1999, she suddenly bought a lot of gifts and came to our home. We were stunned upon seeing her and could not speak a word for a while.
"Before I spoke, she called me mom. I thought, 'Is this real?' I could only cry at that time, and so did Suyun [Mr. Zhang's wife]. After we stopped crying, Suyun said: 'I started to practice Falun Gong. Our Master told us not to have hatred toward others and to treat parents, as well as sons and daughters, well. I came today to apologize to you, hoping you can forgive me.' I was so glad. I didn't know what to say. We were so happy that it felt like we were in the holiday season.
"Since then, Suyun often came and took care of us. She was the one we depended on the most. Xiangxing saw his wife's change and was touched, and started to practice Falun Gong together with her. His temper became better and he became nicer to other people. At that time, I cordially thanked the Falun Gong Master for turning them around to become better people and for bringing happiness to our family.
"The government later on disallowed the practice. We were very confused, wondering why they wanted to prevent people from becoming better. Since then, we have worried about Xiangxing and his wife at every moment. When Xiangxing was arrested and wrongfully sentenced to 10 years in prison, our family was broken apart.
"After Xiangxing was arrested, we only knew it was because he practiced Falun Gong. Though we didn't know much about the law, we knew our son very well. He was genuinely trying to be a good person and did nothing against his conscience. Our daughter-in-law told us that several hundred villagers signed a petition to request his release. We don't know why the government didn't release him.
"We firmly believe our son to be innocent. Our children and attorney also said that the Constitution explicitly states that citizens have the freedom of belief and speech. From TV news broadcasts, Xi Jinping [leader of China] said that no one can be above the Constitution; otherwise, such a person would be criminally prosecuted. We don't want to speculate, but we believe our society needs people like our son.
"At the end of October of last year, after our son had been taken to your prison on August 8, we heard that he underwent an open cranial surgery. We were extremely worried and wondered whether our son could still be alive. He had been very healthy for over 10 years, never needing medicine or injections. He was quite strong and could carry a washer or refrigerator with ease. Everyone knew his body was in top form.
"When he was imprisoned at the detention center, he had a comprehensive physical exam at the Tanghai County Hospital and the records were kept. Later on, when he was taken to Baoding Prison, he had another physical exam and passed it. Why did he suddenly fall and have a brain hemorrhage? How severe did his fall have to be for his skull bone on both sides to be taken out? Our hearts ached so much, as he was our son. We keep watching our gate, hoping to see Xiangxing and hear him call us once again.
"My husband had a severe bone deformation due to rheumatism and couldn't take care of himself. I was once hospitalized due to a brain hemorrhage and also had breast cancer. I currently have diabetes and my health condition is very poor. Suyun's father had open cranial surgery and has been bedridden since then, needing constant care. Because of Xiangxing's situation, our other sons' minds are always tied to Baoding [location of the prison]. They rush back and forth constantly between Tanghai and Baoding, with no time to care for us seniors. Without their care, our home is icy cold in the winter. Our health has deteriorated, especially my husband's; he has great difficulty just to sit up.
"Our son's life is in danger and we are mentally devastated. Every few days we have to get infusions to maintain our lives. We often cry at night, not knowing when the suffering will end.
"We understand what Falun Gong is. Xiangxing once urged us not to hate those who persecuted him. Can you feel our loneliness and our son's kindness? In order to protect kind people, in order for Xiangxing's life to continue, we hope you return our son to us as soon as possible. Your kind act would surely bring rewards."