Ms. Guan Suming in Critical Condition; Prison Refuses to Release Her (Photos)
July 03, 2012 | By a Minghui correspondent from Heilongjiang province, China
Name: Guan Suming (关素明)
Gender: Female
Age: 44
Address: Jinshantun District, Yichun, Heilongjiang
Occupation: Unknown
Date of Most Recent Arrest: September 5, 2009
Most Recent Place of Detention: Heilongjiang Province Women's Prison (黑龙江省女子监狱)
City: Harbin
Province: Heilongjiang
Persecution Suffered: Detention, interrogation, illegal sentencing, imprisonment, sleep deprivation, forced injections/drug administration, beatings, torture, physical restraint
Key Persecutors: Bai Yingxian, warden of Heilongjiang Province Women's Prison: +86-451-86639099
Shi Genghui, deputy warden of Heilongjiang Province Women's Prison: +86-451-86639066
(Minghui.org) Falun Gong practitioner Ms. Guan Suming has been severely persecuted in the Heilongjiang Province Women's Prison. She has developed high blood pressure, cardiovascular problems and seizures as a result of torture and mistreatment. The hospital has categorized her condition as critical, but prison officials refuse to release her for medical treatment because she is not willing to renounce her faith in Falun Gong.


Ms. Guan Suming
Ms. Guan was illegally arrested in Beijing on September 5, 2009. She was tortured for more than a year at Beijing's Fengtai Detention Center and was sentenced to 8 years in prison by Fengtai District Court on September 20, 2010.
Ms. Guan was subsequently transferred to Beijing's Tianhe Prison at Daxing. She continued to do Falun Gong exercises and refused to wear a prisoner's uniform. As a result, she was beaten several times to the point of losing consciousness.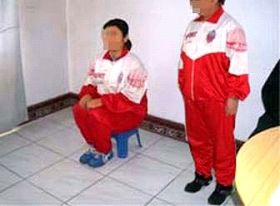 Torture re-enactment: Sitting on a tiny stool for long periods of time
Ms. Guan was transferred to the Heilongjiang Province Women's Prison in Harbin on June 26, 2011, and continued to be mistreated there. Because Ms. Guan insisted on practicing Falun Gong, on February 25, 2012, she was forced to sit on a tiny stool from morning until night without moving—she was not even allowed to close her eyes.
Ms. Guan passed out on the evening of February 27, 2012, as guards took attendance. She regained consciousness after she was given medication and two units of oxygen.
Ms. Guan's condition continued to worsen, and she was taken to the prison hospital in the afternoon of March 13, 2012. A doctor attempted to give her intravenous fluids, but Ms. Guan passed out again before he could start the IV. She awoke after she was given oxygen, but ended up not receiving any IV fluids.
Ms. Guan was sent to the No. 2 Provincial Hospital on March 22, 2012. Her blood pressure was 220/180. She was diagnosed with heart disease and seizures and categorized as a patient in critical condition.
Nevertheless, prison officials did not allow Ms. Guan to be released for medical treatment because she refused to renounce her belief in Falun Gong. As Ms. Guan's condition has continued to deteriorate, the prison authorities have begun to reconsider their stance. However, they are still putting pressure on Ms. Guan to try to force her to give up practicing Falun Gong prior to releasing her for medical treatment.
Related articles:
Ms. Guan Suming and Mr. Ye Liangjun from Heilongjiang Illegally Given Heavy Sentences in Beijing (http://en.minghui.org/html/articles/2011/2/11/123191.html#.T-vo3sWD83I)
Practitioner Guan Suming and Others Detained in Beijing (http://en.minghui.org/html/articles/2010/2/18/114758.html#.T-vpIMWD83I)