Practitioner Guan Suming and Others Detained in Beijing (Photo)
February 18, 2010 | By a Minghui correspondent in Heilongjiang Province
(Clearwisdom.net) Falun Dafa practitioner Ms. Guan Suming from Jinshantun District, Yichun City, Heilongjiang Province was arrested in Beijing by the police five months ago. After being moved around many times, she is currently detained at the 501 Detention Center, in Dougezhuang Town, Chaoyang District, Beijing. Her family has not been allowed to visit her.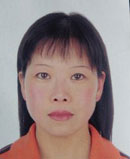 On September 5, 2009, Ms Guan Suming and practitioners Mr. Yu Hongtao and Mr. Ye Liangjun were arrested at Qiaodong, Fangzhuang, Fengtai District in Beijing. The police confiscated their computers, money and personal belongings. The three practitioners were detained at the Fengtai District Detention Center.
Ms. Guan Suming's family tried to visit her many times, but the detention center rejected their requests, using all kinds of excuses, and also stated they could not see her if "she was not transformed."
Below are a few more cases reported on the Minghui website regarding Falun Dafa practitioners from other areas who were recently arrested and persecuted in Beijing.
(1) On December 13, 2009, Mr. Zheng Xiaoqi from Jiang'an District, Wuhan City, Hubei Province was arrested in Beijing. When Zheng Xiaoqi went to Beijing to travel abroad, the police discovered he was a Falun Dafa practitioner and arrested him. On December 16, he was returned to his hometown by the local police, and is currently detained at the Shenjiaji Brainwashing Center in Jian'an District, Wuhan City.
(2) On December 4, 2009, Mr. Wang Changyu from Dongli District, Tianjin City traveled to Beijing to see his mother. While on the train he was talking to fellow passengers about the persecution of Falun Gong, and was arrested by police from the Beijing Railway Police Department. His home in Tianjin City was searched by police, and they took away his Falun Dafa books.
(3) Ms. Liu Aihua, who is in her sixties, is from Lingshui Town, Ganjingzi District, Dalian City, Liaoning Province. She was arrested in Beijing on October 6, 2009. The police also ransacked her home and took away her computer, printer and many other personal belongings.
(4) Ms. Zhang Ruifeng, about 60 years old, lived in Songyuanzi Community District, Weicheng, Shandong Province. On October 1, 2009, while visiting her son in Beijing, she was arrested by police and sentenced to two years of forced labor at the Masanjia Women's Forced Labor Camp, where she is being subjected to brutal persecution.
(5) Ms. Duan Zhoujing, 23, is from Kaili City, Guizhou Province. After graduating from college, she worked for a company in Beijing. She was arrested on October 1, 2009, in Beijing, because she practices Falun Gong. Her family didn't know her whereabouts or what had happened until they found her company's phone number and called her boss, and were told them that she had been arrested.