(Clearwisdom.net) Falun Dafa practitioner Ms. Wang Yuhuan, 52, of Changchun City, Jilin Province, along with several dozen local Falun Dafa practitioners, were arrested by the police on May 9, 2007. On the night of October 9, a police officer called Ms. Wang's family and said, "Wang Yuhuan has vomited blood. The doctor failed to save her life after trying to resuscitate her. She is already dead." According to sources, the elderly Ms. Wang had died two weeks earlier, on September 24. Below is what Ms. Wang had exposed, before she died, about the brutal torture she suffered after being arrested.
(Clearwisdom.net) Ms. Liang Wende was twice imprisoned and tortured in the Sichuan Women's Forced Labor Camp. On May 8, 2008, the Longmatan District Court in Luzhou City, Sichuan Province sentenced Ms. Liang to four and a half years in prison.
(Clearwisdom.net) On the evening of June 20, 2008, the Hefei City, Anhui Province local Chinese Communist Party (CCP) dispatched a large number of police officers to illegally arrest nearly ten Dafa practitioners.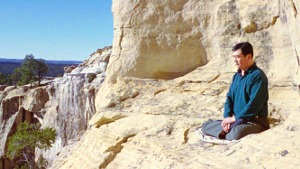 Master Li quietly watching the world from amidst the mountains after leaving New York following July 20th, 1999. (Published January 19, 2000)