(Clearwisdom.net) On July 4, 2008, agents from the Diaobingshan City Police Department in Liaoning Province arrested practitioner Ms. Hu Ying, hung her up by her handcuffs and beat her mercilessly. On July 6, 2008, Ms. Hu Ying was transferred to the Tieling Detention Center and the persecutors attempted to leave her there. Afraid of being held responsible for Hu Ying's severe injuries, Tieling Detention Center officials sent her back to the Diaobingshan Detention Center on September 29, 2008. Hu Ying subsequently had to rely on urine catheterization every day and was in agony. Surveillance Division chief Zang Jinglin (female) and guard Wang Liqun locked Hu Ying onto the floor with large fetters, and they forbade family visits. No one knows whether or not Hu Ying is still alive.
(Clearwisdom.net) In July 2008, 46-year-old Ms. Zhao Yabin was arrested by officers from the Wenbei Police Station and the Lunan Police Department in Tangshan City, Hebei Province. The police also searched her home. Chinese Communist Party (CCP) personnel from Tangshan City collaborated with each other and fabricated interrogation transcripts and a list of confiscated items for the purpose of framing Ms. Zhao. Ms. Zhao was recently sentenced to seven years of imprisonment, and she is currently being detained in the Tangshan First Detention Center.
(Clearwisdom.net) I am a Falun Gong practitioner in China. I would like to write about the historical events of persecution experienced by my extended family at the hands of the Chinese Communist Party (CCP). I hope that this will help people who do not yet have a clear understanding of the CCP's cruelty and tyrannical nature, to get a clear picture so as to help them differentiate good from evil, and also to urge Chinese people to renounce their membership in the CCP. In this way, they will be able to have the mark of the CCP removed and ensure their safety.
~ Deaths ~
~ Accounts of Persecution ~
~ Solemn Declarations ~
~ Other Community Events ~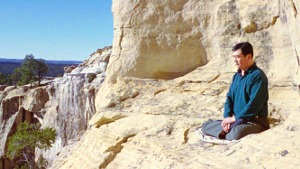 Master Li quietly watching the world from amidst the mountains after leaving New York following July 20th, 1999. (Published January 19, 2000)